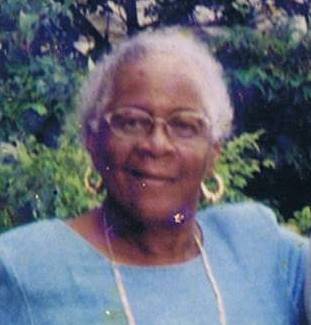 Emma Delita George died on March 7 in Atlanta.
She is survived by her daughters: Carol L. George, Ellia George-Simon, Carol(Cal) Donovan; adopted daughters: Joyce Duncan, Arlene Johannes and Levette Schlessinger; son, Elton George; adopted son, Bernard Creque; brothers: Milford Sprauve and Isborn Sprauve; sisters: Eulaine Jones and Deenece Cromartie; grandchildren: Kim George, Candace Gabriel, Amira George Olive, Elton George Jr., Xiomara George, La-Keama Brady, Darion Brady, Christopher Simon, Niara Simon, Michelle Simon ( adopted) and Thesard Simon ( adopted); great grandchildren: Monet Freeman, Mali Freeman, Layne'ja Selwood, Kamayra Gabriel, Kareema Gabriel, Marvin Gabriel, Malakai Gabriel, Serena Olive, Ethan Olive, Myel George, Mya Lockhart and Da'Cori (CoCo) Brady; daughter-in-law, Sandra George; son-in-law, Yves Simon; sister-in-law, Bernice Sprauve; godchildren: Zelda George, Arya Duncan, Dejanique Wesselhoft, Steve Brown, Jelani Webster, Anthony Charles, Kebo Hodge and Kishawn Hodge; nephews: Clinton Sprauve, Lincoln Sprauve, Elton Sprauve, Wilbur George, Alden George, Ruan George, Kelvin Jones, Keith Jones, Neal Sprauve, James Leonard, Jermaine Sprauve, Marvin Forbes, Dail Rosado, Neal Charles and Devon Rosado; nieces: Kearen Gillies, Sephanie George, Wilma Malone, Wanda Walters and Maureen Pederaux; as well as other relatives and friends too numerous to mention.
There will be a viewing held at 5-7 p.m. on Wednesday, March 21, at Davis Funeral Home Chapel. A second viewing will be held at 9 a.m. followed by a funeral service at 10 a.m. on Thursday, March 22, at Wesley Methodist Church. Interment will be at No. 3.
Funeral arrangements are by Davis Funeral Home, 774-1464.