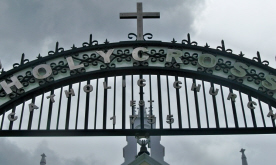 For Christians in the Virgin Islands and around the world, the 40 days of Lent is a time of repentance and reflection on the passion and death of Jesus.
On Ash Wednesday, which fell on Feb. 22 this year, many V.I. Christians began Lent in preparation for the April 8 Easter celebration of Jesus' resurrection. Excluding Sundays, Lent is a season of 40 days, recalling Jesus spending 40 days in the desert.
Rev. John Juszczak, from Holy Cross Catholic Church on Queen Street in Christiansted, said Lent and the resurrection are a special time for Catholics and other Christians.
Every Friday at 7 p.m. during Lent at Holy Cross, Juszczak physically leads the congregation through the Stations of the Cross. People may walk along with the priest or remain in the pews. The Stations are 14 plaques or pictures on the walls depicting the events of the Passion: Jesus condemned to death, carrying the cross, being laid in the tomb.
The service is accompanied with songs and prayers in Spanish and English. People also have the opportunity to go to confession. "This is a time of prayer and reflection," Juszczak said.
V.I. Christians mark the Lenten season in a number of different ways: by fasting, abstinence, confession, alms giving, meditation or prayer.
Juszczak said some folks will abstain from eating meat during Lent and fast on Good Friday. He added others will personally abstain from vices and bad habits, such as smoking, television and the Internet. He said he hopes the wellness focus will continue after Lent is over.
"The sacrifice is meant to bring us closer to God," said Juszczak, who is originally from Poland and has served the faithful in Africa, Chicago and Iraq, where he did a tour of duty as an Air Force chaplain. "People sacrificing something are participating in the Lord's sacrifice."
He said Holy Week begins Palm Sunday and at this time they drape the crucifix with purple cloth. "This gives more of an impact and focus on Jesus on the cross," Juszczak said. Holy Cross donates food for the poor once a week, but during Lent the congregation makes an extra special effort at collections and alms giving.
At Nazareth Evangelical Lutheran Church in Cruz Bay on St. John, Rev. Carlyle Sampson said the season of Lent is in preparation to walk with Jesus.
During Lent, the church holds a midweek service on Wednesdays at 5:30 p.m. There is a special Passion Sunday service and on Maundy Thursday, which commemorates the last supper, there is communion and worship. Sampson said on Good Friday at 2 p.m. they follow the Way of the Cross, another term for Stations of the Cross. People may also personally give up something as a sacrifice.
"No marriages or baptisms take place during Lent," Sampson said. "But on Holy Saturday we do baptisms."
At St. Andrew's Episcopal Church on First Ave. on St. Thomas, Rev. Lenroy Cabey officiates at a number of special Lenten services.
Alda Jacobs, church office secretary, said there are midday reflections on Wednesdays beginning at 12:15 p.m. On Fridays at 5:30 p.m. during Lent, Cabey leads parishioners through the Stations of the Cross. The church also has a Palm Sunday service that begins at 6 a.m. On Maundy Thursday at 6 p.m. the ritual washing of feet takes place along with a special service.
The foot washing is associated with the Last Supper when Jesus washed the feet of the 12 apostles. On Good Friday, Cabey holds a three-hour service from 12 to 3 p.m. commemorating Jesus' last three hours on the cross. On Easter Sunday there are three services with the first at 6 a.m.
Jacobs said during Lent people may fast or give up something but it is something they do personally and it is not required by the church.
Former Sen. Violet Anne Golden said the Lenten season is a penitential period in the life of Catholics. She added it is a time of deep reflection and prayer, a time of sacrifice and self-denial, and a time of repentance.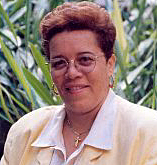 "These 40 days prepares us for the ultimate commemoration of Holy Week, marking the death and resurrection of Jesus,and recalls the events of the Passion of Christ on Good Friday, and the ultimate celebration of the resurrection of Christ on Easter Sunday," Golden said.
"In my humble view, we are reminded of the sacrifices Jesus made for us by his death on the cross, so that we can live. He spent 40 days fasting in the desert. And this has been a part of our Catholic tradition to remind us of these 40 days of his great sacrifices."
During this period the faithful commit to giving up luxuries; many dedicate days of the week to fasting, prayer and thanksgiving, Golden said.
"I look forward to this period annually in my own quiet way as a constant reminder of the blessings Christ has bestowed on me," She said. "He is a great and merciful God worthy of our praise and thanksgiving."