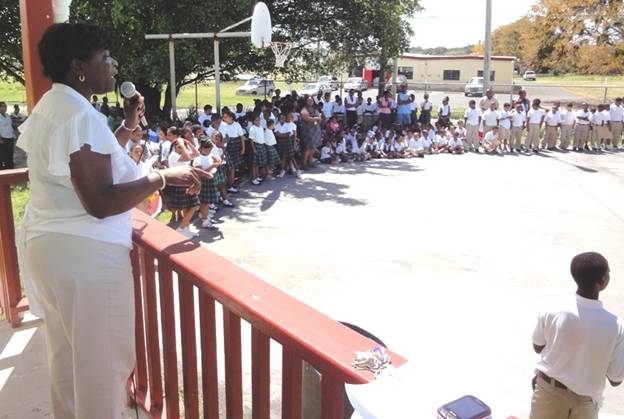 Schools on St. Croix are reinforcing preparation methods for the VITAL (Virgin Islands Territorial Assessment of Learning) test. VITAL will be administered to students in the school district from Monday, March 19 through Friday, March 23.
The VITAL is designed to measure student proficiency in core subject areas such as reading, math and science, and is administered in the territory in accordance with the federal No Child Left Behind mandates. The scores of students in grades 3rd through 8th and the 11th will be used to determine whether each school met adequate yearly progress (AYP) benchmarks for proficiency in reading and math.
St. Croix schools have organized pep rallies to help motivate students to take the testing seriously and to do their utmost best through preparation. During rallies, school staff and guest speakers usually encourage students to have a good night's rest, eat a healthy breakfast, come to school early and stay away from sweet snacks.
The average combined student VITAL scores will have an effect on a school's ability to meet the AYP. The Pearl B. Larsen Elementary School has met AYP standards for the past seven years. "The exceptional performance of our students on the VITAL played a major factor in our academic success," said Principal Rodney Moorehead. "The continued support of parents will be essential as we conduct our annual (VITAL) assessment."
Several schools have already had successful rallies in supporting VITAL testing. Lew Muckle Elementary School held a grand rally Tuesday around the basketball court. School administrators and guest speaker Senator Terrence "Positive" Nelson held students' attention as they explained the importance of the test, and advised them how to prepare themselves.
Sen. Nelson had the students repeat several times, "I will do my best on the VITAL." Later he urged them to: "Never, never give up –- the test scores will follow you for the rest of your lives."
A practice for VITAL testing is planned at the Alfredo Andrews Elementary School on Thursday, March 15, while a pep rally is scheduled for 1 p.m. at Ricardo Richards Elementary School on the same date.
For more information on VITAL testing in the territory, contact Alexandria Baltimore-Hookfin, education state director of assessment, at 773-1095, ext. 7084.