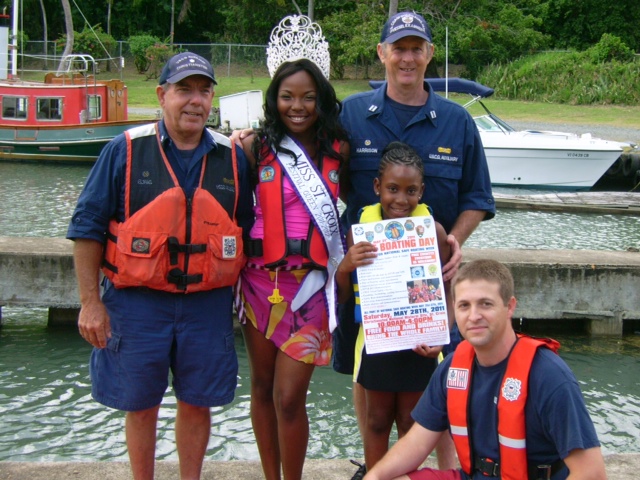 Boating activities remain busy year round on St. Croix, according to USCG Auxiliary 16-01 Flotilla Commander John Harrison, and life jackets can save lives. Across the United States and territories the U.S. Coast Guard counted 4,604 accidents that involved 672 deaths, 3,153 injuries and approximately $35.5 million dollars of damage to property as a result of recreational boating accidents during 2010. The fatality rate was 5.4 deaths per 100,000 registered recreational vessels. Almost three-fourths of all fatal boating accident victims drowned, and of those, 88 percent were not reported as wearing a life jacket. Eight out of every 10 boaters who drowned were using vessels less than 21 feet in length.
"I promote teen violence programs" said Miss St. Croix Deidre Dubois," and conveying the United States Coast Guard boating safety message to wear a life jacket is essential, especially for the children." This year Miss St. Croix is lending her voice to educate
children in communities across St. Croix on the proper wear and importance of life jackets in cooperation with the Christiansted USCG Auxiliary.
USCG Auxiliary Division Commander Lee Elvins along with Coast Guard Lt. John E. Atkins, Supervisor of the Resident Inspection Office St. Croix, explained how life jackets may not be what many people envision. Many are lightweight, easy to move in, and come in various sizes, styles, and shapes for every person, sport and even pet. Nine- year-old Chenisse Blanchard, a student at Ricardo Richards School in Strawberry, was chosen to select a life jacket and was then shown the proper way to wear it before her venture on a kayak at Anchor Marine.
This year during National Safe Boating Week May 19th-25th and throughout her campaign, Miss St. Croix will remind
boaters to practice safe and responsible boating, always wear their life jackets, and be alert and aware while on the water. By practicing these simple steps you can save your life as well as the lives of fellow boaters.
The Christiansted USCG Auxiliary strives to educate the public about life jackets throughout the year. Their presence at the annual Valentine's Jump-Up celebration recently in Christiansted was no exception. As Cupid sends the message of love, the recipient is melted in the moment. That's what happened that evening when two and a half year old Campbell Eckard spontaneously shouted "never take it off," referring to her life jacket, as her father Mark Eckard answered the question "what is the most important item to have on a boat." Flotilla 16-01 members were amazed by her response. Simple as it may be, basic understanding of the importance of a life jacket can be taught at any age, and that is one true meaning of Valentine love. The Eckard's had just concluded a sailing trip and it was little Campbell's first memorable water voyage.
For additional information about the Coast Guard Auxiliary visit www.uscgaux.org