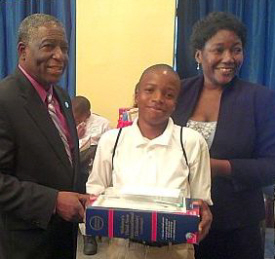 After a dozen grueling rounds Friday, St. Croix's Yad Bass outlasted the competition and took first place in this year's Territorial Spelling Bee.
Each district sent their top six spellers onto Friday's event, which was held at the Marriott Frenchman's Reef Resort on St. Thomas. Almost half were eliminated in the first round, leaving most of the group from St. Croix, including St. Patrick School's Aaron Harris, who took first place at last month's district bee.
Harris fell in the 10th round after incorrectly spelling the word "ecru." Hoping to keep him in the game, Harris' camp challenged the elimination, citing improper pronunciation on the part of the moderator. The judges ruled against the challenge, however, leaving Bass, from Ricardo Richards Elementary, and Kyle Fennessey from the Good Hope School alone on stage for the 11th round.
Bass and Fennessey's spelling styles couldn't be more different. Early in the competition, Fennessey displayed his confidence and moved at a quick pace, not even blinking an eye as he correctly spelled out words such as "homogenous" and "pochismo."
But Bass was more careful and made sure to use all his options, which included asking the moderators for alternate pronunciations, definitions and sentences during several of the rounds.
In the 12th and final round, Fennessey fell with the word "vaquero," leaving the door wide open for Bass, who won with the word "sauerbraten."
Applause rang out when the moderator gave Bass the nod, while many students whooped and cheered him on. Still on stage, Bass maintained his composure and smiled quietly as everyone went wild around him.
But when the noise died down and people lined up for interviews afterward, Bass's smile got bigger and he spoke about being excited to get back to studying for the Scripps National Spelling Bee, which will take place on the mainland next month. Bass said his love of spelling, good coaching and faith in God helped him get through Friday's competition and will continue to be the key weapons in his arsenal as he moves onto the national stage.
"This is my first time competing in any of the spelling bees," said Bass, a sixth grader at Ricardo Richards. "But I studied hard, practiced with my coach every day and talked to God all the time. I knew I could do it. And today, when they said that last word, I knew I had it. I just concentrated on the origin and then put it all together."
Coach Karen Rene-Bess said she is also a newcomer to the spelling bee but focused with Bass on two areas as they prepared over the past few weeks.
"Making sure he knew the origin of the word was one of my strategies," she said. "As long as he knew that, he could kind of work from there. And I also taught him to use the options that the judges give you. It takes a little longer but it also gives him time to think when he's up there."
Rene-Bass said she got a little nervous when Bass got sick last week, but the two were still able to continue their practices over the phone.
"He told me he was going to win, and I said OK," Rene-Bass said. "And here he is. He did it."
Also competing from St. Croix during Friday's competition were Khaien Donowa from Claude O. Markoe Elementary, Imani Evans from Pearl B. Larsen Elementary and N'bari Alexander from the Church of God Holiness Academy.
The St. Thomas-St. John competitors were Jelani Byron fro Yvonne Milliner-Bowsky Elementary, Deglanni Fleming from Antilles School, Amaru Jeffery from Lockhart Elementary, Shania Querrard from New Testament Academy, Silas Wisehart from V.I. Montessori School and International Academy and Leon Zamore of Calvary Christian Academy.