Three local filmmakers – Erik Miles, Erik Zucker and Edward LaBorde Jr. – all born on St. Thomas, are optimistic about the future of a booming local film industry, and each is putting his heart and soul where his mouth is in a demanding business.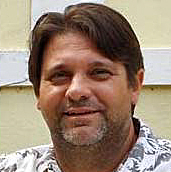 Zucker likely speaks for all when he says, "People tend to think the film industry is romantic. It is intense, sweat-ridden, hard work. And if you don't have a passion for it, it's not a good idea."
Miles and LaBorde would agree, though none of the three can imagine doing anything else.
Erik Miles
Photographer and film maker Miles says he can't remember when he wasn't involved in film. As the son of recognized photographer and artist Ray Miles, it just came with the turf.
Miles grew up in the historic Johansen House off Rhymer Highway, which was his dad's production studio specializing in motion picture and still photography."They would let me carry stuff at first," he says, "hold the cameras, work as a grip."
He says notables such as former Gov. Juan Luis would come to the studio for photography sessions. "I remember him helping me with my homework," Miles recalls with a laugh.
"And I remember thinking from the very first 'this is what I want to do. I want to be that guy with the camera'," Miles says.
As it turned out, he didn't have a long wait. When he was just eight years old, his father gave him a Nikonos IVA camera, a very sophisticated piece of equipment for a youngster. Before long, however, Miles' work was published, often landing magazine and newspaper covers.
This was in the late 1980s and early 1990s, the territory's filmmaking heyday. Miles says he learned a lot at the time from Win deLugo, founder along with Erik Matthews, of the government's original film office. "He knew the industry inside and out, and everybody in it."
Miles learned quickly. He began working on film sets for "The Deep" and "Charlie's Angels" as a teenager. By the time he was 18, Miles had worked as a cameraman on documentaries for the BBC, National Geographic and Jacques Cousteau. He says the experience with Cousteau was where he found his natural love of undersea photography.
Miles moved to Miami where his career took off internationally. He has worked all over the continental U. S., South America and Europe, including feature films such as "There's Something About Mary," "Analyze This" and "Any Given Sunday."
He returned to St. Thomas to pursue own films, opening his own Studio Five where he keeps busy with commercial shoots for the Department of Tourism as well as national shoots, and music videos, while working on his own films. His documentaries are legend, ranging from undersea filming for NOAA – "Florida Keys Restoration Project" and "Mona Island Reef Restoration Project" – to episodes for the BBC's "Blue Planet" series, and, closer to home, "Hassell Island" for the St. Thomas Historical Trust.In fact, Miles' astonishing footage of a whale sighting several years ago, still shows today in a television commercial for Guardian Insurance.
Erik Zucker
Erik Zucker's belief in the film industry is compelling. The owner of Telltale Pictures with his wife, producer Ingrid Ott-Zucker, Zucker sees blue skies in the film industry. "I feel like we're rebuilding something with enormous potential," he says, "given the natural and human resources we have here."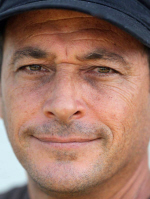 He admits, "We're going through a pretty rough period now, notwithstanding the economic forces, which no one can control." However, nothing seems to dim Zucker's outlook. He is a focused guy. "We've got the architectural history here, the real jewels, the water and the beaches, but the most important resource we have is the people of the Virgin Islands."
Zucker began his career in those heady, early days of the film industry with St. Thomas-based Flick Productions, where he worked on biggies such as "Weekend at Bernie's," and what he calls the "sweet spot" of the industry – commercials, the bread and butter that keep filmmakers in business.
Today Zucker lives and works on St. John with his family.
"Probably the most proud aspect of my identity is that I'm a Virgin Islander," he says. "I have a genuine love of the islands. I feel very lucky. Even as a little kid, I knew that there's a pure magic here, an innocence and sincerity about this place."
And on a more practical note regarding the impact of filming here, Zucker says, "There's very few industries with the kind of scope and reach of the film industry. Productions can come and go and their impact leaves very few topographical scars. It's an important part of sustainability for an industry. It's preservation for long-term survival.
"As for nuts and bolts," he says, "the most important thing right now is to develop local talent, local film crews. Before Hurricane Hugo, we were two to three people deep in each department who could be called in to do a job, serving the needs of the filmmakers."
Zucker stresses that films are team efforts. "We have the local talent, a capable pool of workers. And the fact that they are unionized along with our natural resources make it a natural for the local industry."
The ability to draw on that pool of people means that Telltale can provide the large number of workers required to create quality productions.
Zucker says, "There's not a lot of downside into rebuilding the industry. It's a service-minded business and we need to be able to attract quality projects. With Telltale, everybody is a subcontractor, we hire locals."
Zucker says the industry completely changed with the advent of digital film. The switch means he can run Telltale out of his home, without time consuming and expensive trips to New York for editing and production.
"I believe the Virgin islands can become an entertainment music and film hub if we take the right steps," he says, "to provide service, service, service. I feel enthusiasm at all levels now. We are starting to get the word out about what's happening here. We can offer the incentives I've begged for 20 years."
Legislation recently passed offers an incentive program to off-island film productions.
Zucker is working currently working on an episodic TV show called "Agent Green." "I'm co-writing it," he says. "It's by no means guaranteed right now. It's a strong concept and a terrific project. We're focused on the pilot right now. It's sort of and eco-'Magnum PI,' based on St. John."
Zucker says, "An episodic TV show is the holy grail of the business."
Edward Laborde Jr.
Where Zucker's energy is full-bore focused on the positive side of the industry, LaBorde's approach appears a bit more cautious.
LaBorde has experienced different aspects of the film industry from filmmaker, production company owner, producer, and one-time head of the VI film office.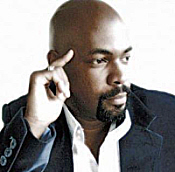 "I'm an artist," he says. "I'm fluent in several disciplines, but film fits really well. That's the career path I started on after I got out of the military. I moved to California where I made my first movie, 'Me and Mrs. Jones'," he says.
LaBorde's film, a drama he directed and co-wrote in 2003, won awards at the Black Film Makers Hall of Fame, the San Francisco Black Film Festival and the Hollywood Black Film Festival. He brought it home for a sold-out showing at the Reichhold Center for the Arts.
"The thing is, having created something outside, I wanted to do something in my own home, and that doesn't come easy," he said.
After returning home, LaBorde took the reins of the film office from 2001 for the next few years, a quiet time for the local industry, except for "The Curious Case of Benjamin Button."
His views on drawing stateside projects are tempered by that experience.
"The infrastructure here makes it next to impossible to draw productions," he says. "Films cost lots of money, and the cost of living here is so high."
He says, "For a production like 'Benjamin Button,' which cost $20 million, they don't care how much they spend, But for a $5 million production we can't compete because of the cost. It's not a question of talent but it costs twice as much as anywhere else to work here."
He adds, "There's a lot of irony in it. I was in the film office with very few tools to work with, really no funding. The film office took a back seat to everything else."
In 2008, LaBorde bought the venerable film production company Grip Flix, from Deborah and Paul Quade, now called Cutting Edge Entertainment & Grip Flicks, Inc.,which he uses as a conduit for nurturing local talent, as well as his production arm. "I've built a crew and trained people who had no real experience in the industry to do the work. I've probably trained 20 to 30 people of different ages that I've met along the way. I've opened my arms to local talent. If you've got the time, I tell them, I'll train you in all aspects of the industry, from catering, craft services. It's been a long road, but I'm open to teaching."
LaBorde's abiding interest, his dream, is the film he has been working on for years, "Timeless." "It's a feature film that explores the idea that hurricanes come from the souls of people who suffered in the crossing of the Middle Passage. It's connected to our lineage, to Ghana. It's a really modern story that explores genetic memory."
That said, it is indeed a labor of love. "I've rewritten it 16 times over the years," he says. "I did the final rewrite. I'm trying to get a mixed case with local talent. I hope to enter it in the Sundance Film Festival."
LaBorde says, "It is my hope that we can produce our own films that actually deal with our culture, our desires and aspirations. Once we can do our own industry, we could have a Taylor Perry style of film right here, the same caliber of production where we can tell stories the industry will take notice, and that might entice others to see it can be done here."
Next: A look at the people behind the productions, the grips, the electricians, the location and production services that make it possible to film in the Virgin Islands.