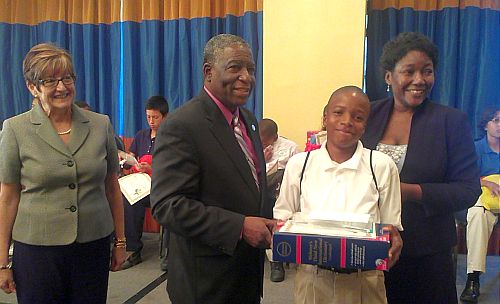 After correctly spelling "waterzooi," "genre" and "tokamak" in the final three rounds, Ricardo Richards Elementary student Yad Bass sealed his win in this year's Territorial Spelling Bee competition with the word "sauerbraten."
This is the first year that Bass, a 6th grader at Ricardo Richards, has competed in either the district or territorial bee. Speaking afterward about his strategy in preparing for the competition, he said that in practice sessions with his coach, he focused on word origins and what prefixes and suffixes to attach.
That coaching came in handy during the twelfth and final round Friday.
"I just kept saying to myself, 'I know this word,'" Bass said later. "I knew the origin of the word, and after that I just kind of had to put it all together."
First-time coach Karen Rene-Bess said she also taught Bass to take his time when spelling – a strategy that her pupil also used to his advantage at several points during the competition as he continued to ask moderators for word definitions, sentences and pronunciations.
"It gives me time to think and build the word in my head," Bass said later.
Coming in second Friday was Kyle Fennessey from the Good Hope School, who impressed the crowd and the judges with his quick spelling of difficult words such as "homogenous," "pochismo," and "coffle."
St. Croix District Spelling Bee winner Aaron Harris came in third Friday. Also competing from St. Croix during Friday's competition were: Khaien Donowa (Claude O. Markoe Elementary), Imani Evans (Pearl B. Larsen Elementary) and N'bari Alexander (the Church of God Holiness Academy).
St. Thomas-St. John competitors were: Jelani Byron (Yvonne Milliner-Bowsky Elementary), Deglanni Fleming, (Antilles School) Amaru Jeffery (Lockhart Elementary), Shania Querrard (New Testament Academy), Silas Wisehart (V.I. Montessori School and International Academy) and Leon Zamore (Calvary Christian Academy).
On hand to welcome and congratulate the students Friday were Lt. Gov. Gregory R. Francis, Education Commissioner Dr. LaVerne Terry, Deputy Education Commissioner Dr. Sarah Mahurt and St. Thomas-St. John Insular Superintendent Jeanette Smith-Barry. Language arts coordinators from both districts were also there to offer support.
The Spelling Bee is sponsored by the V.I. Daily News and V.I. Department of Education.