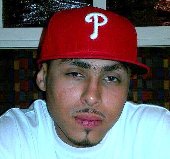 Nemecio Camacho III, also known as "Mecio" or "Mencho," of Barron Spot died on Feb. 29, at Gov. Juan F. Luis Hospital. He was 23 years old.
He is survived by his mother, Hilda Camacho; father, Nemecio Camacho Jr; grandparents: Carmen Rivera and Minerva Alers; companion, Dorna Perpie; sisters: Janet Rivera and Tiffany Camacho; niece, Sajada S. Ambrose; nephew, Nasiem Venner; godparents: Barbara and Steve Beharry; godbrothers: Mark, Larry and Curtis; godsisters: Debbie, Patricia, Kimya, Sheniqua, Niecia and Genesha; godson, Kia James; aunts: Nancy (N.Y.), Sylvia (N.Y.), Minerva (N.Y.), Michelle and Sally Ann; and uncles: Juan, Luis, Victor, Roberts & Ralph (N.Y.).
He is also survived by special friends: Malik and Malika Felix, Krystal Espinosa-Messer, Ahmalee, Akeem and Akeela Thompson, Sabriel Acevedo, Kerisse, Junie Ferrol, Richie, Dwayne, Jovon, Shoy, Gregory, Chantal and Lamel; cousins and other relatives: Jasmyeal, Jesenia and Janyza Emmanuel, Michael, Carmen and Marina Camacho, Robert, Melissa, Jessica, Anita, Michelle, Cherry, Majorie (N.Y.), Carol, Gerard and Carmen Clarke; as well as other relatives and friends too numerous to mention.
Special thanks: Cherene Walters, Rapheal Casablanca, Teri Helenese, Glenn Awong, Pete Ruiz, Debbra Peterson and family, Gov. Juan Luis Hospital ICU Unit and Emergency Room, Tropical Ten Pins, and the Diageo staff.

The family requests that those in attendance wear festive colors.
There will be a viewing held at 9 a.m. followed by a funeral service at 10 a.m. on Tuesday, March 13, at St. Joseph's Catholic Church. Interment will be at Kingshill Cemetery.