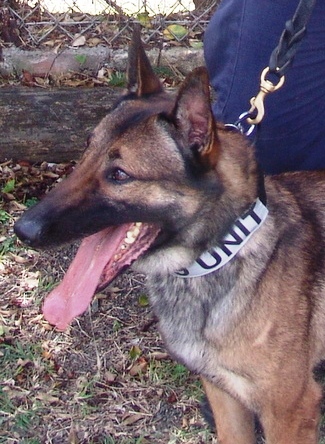 Luca, the canine officer that arrived on St. Croix Feb. 18, spent two weeks acclimating before he was approved for duty, and according to police, his first night out on patrol was a success. On Saturday Luca twice indicated the presence of drugs, causing the arrest of one suspect and drugs to be confiscated from another.
Police said that about 5:30 p.m., officers on Saturated Patrol made a check at an area known for drug use in Estate Grove Place near a closed grocery store. After approaching several men in the area, officers allegedly found Conrad Phipps in possession of a small bag of marijuana.
Upon inspection of Phipps' vehicle, Luca apparently indicated the presence of drugs. Officers checked the area, and allegedly found at least nine small plastic bags of marijuana, totaling approximately 29 grams. The officers subsequently arrested Phipps.
Later that night, officers approached several men while patrolling the area of the Alexander Henderson School. Luca and his handler checked a vehicle in the area, and the canine indicated the presence of drugs. Police confiscated approximately seven grams of marijuana.