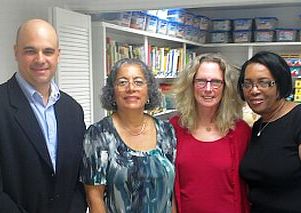 A sizeable donation from corporate sponsor Chevron will help the Community Foundation of the Virgin Islands continue to support its popular Junior Angels program, which partners local high school students with service-oriented organizations that make help make a big difference throughout the territory.
"This is really a celebration of some of the best things in our community," said CFVI President Dee Baecher-Brown at the donation ceremony, held Monday afternoon at the foundation's Family Connection offices on St. Thomas.
"Having corporate citizens who see a need and then come forward with some funding to help us do the work that we do is really wonderful," Baecher-Brown said.
Through the Community Foundation, the Junior Angels program is meant to introduce students to the worlds of volunteerism and philanthropy. High school students on St. Thomas and St. Croix are partnered with selected community service agencies for internships of up to 10 hours each week.
Junior Angels are also provided with youth development opportunities for skill building and personal and professional life skills.
Student volunteer assignments include agencies such as the V.I. Resource Center for the Disabled, Lucinda Millin Home, St. Thomas Historical Trust, Humane Society, Woman's Coalition of St. Croix and Project Link.
Chevron representatives presented a $5,000 check to the cause Thursday, and thanked the students for their efforts.
"It's always good to see young people making a difference in their community," said Chevron's local representative Carol Theodore. "We're pleased to be part of the Virgin Islands, helping throughout the community and with our young people."
Baecher-Brown said donations such as the one made Monday help CFVI expand their youth programs throughout the territory.
"Programs like these mean so much, both to the young people who get experience working with different organizations and to the organizations who get the help," she said.
"If I'm living in a home with mostly with older people and I have a bright face come and greet me after school, that would just make my day, and we're happy to be able to be a part of that," Baecher-Brown said.
"Our students help as a group. They help individually. So it's really enabling them to be the best they can be."
In addition to their work at the nonprofit agencies, the Junior Angels also participate in group projects. St. Croix's Junior Angels have recently been involved with teaching lessons to other students on "Virtues" and "Heroes," two additional CFVI initiatives.
According to a news release from the organization, the students plan to turn these lessons into a book.
Junior Angels on St. Thomas have also been working on various personal development opportunities, including learning how to Japanese brush paint, watching and discussing a movie about the Holocaust, and meeting with a survivor of the concentration camps to learn about her experiences.