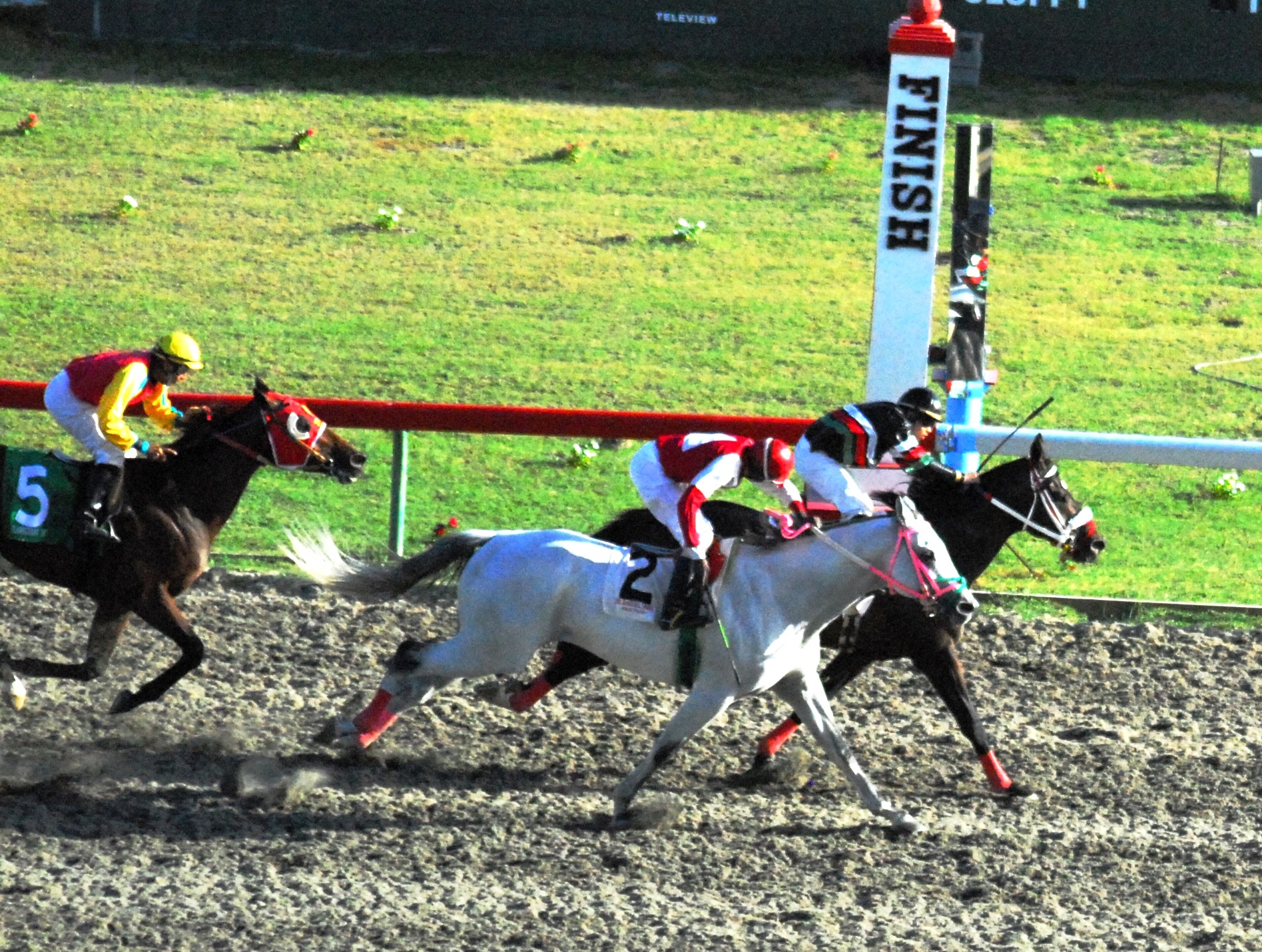 After being headed by stable mate Black Jack Bob in the stretch run of Sunday's featured sixth race at the Randall "Doc" James Racetrack, Expect Smoke rallied to nail the win by a long neck at the wire.
Expect Smoke, with jockey Brian Gonzales in the irons, negotiated the 7-1/2 furlongs in a time of 1:32 flat.
Expect Smoke broke well, and along with Formal King, was quickest out of the gates.
Formal King and his jockey Christian Soto set the pace for the lead and were quickly joined by Green Sand. The two battled into the backstretch with Expect Smoke and Going Blue sitting two lengths off the pace.
At about the four furlong marker, Expect Smoke, Going Blue and San Viron quickly gobbled up the two front runners and raced around the far turn as a unit.
The three new leaders were locked in a stretch battle as they ran for the finish, when Black Jack Bob exploded on the outside and looked set to blow by the field.
Expect Smoke had a slight advantage on the inside at the time but Black Jack Bob stuck his head out front. Expect Smoke came back at the wire to get the victory.
Black Jack Bob was a neck back in second, followed by San Viron in third.
In the third race on the card Prince Crystal proved he may be the best native bred thoroughbred in the territory when he crushed the field of six of the Virgin Islands' best.
As is his usual running style, Prince Crystal came from well off the pace to run by the field around the far turn before drawing clear in the stretch to win by four lengths at the wire in a time of 1:28.1 for the seven furlongs.
Express to Cali closed well for second and Dinero held third.
Leggy Blonde, recently ranked as the top mare in the territory, rebounded from back to back losses to reestablish herself as one of the best female thoroughbreds with a two lengths victory in race five, of seven furlongs, in a time of 1:26.
Finish in Style outdueled new comer Watch Your Back for second with the latter finishing a close third.
The rest of the day's results:
Race1 5 F Classes N-6, Jockey
Time: 1:00.4
1. Master Deposit, C. Soto jr.
2. Hanna Boss, A. Claudio
3. Tru Gold, E. Barnes
Race2 6 F Class I-4 & I-5(M/F), Jockey
Time: 1:13.2
1. Rasta Queen, W. Hurst
2. Excessively Classy, M. Rivera
3. Dorado Missile, J. Santiago
Race4 7 ½ F Class I-5, Jockey
Time: 1:32.3
1. A Bit Of Madness, B. Gonzales
2. Game Winner, W. Hurst
3. Salty Glider, E. Soto