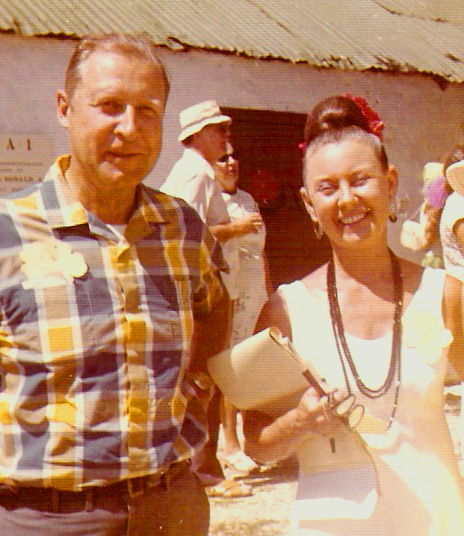 Jean Bright Eastwood and her late husband, John "Jack" Eastwood, were part of a group of dedicated volunteers who helped to found the St. George Village Botanical Garden in 1972. She and her husband lived on St. Croix for 22 years. Thanks to a generous gift from Jeremy Bloom's Wish of a Lifetime (JBWOL) Foundation, which grants the
wish
of a lifetime
to deserving seniors throughout the United States, Eastwood will return to St. Croix to help celebrate the 40th anniversary of the St. George Village Botanical Garden, which she helped to found and develop. She was well known in the St. Croix community as the "lady with the red hibiscus in her hair," and for her contagious enthusiasm for developing a place of beauty and botanical significance at Estate St. George.
Eastwood will be honored at the St. George Village Botanical Garden as they celebrate the 40th anniversary with a weekend of events on Saturday and Sunday, March 24 and 25. This special weekend of "Art in the Garden" will be a celebration of art and flowers.
On Saturday, the public is invited to visit the Garden between 1-4 p.m. to view local artists creating temporary works of art in chalk on the concrete surfaces of the Bodine Visitors' Center and participate in family arts and craft activities. Visitors will also enjoy beautiful displays by the St. Croix Orchid Society, the St. Croix Bonsai Society, and the St. Croix Hibiscus Society, as well as demonstrations of the artistry and skills of blacksmith Richard Waugh in the historic Blacksmith's Shop of Estate St. George.
On Sunday, March 25, the celebration will continue with "Tip Your Hat," an elegant afternoon garden party from 3-6 p.m. The party will honor Jean Eastwood, members of the families of Robert Moon and the de Chaberts, and the many volunteers and members of the Garden who have shown their support through the years, including Helen Gilbert, who has been a member and supporter for the entire 40 years.
St. George Village Botanical Garden was established after Robert Moon, of Lakeside Manufacturing in Milwaukee, Wisconsin, gave the original parcel of land at Estate St. George to the St. Croix Garden Club. The initial bequest included the factory ruins and enslaved workers' village. Additional gifts of surrounding lands from Robert Moon and the de Chabert family comprise the 16.5 acres that is cared for today by the non-profit organization.
Jean Eastwood served as the first Garden president from 1972 to 1976, and oversaw the initial development of the property. Her husband, Jack Eastwood was president during the year following the end of her term. Projects during that time included the clearing of the growth that had overtaken many of the structures and the construction of the landmark Great Hall structure. Built in 1976, it was designed to include historic row houses that had served as quarters for the workers of the sugar cane plantation of Estate St. George.