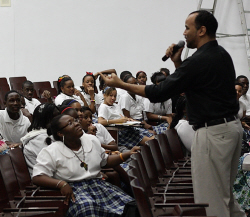 Students at the St. Croix Educational Complex were treated to an English lesson Friday with significantly more dancing than most. Educational consultant and motivational speaker Erik Cork combined music, dance moves cribbed from music videos, and verb conjugation in an hour-long presentation that left both students and teachers impressed.
The presentation took place in the Educational Complex's auditorium, though Cork had little use for the stage. He spent most of the presentation sprinting up and down the aisles with a microphone, joking with students and giving them very little choice but to be involved with his lesson.
Cork's presentation was a frenetic mix of music and flashy PowerPoint slides that simultaneously entertained the students and taught them the fundamentals of writing a decent essay. At one point in the presentation he mimicked Usher's distinctive dancing style to illustrate smooth sentence transitions. At another, he stressed the importance of revision by leading the students in a song entitled, "Back that Pen Up," set to the music of Juvenile's song of a similar but much more explicit title.
Cork had no problem acting the clown for the students. He believes it's a way to connect with them in a short timeframe and get them to remember the lesson. If the students leave the program and are talking in the halls about the funny things he did, he explains, they are still talking about grammar.
"It's never about me; it's about the lesson," he said after the program. "If you're really interested in them getting the lesson and getting what you're trying to teach, then you will make an effort to speak the language they understand—to reach them in that way."
During his performance, Cork stressed the importance of using proper grammar on standardized tests and in the professional world. There is a time for slang and a time for mainstream English, he said, and he encouraged the students to understand that divide.
Cork played a short clip of a speech by Dr. Martin Luther King, Jr. and told the students that King probably spoke just like them when he was at home, but in public he elevated his speech to connect with people.
He also tried to make the lesson relevant to students by suggesting it would help them on dates. He grabbed a female teacher from the audience and mockingly hit on her using a lyric from a Chris Brown song.
"Girl what your name is!" he shouted at her, then asked the laughing students if that was really the best approach.
Ultimately using proper English was a matter of money, Cork told the students. He stressed that it wasn't an issue of culture or race; it was about getting a job and getting paid.
"It's not white, it's not black, it's green," he said.
After the presentation, principal Willard John gave Cork a rave review.
"It was a phenomenal success. It was fantastic," he said. "He's using their mode of operation, which is music—their modern music—and using it to teach them and they were really turned on."
Based out of Houston, Texas, Cork presents his energetic English lessons at schools around the country. He was brought to St. Croix by the St. Croix Foundation and will be serving as the keynote speaker at the inaugural Youth Forum at the University of the Virgin Islands's St. Croix campus Saturday. The forum has been organized by the St. Croix Foundation Youth Advisory Council and will invite high school students to explore issues of coping with 21st century life and whether the skills they've learned in school have properly prepared them for the working world.