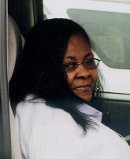 Germaine G. Scott, 57, wife of George W. Scott Sr., passed away unexpectedly on Tuesday, Feb. 21, at MidState Medical Center in Connecticut. She was born Nov. 21, 1954, on St. Croix, U.S. Virgin Islands, and was the daughter of the late David E. and Leonile (Hoyer) McBean. Germaine was an LPN at the Juan F. Luis Medical Center on St. Croix until retiring several years ago. She was faithful to her religion, a member of Holy Angels Church in South Meriden and St. Patrick's Catholic Church in Fredriksted, St. Croix.
In addition to her husband, George, she is survived by daughters: Leonile (Caesar) Scott-Faraci of Meriden, Theresa Scott of Meriden and Tiffany (Shamoi) Scott-Murrain of Texas; two sons: George W. Scott Jr. of Colorado and George W. Scott III of the Virgin Islands; and grandchildren, Shanai Scott, Payten, David and Anysia Faraci, and Sarai Murrain. She also leaves sisters: Denise McBean and Wilma Broadbent; brother, David McBean Jr.; sisters-in-law: Yvette McBean, Darcos Griffin and Marie McBean; as well as many nieces, nephews, cousins and friends too numerous to mention. Germaine was predeceased by sisters: Christine (Christina) McBean, Nola McBean-Ross and Edith McBean; and brother, Valentino McBean.
A funeral service will be held at 9:30 a.m. on Monday, March 5, at St. Patrick's Catholic Church in Fredriksted. Burial will follow at the Frederiksted Cemetery.
All arrangements are by James Memorial Funeral Home Inc.