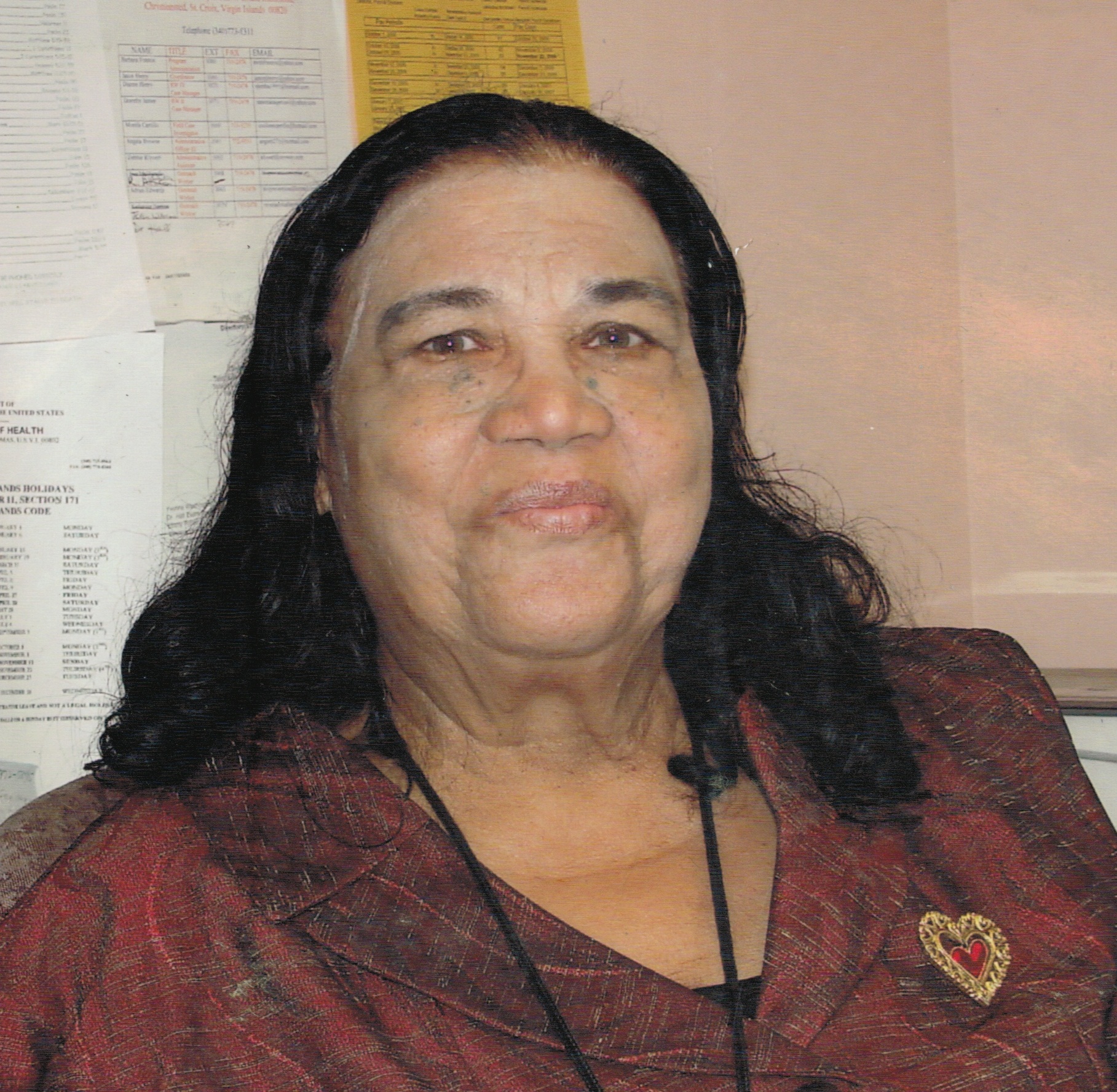 Dorothy James, also known as "Nurse James" or "Jamesey," of Williams Delight died on Feb. 25, at the Gov. Juan F. Luis Hospital. She was 73 years old.
She is survived by her husband, Isaac James; daughter, Doreen Shillingford (former minister of health and social security, Dominica); sons: Justinian James, Wallace James, Kent James, Dannie James and Van James; grandchildren: Antonio Paul, Nicole Paul, Akim Paul, Jotham Paul, Jaakan Paul, Caryl James, Miles James, Mahala James, Cassia James, Carlian James, Ian James, Stefanie James, Jesse James, Ibo James, Asher James, Caseem James, Dannie James Jr., Delia James and Kevan James; great-grandchildren: Sahara, Jahsauni and JJ; daughters-in-law: Mayvis James, Anthea James and Iva James; son-in-law, Benedict Shillingford; sisters: Maudrina Lestrade and Gabriella Samuel; and brothers: Justin Lestrade, Daniel Lestrade, Joseph Lestrade and Thomas (Tommy) Lestrade.
She is also survived by nieces: Jacqueline Lestrade, Sidra Lestrade, Melissa Lestrade, Heather Lestrade, Jenelle Samuel, Francillia Blanc and Euline Augustus; nephews: Brandon Lestrade, Justin Lestrade Jr., Daniel Lestrade Jr., Sidiki Lestrade, Saiid Lestrade, Joseph Lestrade Jr., Anderson Samuel, Curtis Samuel, Israel Jno. Baptiste, Philbert Jno. Baptiste, Robert Thomas and David Lafond; sisters-in-law: Rebecca Lestrade, Sylvaine Lestrade and Martha Jean Pierre; brother-in-law, Leroy Samuel; aunts: Edith Coipel and Josephine Warrington; and uncles: Pierre Joseph and Jervier Joseph.
Other survivors include special friends: Ms. Francis and Ms. Martinez along with staff of the Charles Howard HIV/STD/TB Department, Olivia Seraphine and family, Mr. and Mrs. Joseph Frederick, Mr. and Mrs. Deroy Pierre and family, Mr. and Mrs. Eldon Serrant and family, John Charles, Wavel Thomas, Theona Frederick, Stella Symmes, Nurse Shaw, Myron Lawrenson and husband, Carmen (neighbor); cousins and other relatives: Mr. and Mrs. James Lawrence, the Lestrades, Hurtaults, Bruneys, Jno Baptises, Colaires, Philberts, Carrettes, Beverly Checkly, Mildred Mility, Joan Paul, Steve Charles, Elisha Laurent and family; the entire medical and nursing profession in Dominica, pastors and members of the Frederiksted Church of the Nazarene in Williams Delight, pastors and members of the Christian Union Church in Dominica, the entire communities of Petite Soufriere, Layou, Tarreau, Mero, St. Joseph and Salisbury in Dominica; as well as other relatives and friends too numerous to mention.
A viewing will be held at 9:30 a.m. followed by a funeral service at 10:30 a.m. on Friday, March 2, at the Frederiksted Church of the Nazarene. Interment will be at Kingshill Cemetery.
All arrangements are by James Memorial Funeral Home Inc.