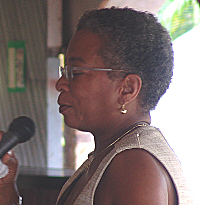 V.I. Congressional Delegate Donna Christensen is determined St. Croix will be designated a National Heritage Area this year. She's not sure when, she said Sunday, but it's one of her top priorities, she told the members of the St. George Village Botanical Gardens during their annual meeting.
Christensen said dealing with the blows that have rocked the territory's economy is her top priority, but gaining that designation for the big island is a close second. And it will have important economic advantages when it comes, she told the Botanical Garden members.
The process has been going on almost four years, and in that time it has grown. There are more than 30 national historic areas already designated throughout the U.S., some as small as a city and some as large as a whole state – Tennessee.
They are federally designated but locally managed, and no one loses anything or cedes their property. Instead, it is a tool that can help promote the area to a whole new level.
When a National Heritage Area is so designated, federal money becomes available to help get the program under way, as much as $1 million a year for 10 years, Christensen said.
Designation will aid the tourism industry, she said, and stimulate the economy, supporting existing businesses and helping create new ones.
But one of the biggest advantages has already happened, she said. During that long planning process there have been 15 meetings bringing together people from all across the social and economic spectrum of the islands, cataloging what constitutes Crucian heritage and how to best promote it.
"People came together who don't usually talk to each other," she said, and that broad-based support has made the project stronger.
A coalition called SUCCEED representing many of those groups has been formed to manage the heritage area, she added.
The heritage area will tell "the story of St. Croix," she said, including the geography and natural environment of St. Croix, the indigenous culture and the first contact with European settlers, the seven flags that have flown over St. Croix, slavery and emancipation, Alexander Hamilton, the churches of St. Croix and modern St. Croix.
"We're excited about it, we're looking forward to it," she told the audience of about 40 gathered in the Great Hall of the botanical garden. "When the designation comes we will be ready to jump into it."