The competition was keen at Saturday's 16th annual 8 Tuff Miles race with a group of racers from the Cincinnati area dominating the top spots at the men's event and a woman also from the Cincinnati area placing third.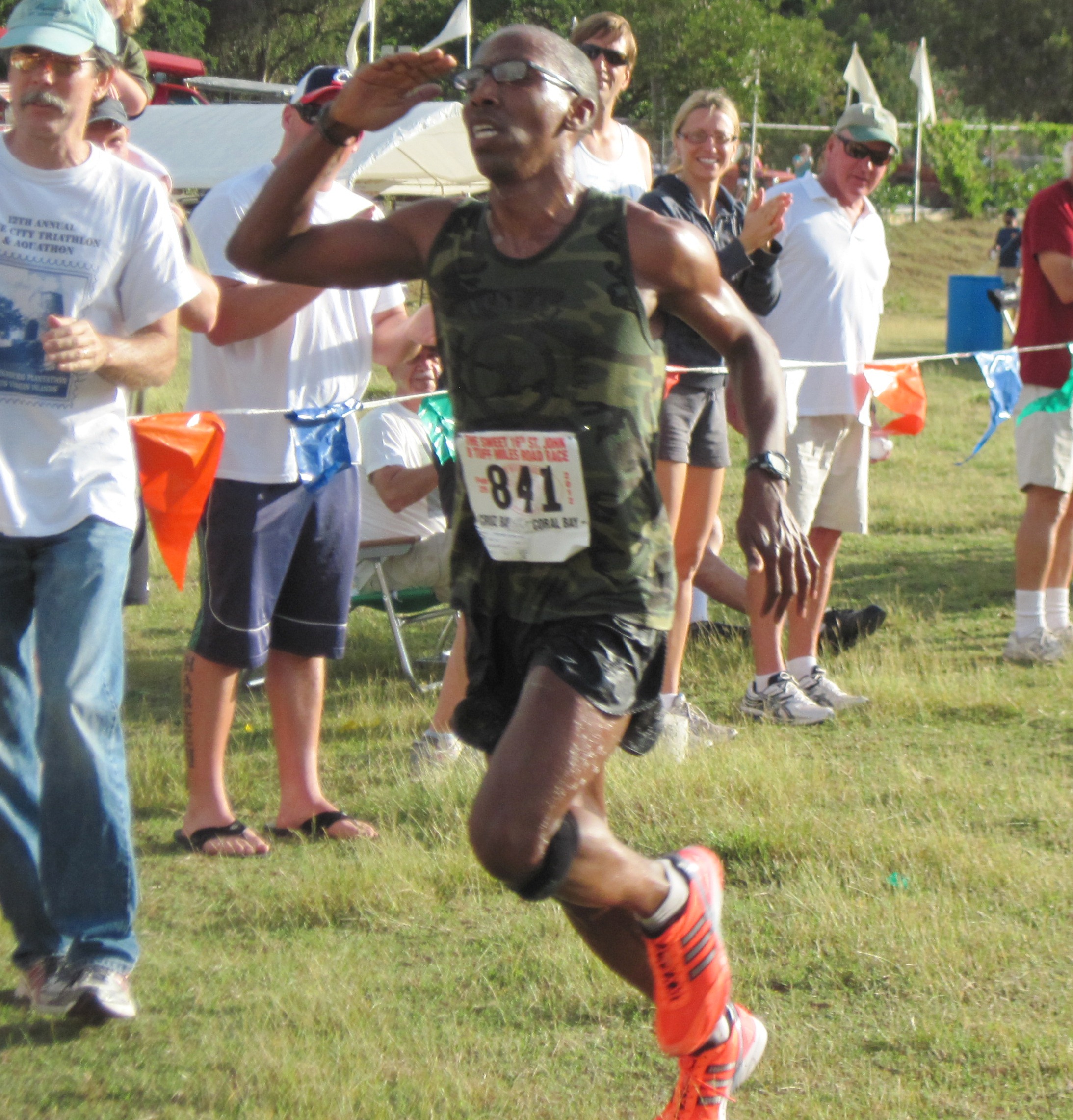 He didn't break the course record set last year by a fellow Cincinnati area racer, but Derrick Butler, 31, of Covington, Ky. was the first man across the finish with a time of 46 minutes and 22 seconds.
"It was eight tough miles," Butler, an engineer, said of the 8.38-mile course from Cruz Bay to the Coral Bay ballfield.
It was his first time competing in this event, and he, like many of the 983 people who crossed the finish line, spoke about the hills. However, he said he was prepared because he checked out the course the day before.
The course record holder, Chris Reis, of Cincinnati, came in second for the men. Last year, he did the race in 46 minutes flat. This year his time was 46 seconds more.
"It was rough. I didn't feel a lot of pop from the get go. This year my legs were toast," he said just after crossing the finish line.
Reis works at Bob Roncker's Running Spot and trains 100 miles a week.
"I stay fit all the time.
Third place for the men went to the hometown star, Jeremy Zuber, 31. The front-office manager at St. John's Caneel Bay Resort. Zuber said he knows he has the advantage. He won the event a half dozen times and this year crossed the finish line in 51 minutes and 26 seconds.
"But those guys set a fast pace," he said of the Cincinnati contingent.
He said he frequently runs the course, and added that he keeps telling himself he can do it one more year.
Court Lily, 34, another of the approximately 20 Cincinnati area runners, took fourth for the men with a time of 51 minutes and 53 seconds. He has finished near the top several times.
Another hometown runner took first for the woman, the third time in a row and the fourth time overall that St. Thomas resident Ruth Ann David, 38 and a fitness trainer, was the first woman across the finish. She said was disappointed she didn't break her previous time. She passed the finish line in one hour and 10 seconds.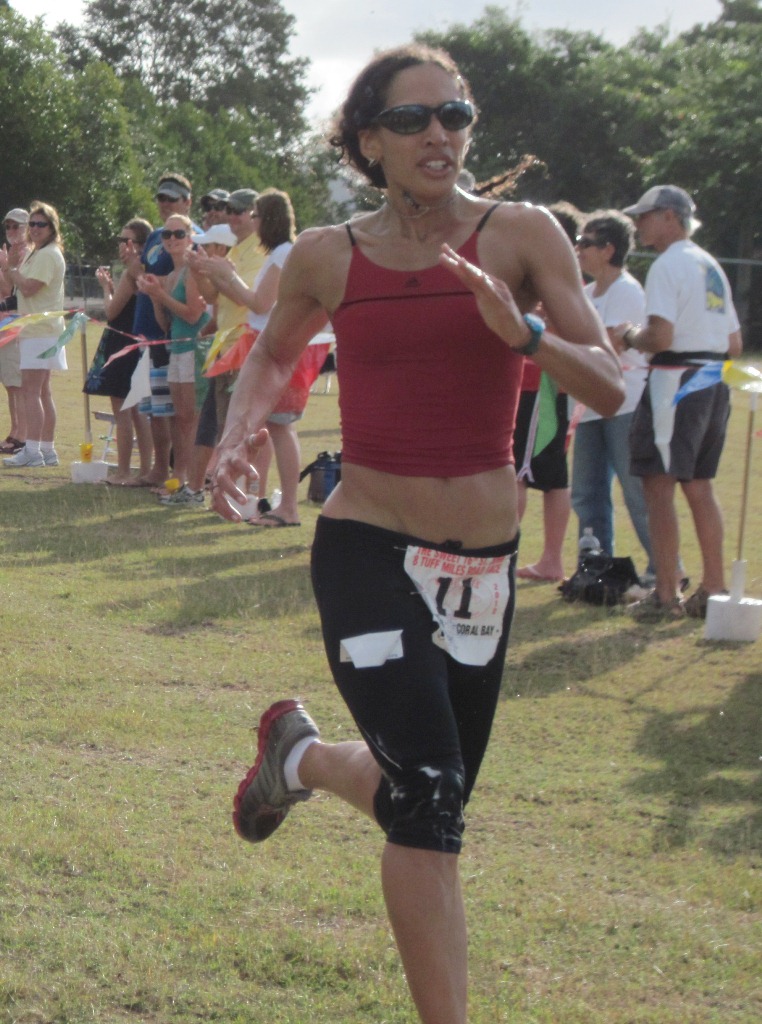 "I had no time to train," she said.
Second for the women went to another local resident. Emily Egelhoff-Whalen, 20, who calls St. John home, but is off attending school at North Carolina State University. She runs track and field at the school and ran this course in one hour, two minutes and eight seconds.
"It was a lot of fun but it was hard. The final three miles – well, I survived that," she said.
The women's third place finish went to another Cincinnati area racer. Jennifer Sprauge, 31, of Newport, Ky., who had a time of one hour, two minutes and 39 seconds.
Peggy Levin of Newtown, Penn. came in fourth for the women with a time of one hour, three minutes and 19 seconds. At 38, she said she wanted to run the course before she got too old. A seamstress by trade, she said she practices by running up and down the hills near her home.
"It was great," she said of the event.
Only a very few people have ran all 16 of the 8 Tuff Miles contests, and long-time St. John resident and cancer survivor, Chris Chapman, planned to be one of them. With 15 under her running shoes, she was gearing up for number 16 when she unexpectedly had to return to the states for more throat cancer treatment.
Chapman's disappointment prompted a group of about 10 of her friends, mainly from the Coral Bay area, to form a relay team to walk and run the route in her honor.
"We'll wear her bib number – 901 – on the back of our shirts. It's to cheer her up," Nina Gross said.
The event runs on volunteers, and they were out in force. St. John Rescue had 20 people stationed along the course and in Coral Bay. V.I. Fire Service was also on hand to help, and was spotted assisting a downed runner about a mile from the finish line. Jeff Miller of the 8 Tuff Miles committee said that there were only a few people who experienced problems along the course.
Other volunteers worked the finish line, handed out medals to the finishers, and folded t-shirts.
"This is the place to be," St. John winter resident Pat Lodge said as she and three other women assembled goody bags before the runners began heading toward the finish.
Three women from Minnesota, on hand to cheer on their friends, were busy at the snack table.
"We're supposed to be cutting fruit but it didn't arrive yet," Larkin Cranber of Edin Prairie, Minn. said.
As always, 8 Tuff Miles brought out slews of supporters from around the country and the Virgin Islands.
Team Mimosa was on hand to support a dozen runners out of their group of about 17.
Over the years, they met on St. John and became friends. They began coming out to cheer the runners when one of them had breast cancer.
"Babes, beasts and boobs," Ben Chill of Chattanooga said, reading Team Mimosa's motto off their pink t-shirts.
St. John resident Diane Douglas said she was there to support and encourage the runners.
"If we can't be in it, we might as well be cheering on," she said.
For complete results, visit www.8tuffmiles.com.