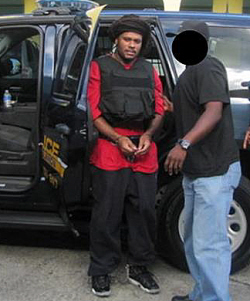 Flanked by police officers and heavily secured with handcuffs and a bulletproof vest, Jose M. Rivera Jr. was the last person off a commercial flight from Georgia at Henry E. Rohlsen Airport Friday, extradited back to St. Croix to stand trial with four others in the death of a V.I. police officer.
Rivera shuffled across the tarmac to a waiting police car which took him to police headquarters where he was photographed, booked and taken to jail. He was arrested at about 3:45 p.m.
Rivera, 39, joins the other suspects at the Golden Grove Adult Correctional Facility accused of kidnapping, torturing, and murdering V.I. Police Officer Wendell "Lazee" Williams, who was reported missing June 13, 2001.
The four other suspects who were arrested on Feb. 10 on St. Croix in connection to Williams' killing are Sharima Clercent, 32, Jose G. Ventura, 41, Maxililiano Velasquez, 38, and Juan G. Velasquez, 29. All of the suspects, including Rivera, are each being held on a $1.5 million dollar bail.
Rivera was initially arrested about 1 a.m. Friday, Feb. 10 by Georgia law enforcement and extradited after a warrant was issued in the Virgin Islands in connection with the suspected murder of Williams.