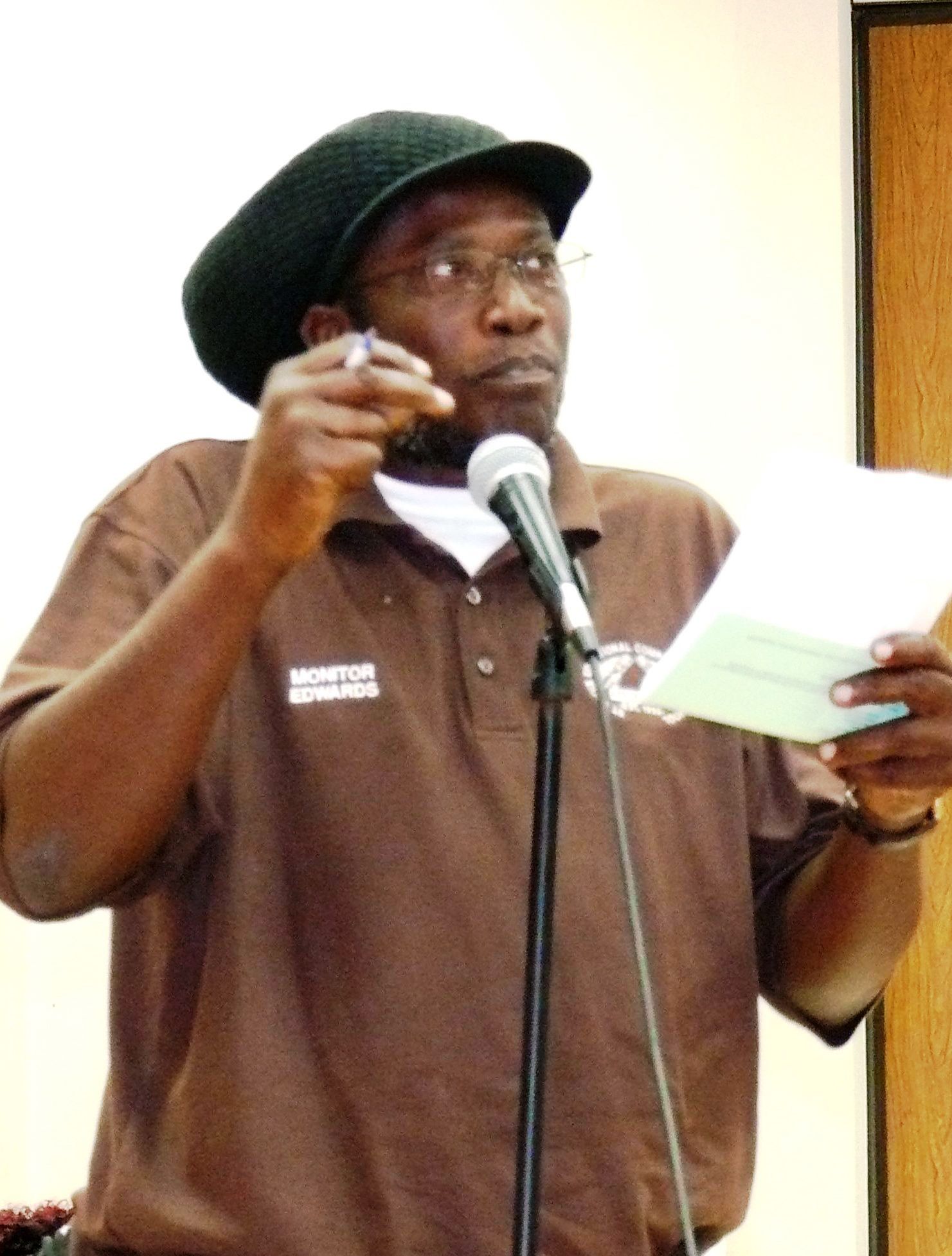 During a public forum held by the St. Croix Federation of Teachers on Wednesday, teachers expressed deep concerns about continuing layoffs. Taking the microphone briefly, St. Croix AFT President James Howell told the audience and the senators on the stage that a number of teachers had been dismissed over the past few days.
"I am mad with the way it was done," Howell said, alleging some teachers were hauled out of class and told to immediately pack up and leave.
Without directly addressing whether or not there really is a budget crisis, Howell suggested money should not be the primary concern.
"To me it seems that all they are concerned about is money," Howell said of the commissioner of Education and governor. "If you are at all concerned about the youth, why would you do it in the middle of a school year?" he asked.
Teacher Carmen Heywood took to the microphone to say she agreed with Howell, and that layoffs of teachers were "shameful," and "bullying."
Senators on the stage said they had no direct knowledge of these recent layoffs, but agreed that if layoffs were done in such an abrupt manner, it was inappropriate.
Since the beginning of the 2011 school year the department left vacant positions unfilled in hopes of saving as many jobs as possible. Numerous meetings were held with the superintendents, supervisors and building administrators to inform them that employee dismissals would become a reality and to seek input on areas that should be considered for reduction.
Since the forum, Education Commissioner Laverne Terry has confirmed 25 employees, support staff and educators territorywide were dismissed this week.
It is "important that the public understand that these decisions were based solely on the current economic situation," Terry said in a statement Thursday.
According to Terry, employees were able to ask questions and were able to meet afterward with their respective administrators/supervisors, and at no time was anyone spoken to in front of colleagues or students. Terry's account Thursday does not directly conflict with that of Howell and other union members.
Howell said Wednesday that teachers were called to the office and sent home, which does not directly conflict with Terry's description.
Several minority senators told teachers they do not believe there is a budget deficit at all and the fiscal crisis is a fiction created by Gov. John deJongh Jr.
Sen. Terrence "Positive" Nelson said, "I agree with you that we don't have a deficit," in response to a question from St. Croix resident Cletus Emanuel.
Emanuel wants to sue the government over what he believes is an inappropriate difference between the budget proposed by deJongh and the final budget approved by the Legislature.
"I know we don't have a deficit," said Sen. Nereida Rivera-O'Reilly to the small crowd of dozens gathered in the John H. Woodson Junior High auditorium.
"Can I prove it? No, because we don't have access to information in real time," she continued, referring to a law enacted over deJongh's veto requiring the governor to provide the Legislature with access codes to all the government's bank accounts, so it can get figures directly from those institutions instead of from the Finance Department and Office of Management and Budget.
DeJongh vetoed the measure, saying it was a violation of separation of powers, and the Legislature overrode the veto. The administration has not given senators that direct access to the government's accounts to date, continuing to assert the law is an improper intrusion into the direct day to day operations of the executive.
Sen. Neville James also asserted there is no actual budget shortage. "We received some $1.8 billion in revenues over a two-year period and even then they claimed they don't have money. It is absolutely stunning," James said.
Sen. Craig Barshinger, also a minority senator, said he would help Emanuel file his lawsuit about the budget, because of Barshinger's objection to the governor's lack of action on providing senators direct access to the government's bank accounts.
"I'll help you file a lawsuit because right now the governor is violating the law," Barshinger said, going on to recount how the Legislature overrode the governor's veto. "He basically tried to intimidate us as if this was an unreasonable law."
"He didn't have the right to do that," Barshinger said, "so when someone says shall we sue, I say yes."
Sen. Sammuel Sanes, a member of the majority caucus, did not go so far as minority members in asserting there is no budget crisis and that the numbers had been fabricated, but he expressed concern about the quality of information provided by the administration.
"We haven't had full information, and that is my take on that," Sanes said.
Sen. Usie Richards, also a member of the majority, disagreed that senators did not have enough information to make proper decisions.
After describing the annual budgetary process, Richards pointed out senators always see three years of budget numbers, with projected figures and the actual final figures for past years, and changes are made as projected expenditures and revenues do or don't materialize.
"I make my decisions in the light, based on my analysis of the information," Richards said.
St. Croix agriculturalist, activist and Education Department employee Percival Edwards asked the senators what they planned to do to deal with Hovensa's closing; how to bring cheap natural gas to the territory, and what industries would replace oil refining as a major component of the territory's gross domestic product.
Barshinger suggested encouraging some form of solar or wind power production on the site. "If necessary we should take (the land) by eminent domain and put people to work on that land," Barshinger said.
Sanes said he has been looking into natural gas for some time and at least two companies are starting to discuss the options for bringing it to the territory. He is holding hearings on natural gas options in late March, he said.
Richards said it is time to pore over the territory's current contract agreement with Hovensa, as well as a recent EPA consent decree affecting the refinery, to see what legal options need to be initiated to begin cleanup of the site.
Russell pointed to sports, tourism and technology related industries as the likely saviors of the economy, looking at plans for a new sports complex in Frederiksted, and the start of construction on the University of the Virgin Islands Research and Technology Park on St. Croix.
O'Reilly suggested old plans for a water park on St. Croix could be dusted off and reconsidered as one component of a menu of capital projects aimed at creating jobs while adding to the island's assets.
Student Maliek Cepeda, a senior at St. Croix Educational Complex, said he was deeply concerned about the number of murders and other violent crimes on St. Croix, and a growing sense among students his age that there would be no jobs or opportunities for them after graduation.
"This young man is a good example of the education system working," Sanes said, sympathizing with Cepeda's concerns.
Questions continued for two hours, often focusing on whether there would be more layoffs, when would recent 8 percent pay cuts be rescinded, and other basic concerns of government employees for which there are few firm answers presently.
Senators present were: Russell, James, Nelson, Richards, O'Reilly, Sanes and Barshinger.