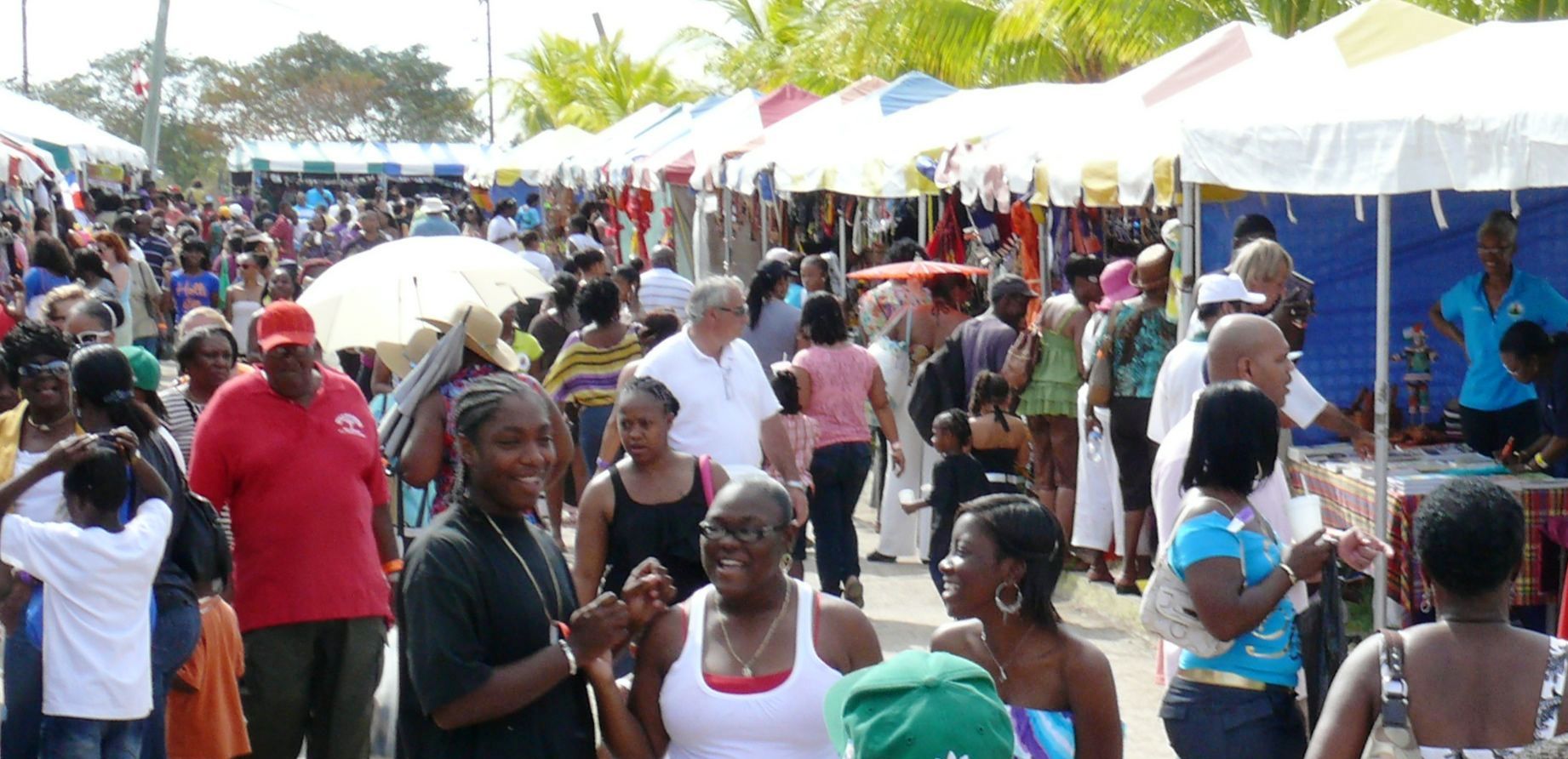 Grilled and fried food aromas filled the air and the thumping strains of Fusion Band, this year's 2012 St. Croix Road March Champions, could be heard wherever you were on the sun-drenched grounds of the Agriculture Department Fairgrounds for the final day of Agrifest 2012 Monday.
A sea of cars filled the field across from the fairgrounds as much of St. Croix and hundreds more from St. Thomas and the wider Caribbean came out in droves. All over the sprawling grounds, people milled from area to area, many looking at the dozens of booths and tents set up by businesses, government agencies and schools, including the V.I. Energy Office, V.I. Water and Power Authority, Innovative, and the University of the Virgin Islands.
Local agriculture and local cooking are the lifeblood of the fair. The produce pavilion was burgeoning with verdant piles of fresh local and regional produce, from achiote to yams.
And the food pavilion was filled to bursting with hordes of hungry fairgoers seeking out their favorite cooks for steaming bowls of kallaloo, souse and red pea soup, heaping plates of charcoal roasted pork, pot-fish, barbecued chicken, butter conch and more, along with aorta-crushing mounds of potato stuffing, peas and rice, macaroni and cheese.
Not to mention all the Vienna cake, chocolate cake, guava tarts, peppermint lozenges, jaw-breaking peanut dunderslaw and heaps and piles of other traditional favorites.
How-to demonstrations from experienced local cooks are always a popular part of the fair. Evannie Jeremiah returned to the fair to demonstrate how to make tomato cheese casserole. And Clint Ferris gave his ever-popular demo on how to make ice cream and sherbet using native fruits, this year with sorrel sherbet and avocado coconut praline ice cream.
In the livestock pavilion, parents and children strolled around the rabbits and fowl, fat pigs, goats, sheep and cows.
The artistic creations of school teams, scout troops and youth groups filled much of the animal pavilion. Students and youth groups decorated hay bales with agricultural and recycling themes.
"The idea was to stir their creativity while educating them and getting them to think about the process of recycling," said Sarah Dahl-Smith, youth director for the Agriculture Department.
And in a twist on a recently added competition called "Farm Animal Frenzy," young artists from St. Croix schools turned used car tires to create sculptures of farm animals.
The 4-H Club at Good Hope School won this year, with an unadorned abstract sculpture of a rabbit composed entirely of discarded trash items: its body and head from old tires, tires for legs, an old garden hose bent into ears, and a pair of tennis shoes found discarded in the street forming the rabbit's feet.
"It was inspired by a rabbit they had rescued," Smith said. "The rabbit was a little ragged and rough looking, so they named it Flopsy." They made their sculpture a bit ragged on purpose, to mimic the raggedness of the real rabbit, she said.
Another successful contest was held by 4-H. Along with animal care demonstrations, entries in numerous contests, a lettuce growing demonstration in the form of a vertical garden, they held the competition: "Are You Smarter Than a 4-H-er?" modeled on the TV show "Are You Smarter Than a 5th Grader?"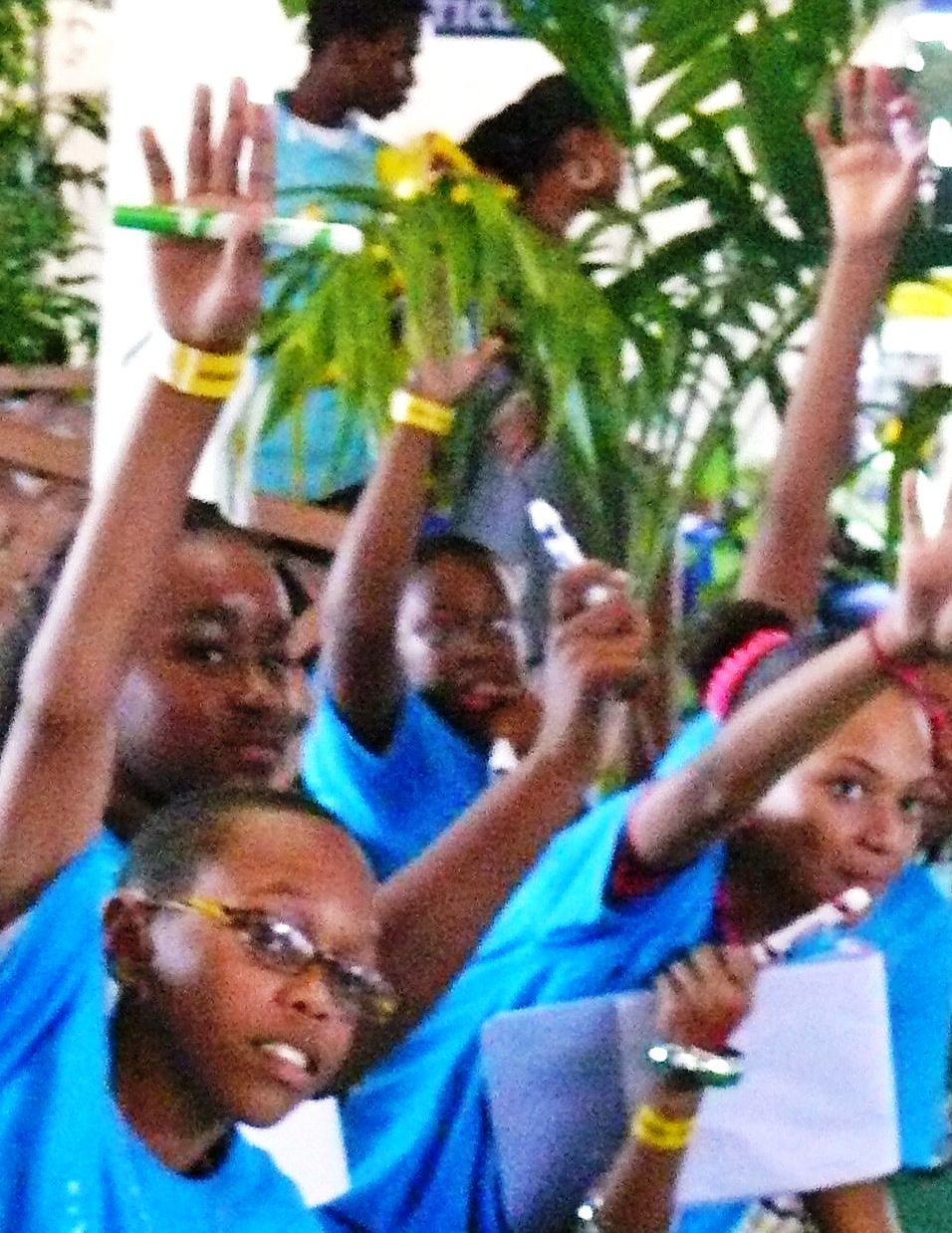 Contestants got to pick a 4-H member to help them answer quiz questions like:
– What parts of medicinal plants are used in bush tea? (Answer: Leaves)
– Should a rabbit be picked up by its ears? (Answer: No)
As contestants progress, the questions became more difficult. When a contestant was stumped by the question "when did UVI become a Land Grant University," third grader Kadejah Stevens gave the correct answer of 1972.
For each level of difficulty they passed, a contestant received another ticket, with all the tickets put into a bag and a winner selected at random. Ray Mathurin, a freshman at St. Croix Educational Complex won the raffle, winning a Google Tablet and case.
The 4-H members seemed to enjoy themselves, eagerly raising their hands, exhorting contestants to pick them to help them answer questions. "I like how they show us different types of animals, and I like learning how we can be helpful, like how we are helping out the contestants here," said Peter Clifford, a student at Evelyn Williams Elementary School who said he has been in 4-H for two years.
Under the roof of the Vegetable Market, there was the annual shoebox diorama contest, with schools creating little tableaus about different aspects of agriculture. And dozens of schools, churches, nonprofit organizations and youth groups set up elaborate displays highlighting different aspects of agriculture.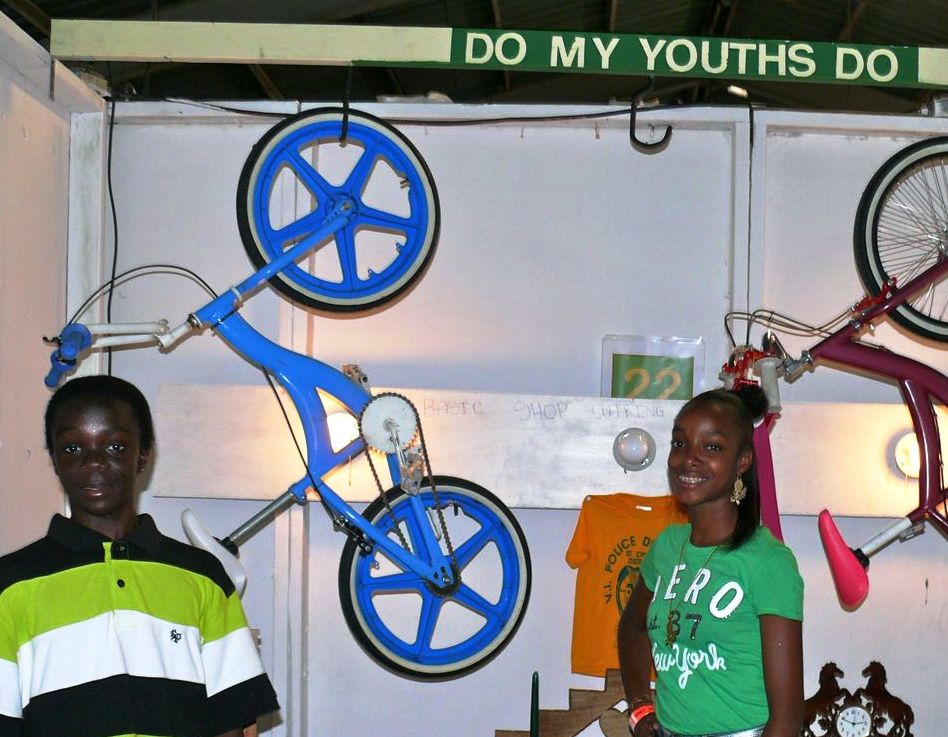 At one booth, 16-year old Aliya Jackson and 13-year old D'Jante Carrington explained how they met after school with other girls and boys in the Police Athletic League and made elaborate woodworking projects like mahogany tables and a clock cut into the shape of the African continent.
They also made several children's bicycles that were on display, "putting them together from scratch," Jackson said.
Next door, Germaine Florent and Euphemia Polius of Freewill Baptist Christian School were selling ghost chili seedlings; "the hottest pepper in the world," according to Florent. "We are also selling tomato slips (seedlings) of these really juicy nice tomatoes from Dominica," Florent said.
Back outside, shoppers packed the long causeway, browsing through mounds of calabash bowls, hand-decorated t-shirts with emblems like "V.I. Til I Die" and "Bahn H'yah," music CDs, hand-made jewelry, paintings, folk art, ornaments, cosmetics and all manner of goods.
High school students dressed to impress, with hair and outfits carefully prepared, lining up for ginger beer, limeade, sorrel, maubi or perhaps a peanut punch from their favorite vendors – as always, there was no alcohol and only water and local drinks for sale.
Every business appeared busy, but by far the longest line was for Armstrong's Ice Cream.
As dusk fell, companies and organizations began tearing down and packing up their exhibits. The music finally gave way to quiet and the stuffed, tired, sun-baked crowd of young and old began reluctantly drifting off to home, filling Queen Mary Highway and all the adjacent roads with slow moving lines of cars until well after dark.
The Agriculture Department and the University of the Virgin Islands' Agricultural Extension Service began cleaning up and contemplating next year's extravaganza.