St. George Village Botanical Garden was the venue for a lovely Valentine's Day luncheon served Tuesday in its open-air pavilion at the Bodine Center. "Good to Chew" catering students from St. Croix Educational Complex Career and Technical Education Center expertly served 60 four-course meals to couples and individuals.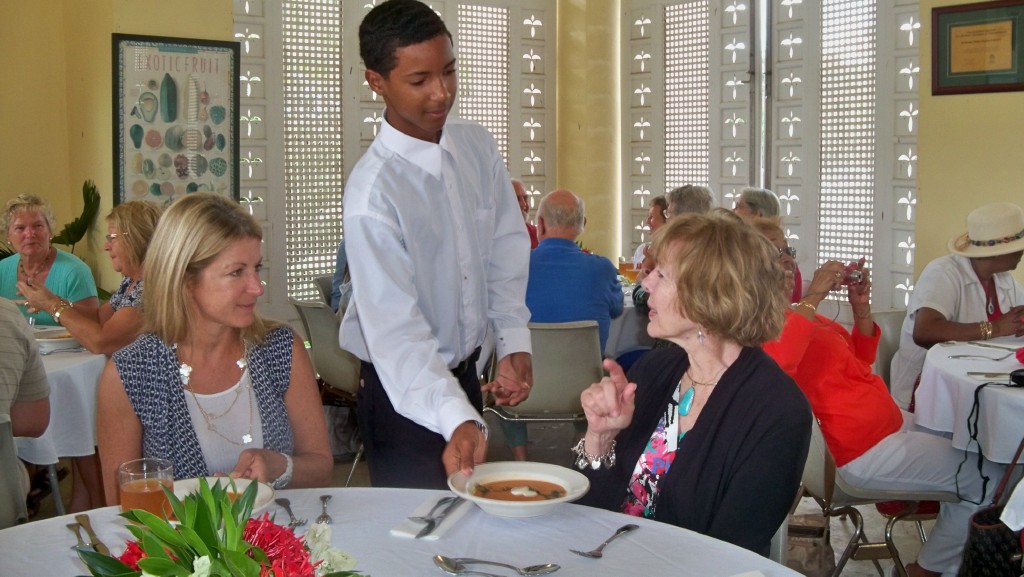 Good to Chew regularly serves bi-weekly "Out to Lunch" gourmet luncheons at the garden raising funds. The events also allow students to have fun and go wild with food while learning the catering and restaurant business.
"We can use these funds to splurge and get wild. This gives the students an opportunity to play with food," Executive Chef Anton Doos, culinary arts instructor at CTEC, said. "This is also a good place to showcase the students and for them to experience serving."
He added that the money made from the luncheons allows students a means of purchasing different foods, such as frog legs, snails, and venison.
"This is a good way for the students to get an idea of different meals other than the usual local food that is served at every dinner," Doos said. "The food has to be wow!"
Students arrived at the garden early in the morning to set the tables with crisp white linens, center pieces of garden flowers, white dishes, and stem ware. At 11:30 a.m., around a dozen students arrived in uniforms with black pants and white shirts setting to work as any catering company does.
Doos was in a staging area behind the pavilion barking orders keeping the students moving and following serving procedures. In an assembly line, some students filled bowls and plates with food they had prepared at CTEC. Other students arrived at noon to begin serving.
The first course was a tasty, Italian caprese salad that was re-invented as a soup. Delicious, local tomatoes were pureed with basil and mozzarella cheese then topped with a heart cut out from mozzarella with basil pesto piped on it in the shape of an arrow. Next, served on a bed of seaweed, was a seafood cocktail of lobster, mussels, calamari, squid, and crab mixed with a sauce of mayonnaise, tomato, and brandy. The main course was a tender roast breast of duck with a blueberry flavored sauce served with a side of stir-fried baby bok choy and polenta.
Topping off the meal was a luscious, red velvet cupcake with a dollop of white chocolate mousse and a milk and white chocolate covered strawberry.
Sandi Savage, garden volunteer, said the caprese soup was very tasty. "I'll have to get the recipe," Savage said.
Catherine Blakley said she likes to support the students and it is fun trying the different food they serve.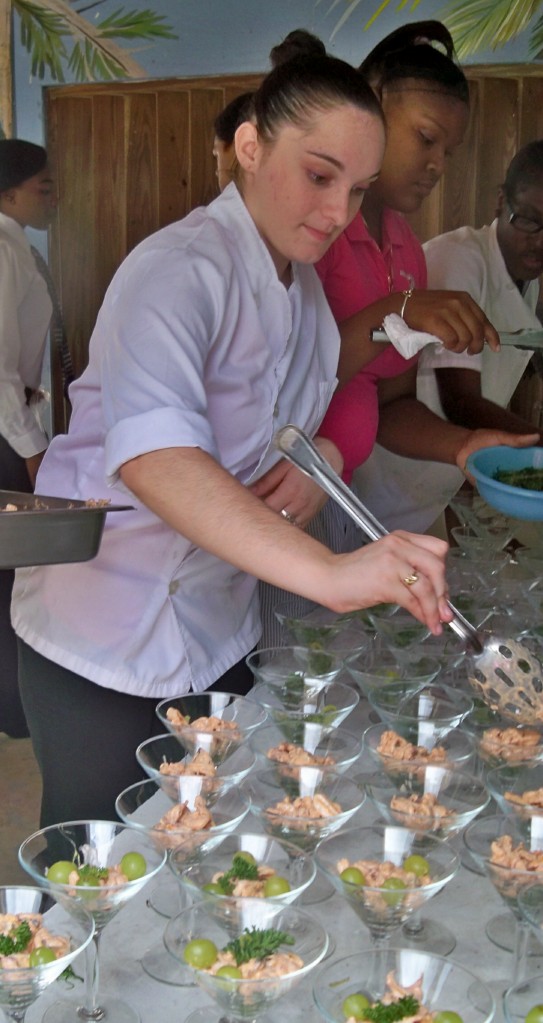 Doos' program offers students at the Complex a first-hand look at the cooking world, and all that's associated with it. From trying out new recipes to budgeting for ingredients, each student chef leaves with a better sense of what it takes to make it in the industry, and what they need to do to get there.
Holly Herold, director of administration and development at the garden, said the luncheons that began two years ago are a collaborative effort with the garden providing use of the facilities and profits going back to the students. "The students are learning to be creative with menus and have a ball doing it," Herold said.
Kwanzaa Francis, a senior who wants to have a career in the food industry, said it is great doing the luncheons because they get a lot of experience and they apply what they have learned in class.
The thirty students in the program are also providing the meals for an international flight from Denmark that arrives on St. Croix weekly with approximately 300-400 passengers.