After weeks of preparation, all the nails are hammered, the murals painted, the tents in place and everything is in place for the 41st annual agricultural extravaganza to open this weekend: V.I. Agrifest.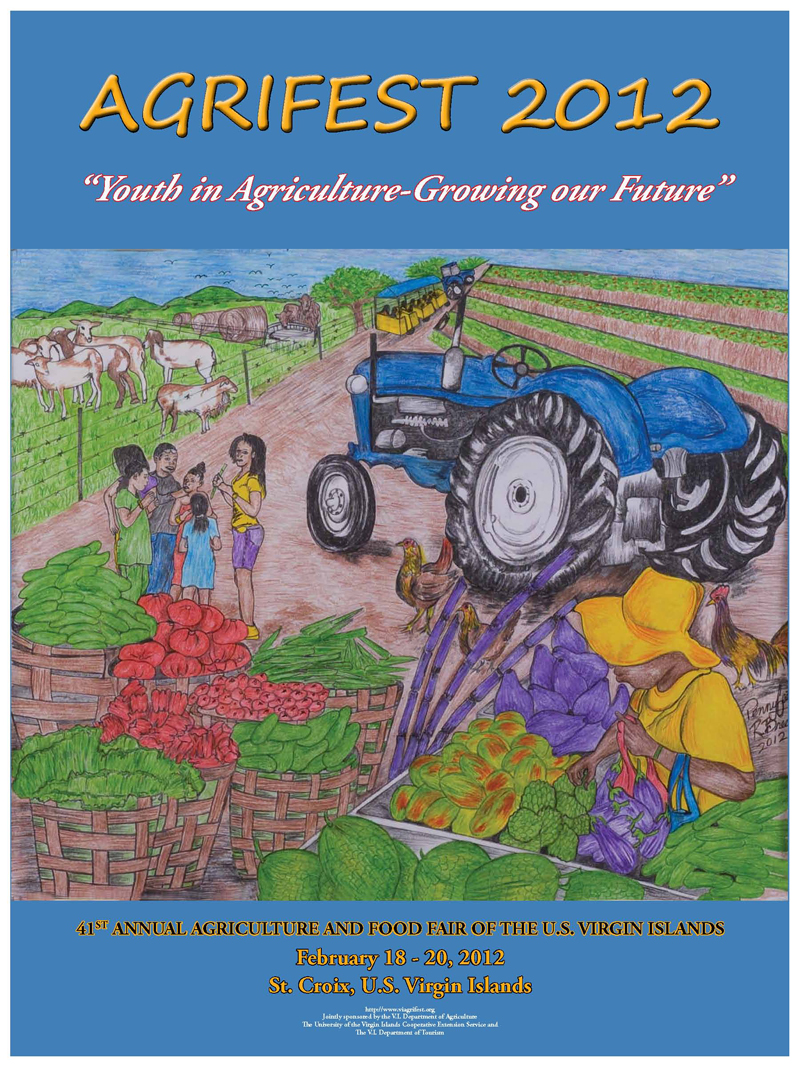 As always, there will be music, contests, all kinds of corporate and government displays, a petting zoo, the best, freshest produce and lots and lots of food. Boy Scouts, 4-H kids, and other youth groups are setting up elaborately decorated hay-bales and other arts and crafts projects for competition. Sunday will be a kids' "rodeo" with clowns and games like sack races, obstacle races, and an egg toss. The petting zoo will feature local breeds like Senepol cattle and white haired sheep, and 4-H will give talks on animal husbandry and other farming topics.
Clarice Clarke, public information specialist for the University of the Virgin Islands Agricultural Extension Service, has been the lead organizer for the festival for a number of years now. "4-H Club is doing a lot this year," Clarke said. The club will be having a competition: "Are You Smarter Than a 4-H-er?" modeled on the TV show "Are You Smarter Than a 5th Grader?" she said. "4-H is also going to showcase a vertical lettuce garden, that should be pretty interesting and all of that is under the UVI tent," Clarke said, urging everyone to come out.
"It is one of the best family activities that we have in St. Croix and it just lends itself for the community to come together and mingle with friends we haven't' seen in awhile and just enjoy our culture," Clarke said. "Even with our economic challenges," the fair is seeing lots of interest in participating and vending, "maybe out of a greater concern for entrepreneurship," she said.
"We are hoping for a big turnout; this is our 41st year and each year is getting bigger and better," she said.
Roughly 170 vendors and demonstration booths will be at the fest this year. "All the booths are filled," Clarke said Tuesday. And dignitaries from all over the Caribbean will be on hand for Saturday's opening ceremonies. Agricultural participants will be coming in from St. Kitts, Nevis, Antigua, Guyana, Grenada, St. Lucia, and other ports of call, Clarke said.
"For the past 15 to 20 years, Dominica has not participated with us and this year they are coming back with large displays of arts and crafts and, of course, local produce from that island," Clarke said.
There are going to be three stages with music throughout the festival, and several St. Thomas and St. John bands are coming over to be part of the entertainment, along with St. Croix's popular soca, salsa, and steel pan bands. Following up on a hugely popular first year, Agrifest will again host a youth calypso contest where each contestant will perform one original agriculturally-inspired song. The show starts Sunday at 3 p.m. in the big tent.
Like every year, there will be unusual food demonstrations showcasing both local ingredients and culturally significant recipes. Evannie Jeremiah will be showing how to make tomato cheese casserole on Sunday, and Clint Ferris will be doing his ever-popular demo on how to make ice cream and sherbet using native fruits too. 
This year, he plans to make sorrel sherbet and avocado coconut praline ice cream.
There will also be a public contest Sunday for the best coconut tart.
In the main building, more than 50 spaces will be filled by farmers with fruits, vegetables, and other plants, and more than 30 spaces will be filled with schools and youth exhibits. The University of the Virgin Islands Research and Public Service component, the V.I. Department of Agriculture, and U.S. Department of Agriculture will be among the many organizations with tented displays.
The fair, which annually draws up to 30,000 visitors, is hosted annually by UVI's Cooperative Extension Service, along with the V.I. Department of Agriculture, the V.I. Department of Tourism and the V.I. Department of Health.
While working to host as big a show as possible, "we are very cognizant of the financial obstacles now in the community so we budget ourselves very closely," Clarke said. "This year we had to replace several of our tents, for instance, so the money we collect at the gate goes right back to the fair," she said, thanking Innovative Telephone, the Department of Tourism, Choice Communications, and the many other sponsors who helped out.
Every year, the fairgrounds and each pavilion are renamed to honor important Virgin Islands icons, often people involved in agriculture, cooking, and in supporting the annual Agrifest. This year, the fairgrounds are named "UVI's 50th and Land Grant Program's 40th Anniversary Fairground" in commemoration of the school and its long ties with local agriculture through its land grant programs, like the UVI Agricultural Extension Office and UVI Agricultural Experiment Station on St. Croix.
This year the farmers market is named for farmer Priscilla "Pat" Antoine; the food pavilion for Corrine Messer Milligan; and the livestock pavilion for Annaly Farms.
Gates at the fair open at 9 a.m. Saturday, with opening ceremonies at 10:00 a.m., where the farmer of the year will be named. After the farmer of the year, there will be a quadrille dance that is open to all comers.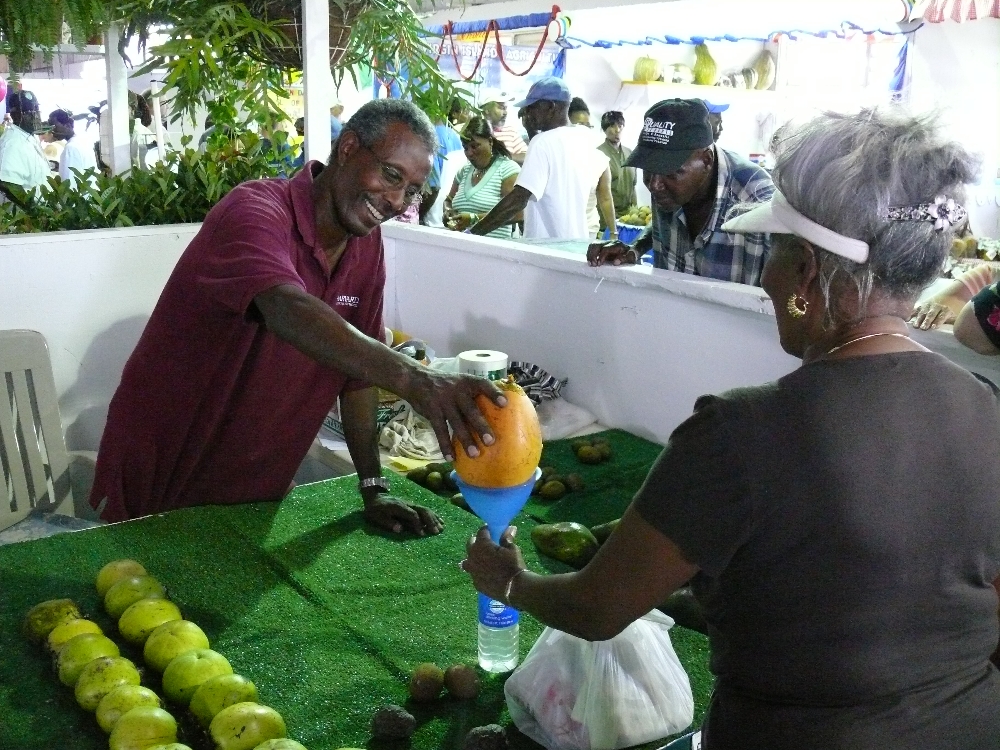 Among the many youth-oriented activities at the fair, there will be an agriculture olympics and mini-rodeo, the fair's annual poster, essay, and poetry contests, donkey cart rides, and horse rides. Festivities continue Sunday and Monday from 9 a.m. to 6 p.m.
The entrance fee on all three days is $6.00 for adults, $3.00 for children, and $4.00 for senior citizens.
Known by most simply as "Agrifest," the event is sponsored by the V.I. Department of Agriculture, the University of the Virgin Islands Cooperative Extension Service – which is marking its 40th anniversary – and the V.I. Department of Tourism. More information, contest details, and entertainment schedules are available from the 2012 V.I. Agrifest website – www.viagrifest.org.