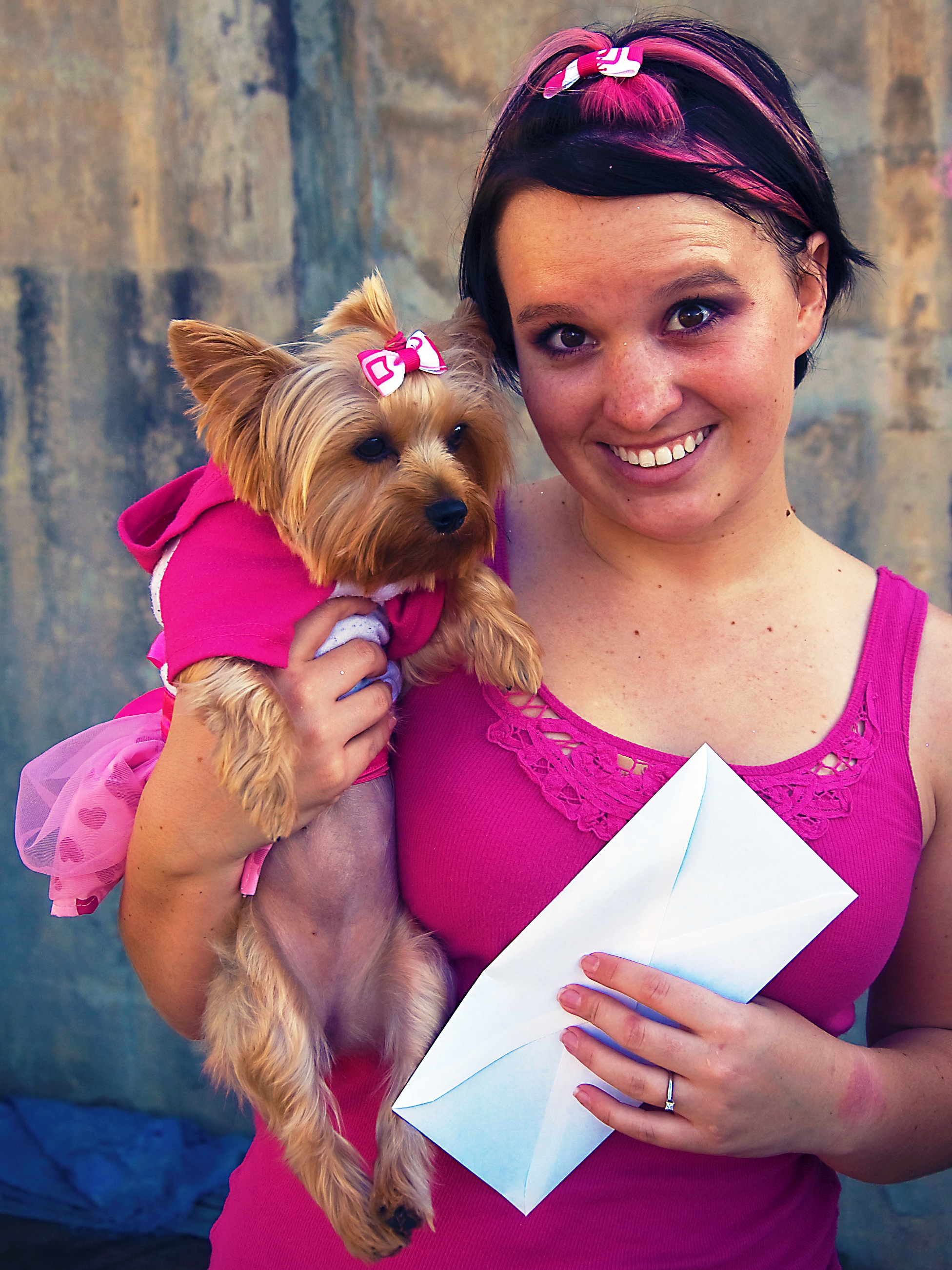 Almost 20 dogs and their owners congregated Sunday behind The Dog House Pub for the "Love Your Pet" fashion show, a fundraiser for the Humane Society of St. Thomas.
All 20 dogs, some with minds of their own, lined up to be photographed by means of entry to the competition. It was a lengthy but entertaining process!
A little later than scheduled came the awards ceremony.
Best dressed pet went to Jaci and owner Stephanie Bomprezzi. Best use of the V.I. Lottery logo in a costume was Gypsy with her lottery balls.
With four different organizations pulling together – the VI Lottery, The Dog House Pub, How Bout Your Pet, and the Humane Society – it really was a four-legged affair.
Of course the main purpose of the fashion show was to celebrate Valentine's Day and raise money for the Humane Society.
Annabel Hiltz, operations manager at The Humane Society said, "Any bit of money we raise is deeply appreciated and needed. Jessica and Pedro Alvarado from How Bout Your Pet and Dog House Pub are exceptional supporters and incredibly generous to open their businesses to Humane Society."
A separate 50/50 raffle raised almost $250 for the Humane Society with prizes donated from How Bout Your Pet, The Dog House Pub, Harley Davidson, Pizza Amore and Bella Vera.
Since the event clashed with the Synagogue auction and followed the Valentine's Day Ball, which had taken place the night before, numbers were a little lower than expected.
Humane Society fundraisers are frequent due to the huge number of animals in need on St. Thomas and the level of care they require. Current fundraisers are also part of a broader campaign to help fund a new shelter in Tutu.
Hiltz said she was still pleased with and appreciative of the turnout. Aside from the $375 in sales and donations and the $250 from the raffle, many towels and collars were also donated to The Humane Society.
The fashion show also promoted the V.I. Lottery's annual "Love Your Pet" photo contest, with winning pets to be featured on the March 29th Lottery ticket.
All the animals are up on the website and people can visit www.winusvilottery.com and vote for their favorites. The pet with the most votes wins $100 and a place on the ticket.