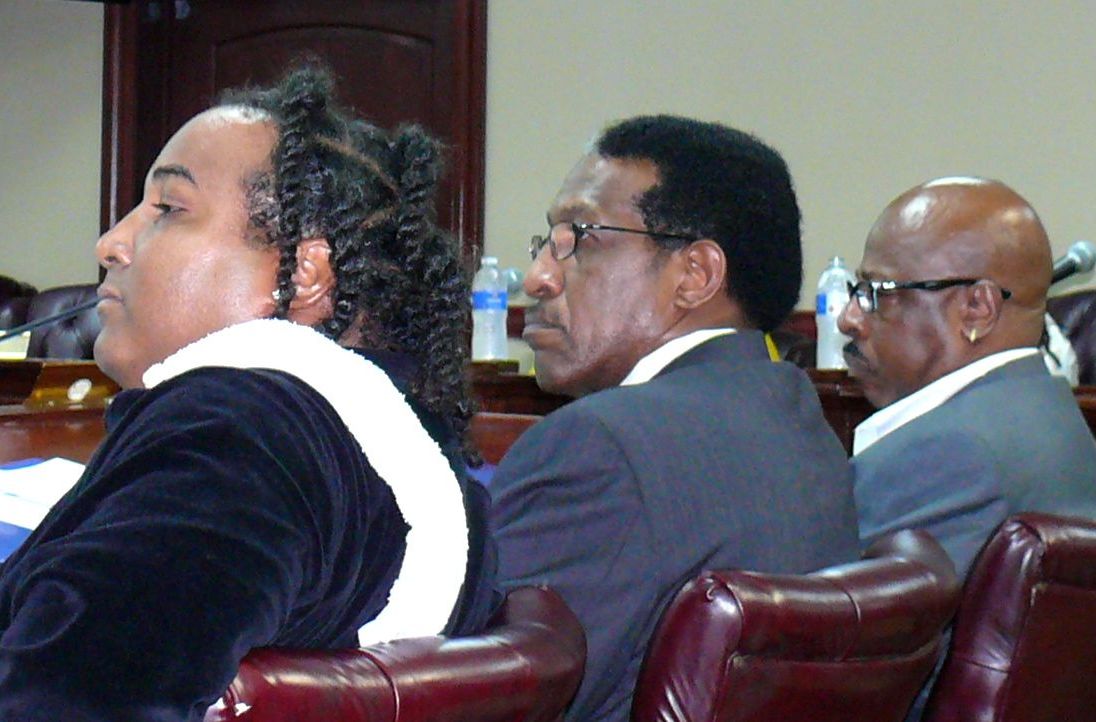 Past and present Williams Delight Villas residents lobbied to be allowed to buy the distinctive boxy free-standing public housing units at minimal cost, without credit checks, during Monday's Senate Committee on Housing and Labor.
V.I. Housing Authority Executive Director Robert Graham told senators that the federally-managed agency plans to sell some units at the cost of repairs, to rehabilitate another 150 units, and to raze 100 of the worst units.
Graham spoke before the committee hearing in Frederiksted to give senators an update on the state of public housing in the territory.
As limited federal funding becomes available, the authority plans to fix the repairable units one at a time, he said, noting there is a huge difference between the available money and the work that is needed.
For Williams Delight "there is a physical needs estimate of about $20 million … and there is $1 million available," Graham said.
To put that in perspective, Graham said, the territory's 24 public housing communities operated by the Housing Authority need about $300 million in renovations, while the authority receives about $5 million per year for capital projects. Nationwide, the tally is close to $30 billion in unmet housing capital needs, he said.
But work is going forward, and as the units are brought up to market standard, they will be sold for the cost of repairs, which is expected to range from $49,000 to $99,000. Ultimately, 36 units would be sold, which, along with 14 sold several years ago, would mean 50 of the original housing units would be in private hands, according to Graham.
Several Williams Delight residents and former residents testified, urging Graham and the authority to sell more of the units, to sell them "as is" without cosmetic repairs, and to eliminate credit checks and perhaps even mortgages for prospective purchasers.
"Our concern is keeping them affordable," said Leona Edwards, a former Williams Delight resident, interested in purchasing a unit.
Marilyn Caesar, a past president of the Williams Delight Homeowners Association, said enough work should be done to bring them up to federal Housing and Urban Development standards, but no extras or cosmetic work. Then they should be sold at a maximum of $38,000, which she said is the price the Housing Authority sold several units for previously.
Caesar argued that past sale price, not market price or the cost of repairs, should determine the price. "It is not our problem, the state of the houses. It would not take so much money to repair them if they had maintained them properly for all those years."
James P.G. "Monarch" Wakefield, current president of the Williams Delight Homeowners, argued the units should be sold to residents for $5,000 for a two-bedroom unit; $10,000 for a three-bedroom; and $15,000 for a four-bedroom. He argued the low prices are justified because the properties have (according to Wakefield) declined in condition and value since several units were sold in 2004, and because conditions in the neighborhood have been poor for many years.
Graham said he was constrained by HUD regulations, which controlled how he set pricing.
During a break in the hearing he said he "would be amenable to selling 'as is,' but there would still be credit checks."
Sen. Terrence "Positive" Nelson suggested to Graham selling "as is," at lower prices, would allow the authority to divest itself of the housing, so that it would not have to find money to repair the faulty units. Graham responded he was required to bring them up to HUD standards before selling or renting.
Graham said further that while he personally cannot make requests like that, if the Legislature passes a resolution asking HUD for the exception and HUD allows it, he would then enforce it and make it happen.
Sen. Alicia "Chucky" Hansen distributed an amendment she plans to attach to a bill during the next legislative session aiming to give the Williams Delight homes at no charge to the people receiving rent subsidies to live there. The resolution reads in full: "Transfer homes in Williams Delight from rental to home ownership and provide all rental charged as payments in full to the Government of the Virgin Islands. Bad credit is of no requirement for purchase of the home."
Graham said the property actually belongs to the federal government, which Hansen disputed. Asked if he would support the proposal, Graham said "if the governing body sends a request to HUD to turn over the federal property to the governing body and HUD agrees, I will do so."
Graham suggested that meanwhile he would continue with the redevelopment plan.
Sen. Celestino White, the committee chairman, suggested Wakefield's proposal to sell the Williams Delight units at prices as low as $5,000 and Hansen's proposal to give them away might be unrealistic.
"I would never want the residents of Williams Delight to chase a mirage," White said. "I'm for pushing to keep the price down. At least work is happening, money is being put into them, and where I want to put my efforts is in holding down the sale price."
No votes were taken at the information gathering hearing. Present were White, Nelson and Hansen. Absent were: Sens. Usie Richards, Neville James, Patrick Hill and Alvin Williams.