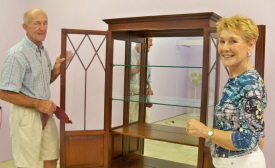 The Women's Coalition fell on some hard times in 2011 with an office fire, theft of electrical wiring in a new building, and a decrease in government funding. Folks at the coalition hope the revamped Shabby Chic department in the Closet to Closet thrift store in Peter's Rest will be a saving grace financially.
"The Shabby Chic section of the Closet to Closet store may be our 'cash cow' helping to fund our programs," Mary Mingus, co-director of the Women's Coalition, said. "I am very thankful for all of our volunteers at the coalition, but Barb and John Revolta really set the bar, volunteering daily to get the store in order." She said the two snowbirds from Illinois have only taken off four days since they returned for the winter season.
"We just saw a need to assist at the coalition," Barb Revolta said. "This is a never-ending project for everyone involved."
Revolta said her husband is very handy with renovations, and she has a background in clothing retail. She hopes the new upscale look at Shabby Chic will bring in more dollars for the coalition.
While volunteering, Barb saw the high-end clothing coming in and going out of the Shabby Chic department and realized they could make a bit of money on the designer clothing for men and women. She thought it would be nice to revamp the Shabby Chic room with bright lights, pale orchid and yellow paint, and a wood and glass hutch to display jewelry, plus other new décor.
John built and painted walls and fitting rooms, and built a table in the Shabby Chic room. He has designed large wooden rolling bins for clothing donations that come in through a door adjacent to the bins. Volunteers sort through and tag clothing donations at a large table John built. He located and organized other men and women from the board and community to help with electrical work, air conditioning, and such. He also repaired louvers on the windows to save on the electric bill.
Eva Maddox, a volunteer who was sorting clothes recently along with other volunteers, said she loves the big organized workspace they now have.
"This new workspace is fabulous," Maddox said. "The intake bins have really streamlined the system."
She added the Revoltas are the impetus to do the work, "They are very generous with their time."
In the near future they hope to make room for big ticket items like furniture. Barb said when they do get furniture they make a decent profit on it. They suspect with Hovensa workers leaving there will be more household items and clothing given to the coalition.
The coalition opened its first small thrift shop for clients in the 1990s, and by 2006 they opened the larger shop in Peter's Rest. The shop is an example of a community working together, according to the coalition, because it relies on donations and volunteers. The coalition has just one paid employee at the store.
"There is a real need for more volunteers," Barb said. "We're begging for volunteers, even if they only give a day whenever they can. There is a social aspect too, with volunteers joking, carrying on, and generally having fun while giving of their time."
The Revoltas, who have been coming to St. Croix for more than 25 years, said they have been volunteering at the coalition for three years. She said since they are retired they have extended their stay to five months out of the year to help more.
Shabby Chic will be open Valentine's Day to shop for that special one-of-a-kind outfit for a night out on the town. A grand opening of Shabby Chic is planned for March. They are running a buy-one-get-one sale on books and expect to do others. Closet to Closet is open from 10 a.m. to 4 p.m. Tuesday through Saturday.
The focus of the coalition is on helping women who are victims of violence and working to eliminate and prevent future abuse of women on St. Croix. The coalition provides services and programs for women, men and children. For more about volunteering or services at the coalition call 773-9272.