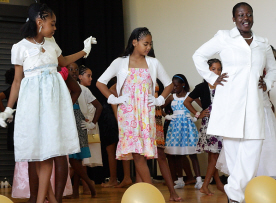 "Learn to be comfortable with yourself" was the message at the first Little Princess Tea Party Leadership Seminar at the University of the Virgin Islands' Albert A. Sheen Campus on St. Croix Friday. Thirty fifth and sixth grade girls from the Charles H. Emanuel Elementary School attended the event dressed in their finest formal wear, complete with white gloves and fancy hats.
Wearing a smart white dress and a towering tiara, Daniella Henry, the reigning Miss UVI and the coordinator of the event, greeted the children as they exited the bus. A former student of Emanuel, Henry wanted to do something special for the girls of her elementary alma mater.
"We wanted to give them an opportunity to get comfortable with themselves," Henry said, adding that some girls at this age are often bullied and picked on. "Once you are comfortable with who you are as a person, it's never going to be easy for someone to try to make you unstable."
The day of events included lessons on how to be a leader, etiquette, and making lasting friendships. The highlight of the day, however, was a crash course in modeling led by Sherrayn Garcia, program specialist for the Center for Student Success at UVI and Henry's pageant coach.
Garcia led the girls onto the stage in the University's cafeteria and taught them the proper way to strut with confidence on the catwalk. "Chin up, chest high, and you think 'I got this!' she said.
"Say it loud," she encouraged them. "I got this!" the girls shouted back amidst a smattering of giggles.
The girls spent the next hour posing, turning, and pouting, much to the delight of their teachers. "It's beyond my expectations and the girls are really enjoying what they're doing," said Maple Lynch-Henry, a fifth and sixth grade social studies teacher. "Some of the girls who normally would stand aside are actually participating."
Maisha Peterson, a student, stepped away from the catwalk for a moment to praise Garcia's lesson.
"She was showing us how to be ourselves and not to think about what other people think," she said. Peterson said that she had never tried modeling before. When asked if she would ever do it again, she grinned, looked away, and said, "Maybe."
Henry was pleased with the event and said she could have benefited from something like this when she was in elementary school. "I never had someone push to tell me that you're beautiful, you will be successful. I never had an opportunity to hear those things," she said.
Henry hopes the girls gained valuable self-esteem and that their parents will reiterate these lessons at home.
"Never be afraid to tell your child 'your beautiful.' Never be afraid to tell you child, 'Be you. It's okay to be who you are.' Never be afraid to tell your child that you love them," she said. "Those are some of the little things that really matter a whole lot to these young ladies today."