Cancer survivors, friends, family, and the St. John Community came together Saturday for the second annual American Cancer Society Relay for Life. It will run through 10 a.m. Sunday at the Winston Wells Ballfield, and raise money to help with cancer care.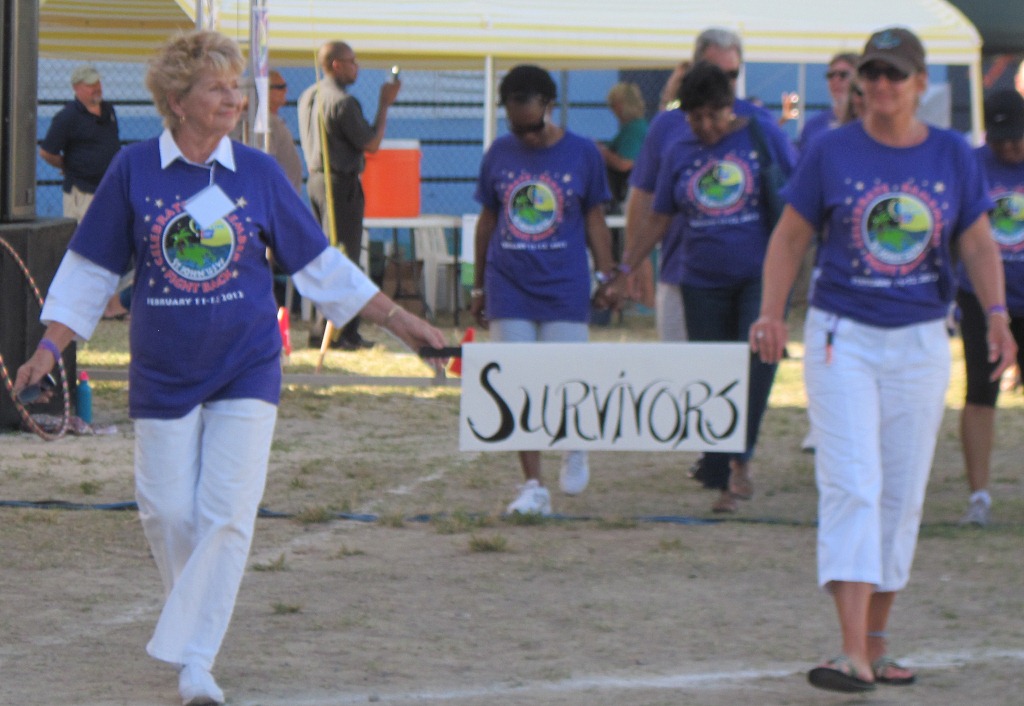 "There is a reason St. John is named Love City," committee chairman Mary Bartolucci said.
Last year, the event raised $142,000. Bartolucci said that so far, at about 4:30 p.m. Saturday, this year's Relay for Life raised $123,000.
Relay for Life began with about three dozen cancer survivors wearing purple t-shirts taking laps around the ballfield.
One of them was Brenda Dalmida, a breast cancer survivor and assistant principal at Julius E. Sprauve School.
"I'm keeping the hope alive. I want to dance and sing and have a good time," Dalmida said.
The school's principal, Dionne Wells, and a team of Sprauve School staff came out to support Dalmida. Wells said the school's students recently raised more than $2,000 in coins for Relay for Life by donations from small change.
"They brought it in jars and plastic bags. It was really cool," Wells said.
Dr. Elizabeth Barot, who works at Myrah Keating Smith Community Health Center, was in tears as she went round the course. A cancer survivor, she said she felt "so bad" for all the people that didn't make it.
St. John winter resident and cancer survivor Paula Savel was walking the track with another winter resident, Ellie Wasson.
"I'm thankful to be alive," Savel said.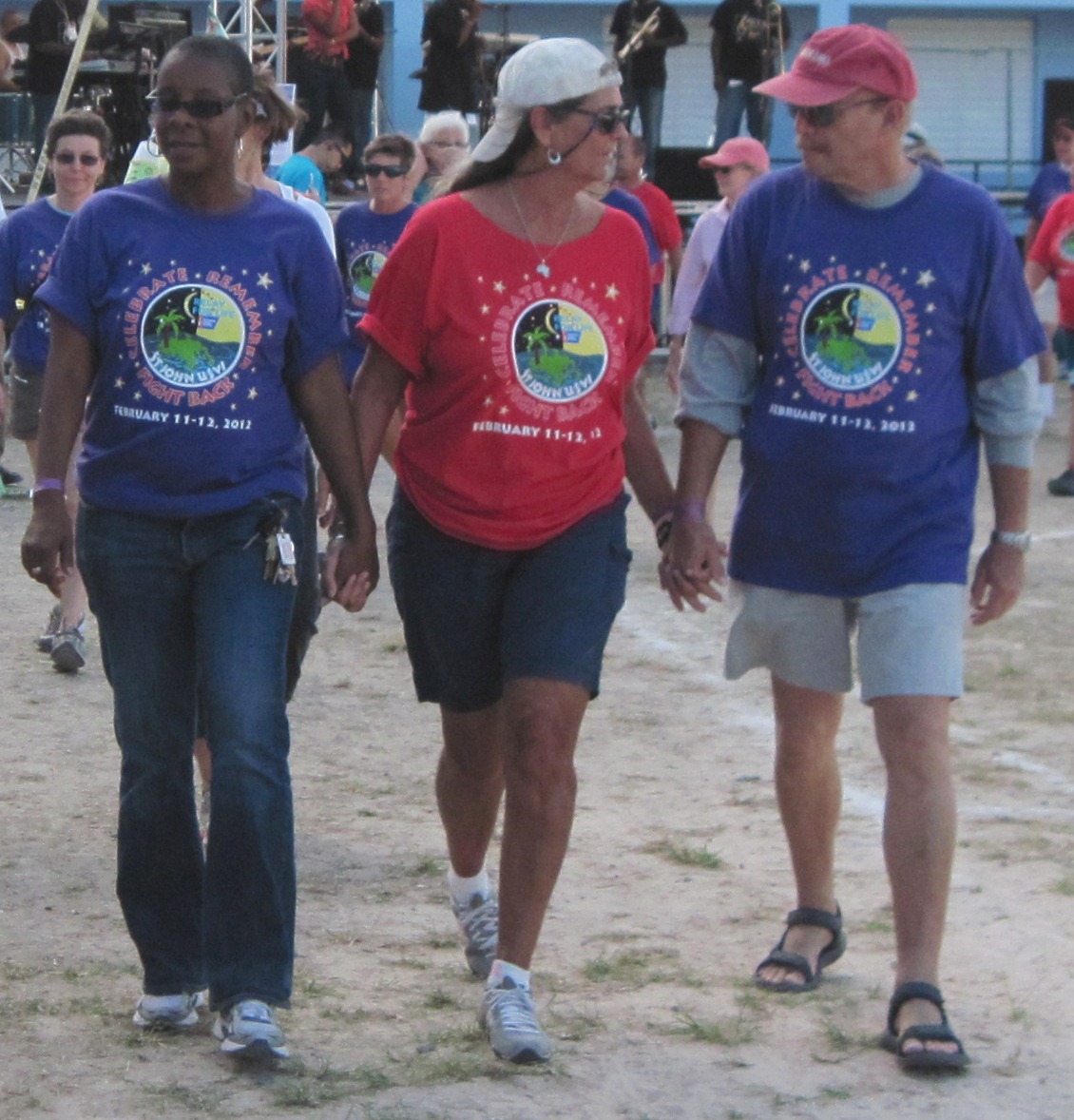 Charlotte Fish Lacey, a long-time St. John resident who moved to Massachusetts in 2002, was diagnosed in June 2011 with bladder cancer.
"I'm okay, that's why I'm walking," she said.
The event also brought out some visitors. Peter Charrington of Wayne, Penn. said he and his wife are both cancer survivors but he was there to support her.
"Forty-three years ago, I said in sickness and in health. You stand by," he said.
Others said they walked the track in memory of those lost and to support those still fighting the battle.
"I have relatives who passed away from cancer. It's an excellent cause to come out for," St. John resident Sharon Porter said.
St. Thomas resident Ivy Scatliffe-Lynton said her uncle and "grandma" died of cancer.
"This is very important," she said.
On Jan. 17, St. John lost long-time resident Chris Angel to cancer. His wife Elsa Angel and friends put together a team of 15 to walk the track throughout the night in Angel's memory. Decked in blue t-shirts with blue balloons festooning their booth, the team called themselves the Melanoma Misfits.
As the Relay for Life began, the committee was still selling luminarias to light in memory of those who died and in hope for those who are still fighting the disease. At the table, committee member Mary Maroney was busy writing names on white paper luminaria bags. One of them said Chris Angel. Another read in memory of Big Fred Dandeneau.
"These came off the website," she said.
The North Carolina-based Hope for Hair was on hand to cut hair that will be used in making wigs. Hope for Hair's Tangie Warren said the wigs help boost self worth and give people hope.
St. John resident Lonnie Willis, whose hair reaches below her waist, raised $400 in donations to get four inches cut off.
"If I raise more money, I'll get more cut off," she said, as she walked around the track.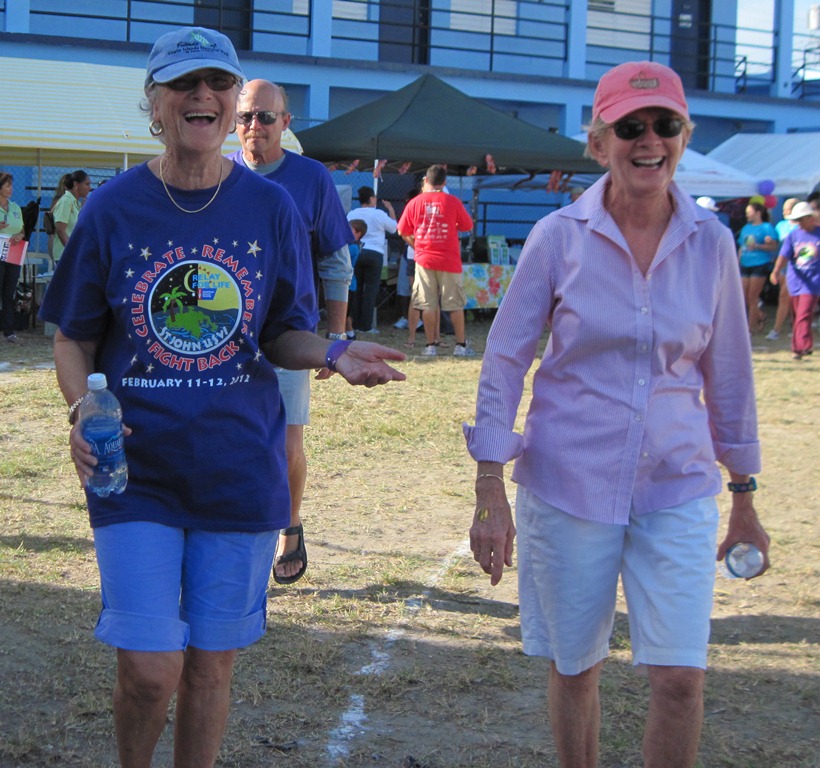 Woody's Seafood Saloon and High Tide Restaurant were both on hand to sell food for the cause. Jennie Cook of High Tide said that one of the restaurant's kitchen managers was helped with money raised by Relay for Life, which is why the staff worked hard to raise more on the event.
Woody's manager Mike Hedy said lots of the "girls" who work at the bar and restaurant have family members with breast cancer.
"We're all touched by it in some way," he said, perhaps summing up why so many people got involved.