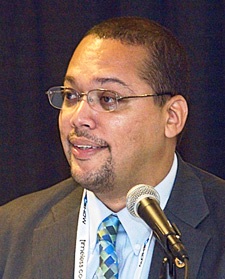 Though more than a decade has passed since Manny Centeno ran the V.I. Film Promotion office, the challenges remain essentially the same as those that V.I. Film office director Steven Bornn faces today: funding, marketing and government indifference.
Centeno is now senior program manager for the U.S. Department of Homeland Security FEMA- Integrated Public Alert and Warning System.
Speaking from his Washington, D.C., office this week, the native Crucian was eager to reflect on his 10 years at the helm of the local film industry.
Centeno coordinated the filming of countless commercials, television productions and movies – including "Weekend at Bernie's II," "The Shawshank Redemption," and the pilot for a TV series "Hotel del Sol."
"These were among at least 200 other projects I was able to attract to the territory," Centeno said.
And it's a moneymaker. The Film Office is one of the few niches in the V.I. government that annually generates far more in government revenues than it spends. Tourism Commissioner Beverly Nicholson Doty and Bornn estimate the government takes in at least four dollars for every dollar spent.
"It's a money-making machine," Centeno said. "If handled properly, I think the multiplier is even higher than four-to-one. It's one of those things we have neglected for too long. Some of us have worked so hard against tremendous odds."
And nothing has changed that dynamic.
"It's a lot more than location, which draws producers here in the first place," Centeno said.
"Attracting filmmakers is much more than just advertising," he said, advising an infrastructure that makes it "easy for a film crew to work."
"Everything from carpenters to caterers, equipment rentals, location and production service suppliers, technical talent, hotel rooms at decent rates … Whatever it takes to make it easy for them to work," he said.
Centeno acknowledged, "It's a fast-paced business. And our laid-back approach just doesn't work."
"It's a very competitive business, much more so than it used to be," he said. "The other islands have gotten savvy to the film industry and are offering very aggressive financial incentives
So, how do we lure them to our shores?"
Centeno stressed, "It's not just getting the film crew and leaving them by themselves. They have to believe that you're going to help them shoot within their budget. And you are," he said.
"They have to pay for equipment rentals, insurance, trained professionals, lighting experts, all that. There'll be nothing in the can if they can't bring it in on budget."
"If they could build a set in Hollywood, they would. Our locations are just too beautiful," he said.
"Commercials are the bread and butter of the film industry, dropping as much as one million dollars a shoot. And that has ripple effects in the community – hotel nights, restaurants, all our technical suppliers, to name a few," Centeno said.
There's "added value when there's homegrown talent available," he said, referring to local filmmakers Erik Miles and Erik Zucker. "Lots of the footage you see in 'Bernie's II' was their work," Centeno said. "Bernie's plane landing here was all Erik Zucker."
Centeno also stressed the importance of engaging young people in the local film industry. "We started giving talks at the schools," he said. "We need to train the kids to understand they can make a good living."
"My vision is to make the Virgin Islands the Caribbean hub of filmmaking," he added, "to build soundstages with editing facilities to wrap up a project, so crews wouldn't have to fly home and come back. If we could get the support, it would draw producers. We would be able to compete on a larger scale."
Centeno also reminisced over some of his more memorable moments in local filmmaking, and spoke of "the courtship part" of wooing the location managers for 'The Shawshank Redemption.'
"We knew they were thinking about Mexico, but they wanted somewhere in the U.S.," he said. "They needed a flatter look with a western horizon to make sure it looked like the Pacific Ocean, where the last scene takes place."
Centeno said they started running around St. Croix "looking for a flat beach. This was for the last scene in the movie between Tim Robbins and Morgan Freeman."
When the film team got to St. Croix, they went through a cycle of elimination of different locations with the director, Frank Darabont.
"We looked at Sandy Point, which is a wildlife refuge, and we were made aware that it is a protected turtle nesting site," Centeno said. "We wound up spending a couple nights in the field helping the baby turtles get to the water."
And when trying to attract the production of "Weekend at Bernie's II" to the islands, Centeno said it was a bit serendipitous.
"Sam Tedesco, location manager for the film, used to own a bar in Frederiksted, so he was familiar with the area, and he liked it."
"We were filming 'Christopher Columbus' at the time, and we began pushing … telling him how the whole film could be shot here," Centeno said.
"We worked with customs, business owners, made deals with the Stouffer Hotel, and it paid off. We were able to bring in product placement deals and have some editorial say, like having the Rising Stars Steel Orchestra in the film."
"That provided a great ad for us," Centeno said, "and that's important."
Next:
Coming soon in Virgin Celluloid: A look at local filmmakers, production services and equipment providers – the people behind making a production happen. And a look at a bill making its way through the Legislature – the Sustainable Tourism Through Arts-Based Revenue Stream (STARS) Act, which would expand the Film Promotion Office to include a music-production division. Working with the Economic Development Authority, the Tourism Department would oversee tax-incentive certificates for local businesses that work with outside musicians and filmmakers.