Nearly 2,000 young men from junior high and high schools all over St. Croix watched and listened in as five men sat around their living room arguing about what it means to be a man in today's society Tuesday afternoon.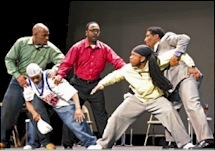 The living room wasn't real, and the five men were actors, playing parts in an innovative, interactive stage play "Real Men Talking," addressing some of the stereotypes and realities facing young men. The stories and problems they talked and argued about were as real as it gets, talking about growing up, taking care of family, pursuing goals, whether in jobs or in education, and the fears, shames, and struggles every man goes through.
The play was the centerpiece for the second annual MAN-UP Male Empowerment Conference, a UVI program sponsored by Brothers With A Cause that seeks to attract more male students to the University and provide the tools and support to help them graduate. The intent of the conference is to impact high school males and young men who desire to get back on the academic track.
Directed by Flemuel "Fleetwood" Brown III, the play depicts five African American men talking about accountability, sex, relationships, self-esteem, incarceration, the streets, insecurities, fatherhood, mentoring, history, and more pressing issues facing young men, all while waiting for a football game to start.
All are different ages, and have different life experiences, from 16-year old Amere, who wants to be a rapper and sports street thug style, to 40-year old Fleetwood, the man of the house, a former music producer, ex-husband, father of two, and successful, but hardworking restaurant owner.
Fleetwood's nephew Leviticus Brown, college football superstar and the ultimate players' player, is anxiously awaiting his make or break multi-million dollar phone call to be drafted into the NFL.
Joining them is Fleetwood's friend, real estate mogul, and the ultimate black suburbanite, Marcellus Price. He's the quintessential black Republican who looks down on black men who haven't yet pulled themselves up by the bootstraps like he did.
"If you don't make the right choices, shame on you! You get what you deserve!" Price says at one point.
Also joining the set is Kalil Kincaid. Born and raised in the "hood," at 18, he got swallowed up by the streets and the judicial system, but managed to overcome his obstacles and become a loving father, husband, and successful attorney.
Then there is Fleetwood's youngest nephew, Amere Brown, 16, an angry young hustler juggling with the rewards and dangers of the streets and his father's abandonment, which led to his being raised by Fleetwood. All the other men ride Amere, making fun of his dreams of being a rapper and his street fashion sense, and cajoling him to make more concrete plans for his future. Along the way, each finds out a bit about each other, and what it is like to walk in another's shoes.
Price, after getting abuse for being an "Oreo" and acting and speaking too white, recalls trying to be cool when he was a child, but getting made fun of by the other kids either way – for trying to be cool and for not trying to be cool. He retreated into his studies, and now gets some satisfaction that the same people who picked on him in school now come to him looking for jobs.
By the time the play ends, everyone has learned to respect each other more, and everyone, including young Amere, has taught the others a little more about what it means to be a man.
Along the way, the audience is treated to several short musical numbers, woven into the plot of the play, and video vignettes by historian, author, and pundit Cornel West, musicians Common, Chuck D and Anthony Hamilton, author Michael Eric Dyson, and more, all keeping the pace lively, while striking home the play's message of what it means to be a "real man."
The show is smoothly and professionally done. The cast that includes serious veterans, like Mark Simmons, who had roles in the movies "Barbershop 1" and "Barbershop 2" along with numerous television appearances, and Roderick Slocum, who many may remember from the hit HBO show "The Wire," playing attorney Kalil Kincaid.
The young men who came to the show gave it good marks.
"It was very empowering," said Elena Christian 7th grader Michael Nestor. "And it was good because it dealt with males, which is what we are. I enjoyed it. I thought it was a good message. Combining the schools was good too because we got to see the other schools in their school colors and how they act representing their schools," he said.
Shane Sobers, 11th grader at St. Croix Educational Complex, said the show was done well, but found the message familiar. "I enjoyed it," Sobers said. "It did teach a little, though a lot of what they told us we already know."
There was a second performance at 5 p.m. for adults and the general public.
Wednesday from 9:30 a.m. to noon, the conference continues on St. Croix, with Real Men Talking Workshops for community leaders, mentors, and parents of males.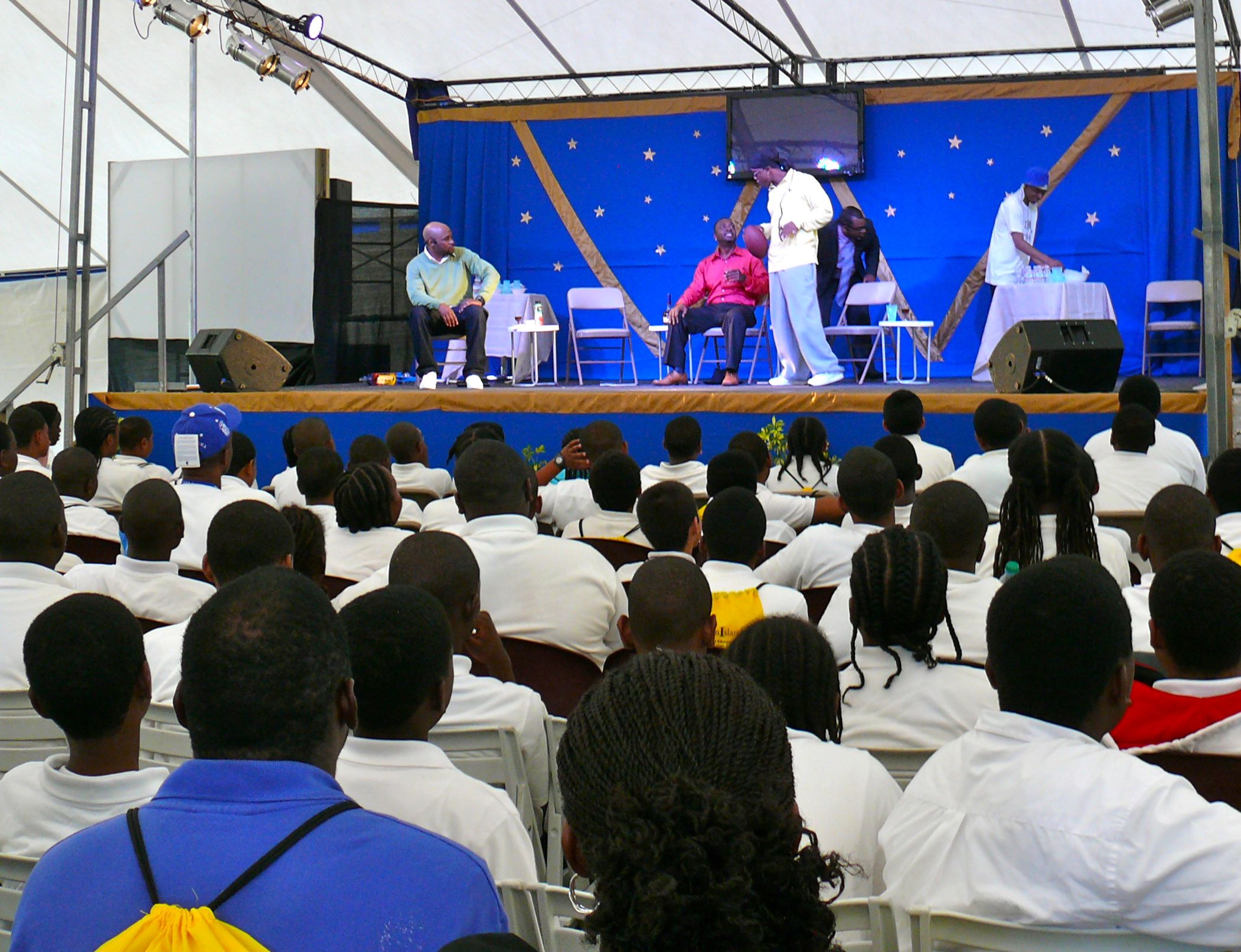 Thursday, the show moves to UVI's St. Thomas campus, with Real Men Talking workshops Friday from 9:30 to noon.
For more information about the Male Empowerment Conference, please contact Haldane Davies, special assistant to UVI President David Hall, at (340) 693-1004.
To find out more about the Real Men Talking play and its cast, go to www.realmentalking.com.