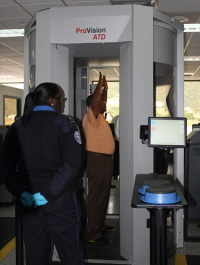 After years of some passengers having no choice but to go through pat-downs, U.S. Transportation Safety Administration (TSA) officials unveiled their latest advanced imaging technology (AIT) machines on St. Thomas Friday, which will give passengers the option of having their bodies safely scanned instead.
At a press conference at Cyril E. King Airport, TSA officials unveiled the first of four new AIT machines. Three machines are planned for St. Thomas and one on St. Croix, and should be running by next week.
These machines are different than those that have been the focus of concern on the mainland: Instead of showing a person's actual body image or x-ray, what the TSA agent and passenger will see is the outline of a generic figure that indicates where a possible threat, such as a weapon or explosive, might be located.
No outline will appear if a passenger is clean, and the monitor will remain blank once they are cleared. Images on the screen cannot be stored, printed or saved by the machine.
"The generic outline is identical for all passengers," TSA spokeswoman Sari Koshetz said at the press conference. "There are algorithms built in here now that go straight from scanning your body to the generic figure on the screen."
The TSA stirred controversy a few years ago with the installation of backscatter machines that would scan passengers on all sides and send the image of their body, without clothes, to a nearby agent. Concerns were also raised about possible radiation threats from the backscatter, which Koshetz also put to rest Friday.
"This millimeter wave technology is the same technology that is in your cell phone, but it's emitting energy that's 1,000 times less than what you're getting every day, and energy that's 1,000 times less than international standards," she said.
Along with enhancing passengers' privacy, Koshetz said the AIT machines also speed up the process for passengers. It will still take the same amount of time for TSA to check your carry-ons, but the days of having to step more than once through a metal detector are gone for most travelers, she said.
"This will certainly speed up your process of walking through, because if you have no threats and you remember to take everything off your body, you will be able to quickly go through the machine," she said. "This will also be easier for people with implants, such as in the hips and knees, because they won't be setting off alarms in the metal detectors."
"The ideal is to send as many people as possible through the new imaging technology," she said.