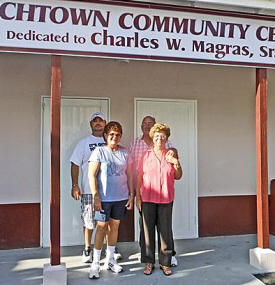 About 45 years ago, Charlie Magras began banging the drum to raise funds for the newly renovted building that now bears his name – the Frenchtown Community Center dedicated to Charles W. Magras, Sr.
"Charlie must have cooked thousands of chicken legs, over the years," says his aunt Florie Magras Friday morning."
"He got donations from all over," Magras says. "He even got shoes from Dan-Ric's shoe store, if you remember that from so many years ago. It was lots of work. Charlie lived it; he deserves this dedication."
The venerable center is the focus of Frenchtown family life. "I can't even tell you how many weddings, anniversaries, birthdays, family reunions, Bastille Day celebrations, we've had over the years," Magras says.
The Richardson family, alone, numbering 10 sons, has had birthday celebrations for their mother, island icon Josephine Richardson on her 90th and 95th birthdays, with at least 150 Richardson progeny and friends in attendance.
Florie Magras says today a karate class meets weekly, along with other activities. "Bingo on Sunday's is one of our most popular," she says. "Because lots of people in the community now live alone, having lost a spouse, so it's a nice thing to come together, and maybe even take home a little jackpot."
Magras, along with her husband Harry, Charles' widow Beverly, and son Cory were at the newly renovated center Friday to give a little salute to the erection of the handsome sign, the final touch on renovations that began last year.
Says Magras, "We had been meeting in a small room by St. Anne's Chapel, but we needed something for the community to get together, something for the kids to enjoy, too."
Florie Magras says with the efforts of a small but dedicated group of community members, "and a lot of hard work," the center opened in 1974. "We had raised $50,000, but we still needed another $10,000 to make it happen, so Elizabeth Greaux and I took out a bank loan, which we repaid a couple years later."
"Elizabeth is gone now," says Magras. "She was our treasurer for all those years." Magras herself has been president of the Frenchtown Community Center, Inc., since its opening, a responsibility she takes to heart. Though she is modest, it's obvious her dedication is right up there with her nephew's. It must run in the family.
"So many who are no longer with us have helped over the years," she says. "Theodore 'Magic' Magras, always at the Frenchtown post office selling raffle tickets. Gladys Lake was a tireless worker. So many… ," she trails off. This is a morning for celebration.
Magras happily shares some history. "The land was donated to us by Altagracia Wenner," Magras says. "She donated the land to the Diocese of St. Thomas and Virgin Islands, Inc. and she gave us permission for use of the land for a community center. Should it ever happen there is no one to care for it, it would be turned over to the church."
That eventuality seems remote."Our children and their children will always take care of it," Magras says.
Charles Magras, who died 2007, was a familiar face in the larger community. Many will remember him behind the counters at both the old Harry S. Truman and Cyril E. King airports covering a long career — five years with Pan Am World Airways and another 28 with American Airlines after Pan Am went out of business.
Magras's friendly little wave at the airport cheered many an otherwise harried passenger.
Florie Magras says the Center rental is $35. "We're not here to make money," she says, stressing that the building is for the community to use.. "I live right across the street," she says, "and when I look over and see people enjoying themselves, it makes me extremely happy."
She leads a brief tour of the newly renovated Center. "New bathrooms, windows and shutters paint, and outside work on the grounds, too," she says. Magras says the work was done under a $63,500 V.I. Housing Finance Authority grant which they received last year. She says local contractor Dana Magras did the work. The sign is by Smooth Kreationz. "We shopped around, and they gave us a good price," she says, "and everybody likes it."
She says there will be formal celebration and dedication for the newly named Center, but that's still down the road a bit. Today was a kind of a family preview, she says.