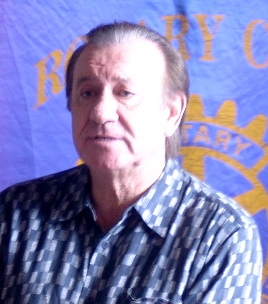 Blood is one of those things people take for granted until they need it, and that's why Dr. James Kasin is trying to raise awareness of the need for people on St. Croix to become blood donors.
Kasin is medical director of the blood bank at the Juan F. Luis Hospital, and Thursday he told a combined meeting of the St. Croix Rotary Club and the Harborside Rotary Club that the bank has to buy almost $500,000 worth of blood each year to fill the gap between what the community donates and what the community needs when people are sick or injured or dying.
The clubs will hold their annual Health Fair and Blood Drive on Saturday in conjunction with St. Croix Rescue. The event will be held 7 a.m. to 2 p.m. at the St. Croix Rescue Academy at Five Corners.
Along with free screenings for blood sugar, blood pressure, cholesterol and HIV, the blood mobile will be on hand for blood donations.
Kasin said there are two sources that supply the bank's blood inventory – donors and buying blood through the Red Cross blood bank on Puerto Rico. He said the hospital has to buy about ten times as much blood as it gets in donations.
"That's a half a million dollars that goes off-island and never comes back," he said. "It's a half a million dollars we could be using for something else."
And, like almost every aspect of life on St. Croix, the situation is about to get a lot harder because of the closure of Hovensa. The refinery's two employee blood drives a year were the two biggest donation events on the island.
Kasin hopes individuals and businesses will hold blood drives to make up for the loss of the Hovensa blood.
Blood doesn't last forever, Kasin said, and sometimes the Hovensa event would provide more blood than could be used in the 45 days before it had to be disposed of.
"If we could get two or three blood drives from associations such as the Rotary clubs and smaller businesses on a regular basis, that would really help," he said.
"Everyone here would certainly feel good about donating blood if they knew that blood would be used to save the life of someone in the community, someone close like a family member or a friend or yourself," he said.
"If we could get everybody in the community to step up, the community would have the blood it needs."
The doctor waved away the notion that giving blood was somehow dangerous.
"I've heard that and I don't understand it," he said, pointing out that giving blood is a sterile procedure, much the same as getting a shot or having a smaller amount of blood drawn for a test.
In addition to special blood drives such as Saturday's Health Fair, Kasin added that the blood bank at the hospital is open from 9 a.m. to 4 p.m. every weekday.
Not only that, he added, but if a person wants to give blood but can't get off work, he or she can call and arrange a time when someone will be available to take the donation.