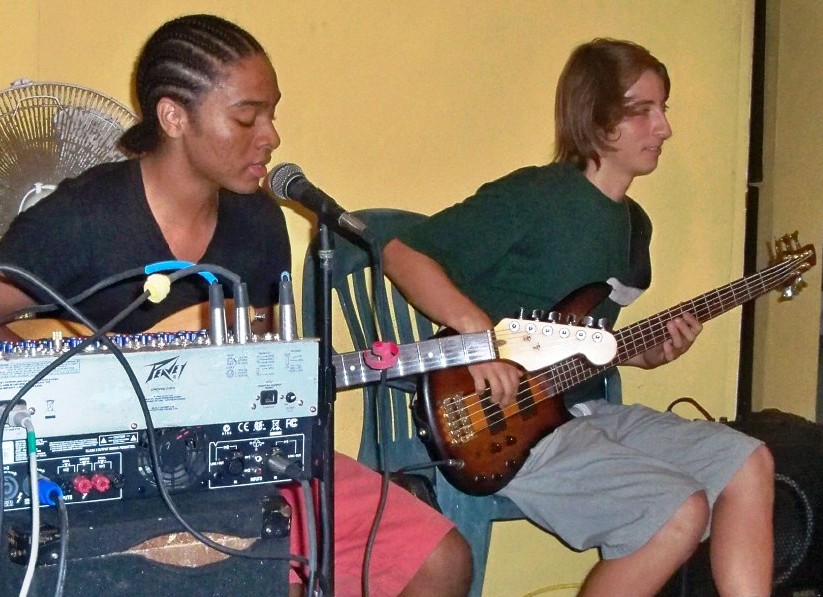 The sounds of rock and roll have been drifting above Christiansted over Estate Hermon Hill most evenings in recent weeks. The sounds of Prodigy Block are not unexpected in the neighborhood. The young band has been practicing most Sunday evenings and one weeknight in the neighborhood for the last three years.
What is new is the intensity of the practice and that the band is digging back farther in the history of rock and roll to make its music. More Jimi Hendrix is being heard than Nirvana. The band is now incorporating more horns into its sound and the songs of Blood Sweat and Tears and Chicago can be heard.
This is because Prodigy Block will be the featured band at SEAstock, St. Croix Environmental Association's fundraiser at the Agricultural Fair Grounds this Saturday at 6:30 p.m.
SEA is celebrating the 1960s, the years when the current environmental movement was born.
Paul Charkroff, executive director of SEA, said Tuesday, "We are thrilled with this theme that allows us to bring back the music that was popular when the environmental movement was born."
He added that it was also nice to be bringing a group of young players like Prodigy Block into the mix. Chakroff first heard the band's distinct sound at a Christiansted Jump Up. He listened to them at a couple more St. Croix events and decided that there was no other island band that could better bring to life the sounds of the 60s.
None of the five band members were even born when Woodstock happened in 1968. Prodigy Block comprises includes two brothers, Brandon Balwant, a 17-year-old senior at Country Day School, and Omar "Vance" Balwant, 23, and who has lived in Los Angeles and studied audio technology. Lead singer Rudi Shulterbrandt and drummer Jamie Mallard, a University of the Virgin Islands student, are both 23. The band's new arrival is another Country Day student, 17-year-old Kevin Ryan.
Connie and Lorenzo Balwant act as the band's managers. "This is a spectacular bunch of guys," Connie Balwant said. "There aren't many like them."
Vance has written two songs and produced them as a solo artist and is not shy talking about it. He sometimes sings lead vocals and plays the keyboards in the band.
Shulterbrandt, who goes by the stage name Fungo, not only shares lead vocals with Vance, but Brandon will also take over the lead sometimes, like in the classic Stones hit, "Can't Get No Satisfaction."
Shulterbrandt said it wasn't the Stones that gave him his love of music, but rather it was his grandma, Lena Shulterbrandt.
Prodigy Block will have help bringing back the music of the 60s on Saturday. Mark Eckhard will warm up the crowd starting at 5:30 p.m. when the gates open for VIPs who purchase tickets for $69.
The Groupies will perform next, for those who purchase $19 tickets, at 6:30. A live auction will be held from 7 to 7:30 p.m.
Sitting in with Prodigy Block for the main show will be guest artists Steven Katz and the Herbal Brass Ensemble.
The evening will also include a costume contest. Organizers urge attendees to dig in to their closets and find those bell bottoms and tunic dresses that they have been waiting to wear just one more time.
Tickets can be purchased at Polly's on the Pier, Cache of the Day or from any SEA staff or board member, as well as online at www.ticketriver.com/event/2737. Tickets will also be available at the door.
Call SEA at 773-1989 for more information.