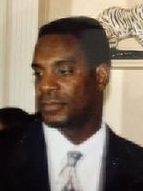 The dream of becoming a police officer did not stop Allen Haynes Sr. from continuing in the footsteps of his grandfather and becoming a natural healer on St. Thomas.
"This is my gift," Haynes said recently. "I had to pursue it. My grandfather, his mother and brothers all used to do it."
Haynes said he "used to fool around with it" back in the third and fourth grade. "But I didn't know it was working until I grew up and people actually used to come to me for help, so I knew then that I had to go forward with it."
Haynes calls what he does "healing," but others around the island generally refer to his "rubbing" techniques as what he does best. Similar to massage, Haynes said he zeroes in on a patient's weak spots and rubs them until the pain resides, or until a dislocated bone or strained joint is set back in alignment.
Haynes said no one in his family taught him his techniques; instead, he picked them up through watching his grandfather and through his own years of experience on-island and abroad.
"This is something that used to be traditional in the Virgin Islands," he said. "One person was considered the healer of their village or the community, and whenever someone fell off a horse or donkey or a bike, this is what they used to do. They would set you and tell you what plants or remedies to use. They were into healing the whole body, especially when it comes out of alignment."
Haynes said his general focus is on slight dislocations in the knees, ankles, feet, back, neck, elbow and wrist. Injuries to those joints are often the same, and a healer knows how to manipulate them, he said.
A good "rub" helps to get everything in the body moving, increasing the oxygen and nutrients to tissues and organs, according to numerous natural healing websites. Haynes said his techniques also relax muscles and joints that have been injured, decreasing pain while increasing circulation.
Hands-on experience has helped to guide and make Haynes better over the years, but he also said what he does has a spiritual component that can't be taught.
"Everybody is different," he explained, "and the art of rubbing and setting puts you in direct contact with whatever energy they possess."
"If you are in tune with their body, you can actually feel what's wrong with them, and you're guided to do things you may have never done before. That energy goes with you and guides you."
Haynes said the best example he can give is an experience he had with his grandfather, who fell and broke his hip around the age 99. Haynes said he flew over to Tortola to see him in the hospital and went straight to his bedside, where he touched his grandfather's feet.
"I looked at my mother, who was there with me, and I told her that my grandfather had three more days to live," Haynes said. "We were there with him the day after, and the day after that, and when I got home on the third day, he had passed."
"It was then that my mother told me that I had his gift," he said, "and I knew there would always be things I could do that I couldn't explain."
Haynes said he's been in the healing business for 42 years and has about "5 million" success stories, helping people in the territory, the Caribbean region and across the mainland.
A fulltime police officer for the past 18 years, Haynes does not charge for his natural healing services but is offered donations from the people he helps.
"It's not something I think about," he said. "This is natural to me and I know I have to continue. It's a dying art, and I'm one of the last few left here that can do it."
Residents interested in contacting Haynes can call him at 775-4560.