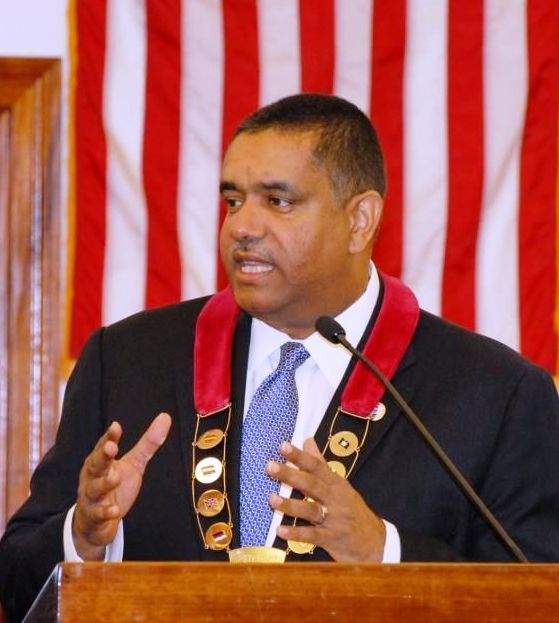 A fiscal hurricane headed for the territory turned into a tsunami with the startling announcement that HOVENSA was closing its refinery on St. Croix, Gov. John deJongh Jr. told a packed chamber at the V.I. Legislature Monday night as he delivered his fifth State of the Territory address. X
"The HOVENSA announcement has caused a universal shudder of fear and anxiety to pass through our islands, not unlike the emotions that we all experience with the coming of a hurricane," deJongh said. "But unlike a hurricane, we had no warning…no time to prepare."
And deJongh said he was "angry" about that.
But his demeanor was matter-of-fact and unsparingly direct as he methodically called out legislators, union leaders, environmentalists and private sector business leaders for nay saying, double crossing, magical thinking and failure to support the community that has supported them.
DeJongh said there was a bloc in the legislature devoted to opposing every action he proposed – from the Diageo Rum distillery to his most recent borrowing and paying back bill to his request to save " tens of millions in expenditures" by dismantling the V.I. Waste Management Authority.
Though it eventually passed, senators vehemently opposed the distillery deal that is estimated to bring in $100 million a year. They also approved a $120 million borrowing bill that would have staved off immediate layoffs, while turning down a tax increase to businesses that would have paid for the borrowing. And after months of tabling the bill to take back VIWMA under the executive branch, senators voted that down as well, deJongh said.
"Be it personal, partisan or simply their individual calculations as to how best to be re-elected," the governor said the group was quick to say what they wouldn't support, "but short on ideas on how to close the looming budget gap."
On a cohesive note, deJongh reminded senators that they knew as well as he did after meetings with them, that union leaders had requested the recent 8 percent pay cut only to flip and sue the government "for having honored their request."
Turning to the pressing issue of the rising cost of power in the territory, the governor admonished "those who think we can immediately transition from where we are to some magical new world of solar or wind or tidal-powered electrical generation on a scale that will support our economy."
In fact, he pointed out that bringing in solar and wind could backfire, raising the costs of the Water and Power Authority generated electricity as its high fixed costs had to be covered by a diminishing base of rate payers.
Just short of letting out a sigh, deJongh also pointed out that the universally loathed LEAC was simply the cost of being dependent upon foreign oil. The levelized energy adjustment clause is a surcharge that fluctuates with the cost of oil and has become the largest part of monthly utility bills.
On a somber note, deJongh recalled saying in his 2011address that the territory had reached a tipping point. On Monday night he said it had tipped over.
For the last three years he borrowed money to keep people fully employed. "Had we not, the recession would have devastated what was left of our business community," he said.
But with no more ability to borrow, the community is faced with "more dismissals, shorter work weeks, additional school closures and classroom consolidations, shorter hours at senior centers, public health clinics and recreational facilities," deJongh said.
The governor did not spare the business owners who he said favor laying off "inefficient" government workers but rail against increasing the gross receipts tax by a half a percent. "The General Fund employees of this government are your patrons, they are your customers, they buy in your stores, they pay rent to you as landlords, they eat in your restaurants," he said, pointing out that hundreds of public employees had already been laid off and more would follow.
"All of this because the Legislature would not agree to spread that burden more widely across this community in what I believe would have been a more fair and just outcome," he said.
And for more on those who deJongh said weren't paying their fare share, he turned again to the Legislature, who he pointed out did not take the 8 percent cut that the executive branch employees took several months ago.
"And as I once again direct my commissioners to squeeze more from their budget. It becomes harder to explain to them and to the people why you have not done likewise," the governor said.
While legislators and staff ostensibly took pay cuts, the money did not find its way back to the General Fund from whence it came. Instead, it remained in the Senate budget.
Back to the tsunami, deJongh said there was no way of knowing exactly how devastating the HOVENSA departure would be for St. Croix. "We know it will get worse," he said.
DeJongh said he had already been in discussions with Senate President Ronald Russell to focus on five areas with the potential to mitigate some of the damage to the big island:
– Possible alternative uses of the HOVENSA facility;
– legal issues surrounding the closure;
– labor and workforce issues;
– leveraging of federal and available resources; and
– economic sustainability.
DeJongh also promised to rein in the Economic Development Commission's tax break program to hold beneficiaries to the letter of their required investment, contributions and hiring responsibilities.
And he called upon residents to do what EDC certificate holders are mandated to do: buy locally.
As to one of the greatest burdens already borne by residents, one that will become greater with HOVENSA's departure with its lowered oil costs to the utility authority, deJongh said he has called upon WAPA's governing board to provide a detailed, specific and realistic action plan for infrastructure and management changes and improvements to bring down the cost of electricity.
"Before I leave this office," he added.
With safety an ever-present high priority, deJongh said the police stations and personnel would be reconfigured to put more officers on the streets at strategic times.
The governor didn't spend a lot of time touting his accomplishments, but he did touch on improvements in early childhood development through his Family and Child Council, three new air carriers to the territory bringing 100,000 more passengers, streamlined procedures in licensing, $100 million to provide high speed Internet to everyone who wants it, and a new senior citizen housing complex on St. Thomas.
He also pointed out the 30 percent drop in homicides from 2010 to 2011.
And for the future, the governor recalled the plight of the Israelites fleeing Egypt, when they implored God for truth and God replied, "Move forward."
DeJongh implored Virgin Islanders to move forward in faith.
His strongly worded admonishment to WAPA appeared to be his theme to all those who he said were blocking realistic, achievable progress: "In the simplest of words: enough is enough, there must be and there will be improvement."
Read the entire State of the Territory Address