Julius E. Sprauve School students Tuesday reached across the Atlantic Ocean to help an HIV-positive orphan in South Africa. After watching a video filmed at the Vhutshilo Mountain School in Venda, the students made their contribution by buying baked goods and ice cream at a lunch hour sale.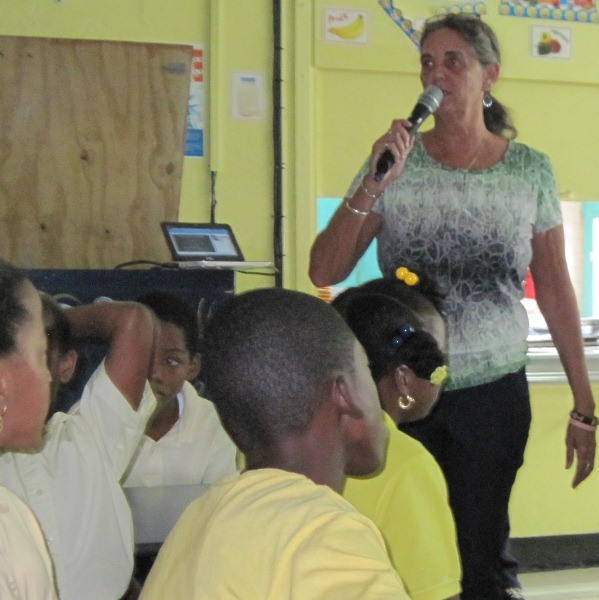 The students who saw the first of two presentations by Cristina Kessler, a St. John resident who lived in Africa and writes children's books with an African theme, were in the younger grades. They were most impressed by the dancing done and by the sports they played. Indeed, when the video showed the students playing soccer, the students cheered them on.
Jerry Smith, 6, liked the part about the soccer best, but Disnalyin Ramirez, 7, had another favorite.
"When they were playing ring around the rosy," she said.
While the Vhutshilo students played games and studied their lessons just like the students at Sprauve, there was one big difference. The Vhutshilo students are mostly HIV positive and orphans.
"I feel sad for them because they don't have no mom and dad to take care of them," Briana Perez, 9, said.
Bryce Sharpe, 8, suggested that without parents, they must feel lonely.
The students raised money to help support Anza Malisa. Assistant Principal Brenda Dalmida said the schools goal was to raise $600 to $1,000 through the bake and ice cream sale. Kessler said it will take $1,500 a year to pay for Anza's medications, food, clothes, and someone to care for him. She said she recently raised some money at a fundraiser and will make up the difference with that funding.
Vhutshilo is assisted by a program called Hope for Limpopo, a non-profit organization based in Easthampton, Mass. aimed at helping women and children in the Limpopo province. It was started by two former Peace Corps volunteers who worked in Africa.
Kessler said the program hopes to use the efforts at Sprauve as a model for other schools to follow. She said that the Vhutshilo program is successful. In addition to an education, the students get meals and instruction on the proper use of the HIV medication that keeps them healthy.
"Without the school, not only would they not be well, they wouldn't be alive," Kessler said.
Dalmida acknowledged that families across the territory must make tough economic decisions, but compared to the Vhutshilo students, she added, St. John students are blessed.
"Parents give them way too much stuff," she said.
To learn more about Hope for Limpopo, visit www.hopeforlimpopo.org. The video viewed by the students can also be seen at the website.