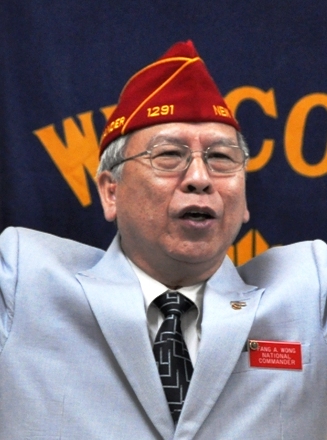 American Legion National Commander Fang Wong addressed concerns by fellow legionnaires about the current and future treatment of veterans in the territory while speaking at the American Legion Post headquarters in Christiansted on Monday.
Although the ceremony was delayed nearly an hour, it didn't deter the territory's legionnaires from greeting the national commander with a prideful display of professionalism and several gifts of appreciation for his daylong visit to St. Croix.
"I am extremely impressed with your presence here," Wong said. "I have to commend you for carrying such pride in your uniforms — you should feel proud and honored to be part of this organization."
It was no different than a traditional military ceremony, where representatives from the American Legion District 10 of Puerto Rico and the Virgin Islands stood at attention while the National Anthem, the Puerto Rico National Anthem, and the V.I. March were played.
Several post commanders stood at the podium dressed in full uniform delivering heartfelt messages and welcoming gifts to the national commander, while others aired grievances about alleged poor treatment in the territory's Veterans Affairs health clinics.
Harry Daniel, the assistant director of the V.I. Veterans Affairs, addressed some of those concerns when he got up to the podium.
"We are listening to your concerns," Daniel said, "and the biggest is the reception that veterans get when they go to the clinic. But please understand that service is improving."
Delegate to Congress Donna M. Christensen echoed his sentiment, saying that she brought about a congressional Inspector General audit last May because of concerns about veteran treatment.
When it was the national commander's turn to speak, Wong was empathetic and explained that veterans are often frustrated with their treatment at health clinics and at hospitals.
"You are the reason why VA representatives have a job," he said, "but the general public doesn't seem to understand what you have gone through and what you have provided for your country.
Ninety-nine percent are not doing anything as far as protecting us."
Wong said veterans equate to only 6 or 7 percent of the population. And speaking of the 94 percent who never served, Wong said, "they appreciate you when you go fight for us, but they forget when you come home."
Wong was elected national commander last September to lead the 2.4 million-member organization dedicated to protecting veterans after they return from war, something he emphasized by asking some important questions:
"Are you ready for them?" he asked of the 50,000 veterans that he said would be coming back.
"All these troops coming home have the VA system to deal with, but is it really capable and big enough to take care of them?"
"Does the American public realize the cost of war doesn't end when they shoot the last bullet?" Wong continued.
He compared the current war in Afghanistan with his service in Vietnam and explained that history seemed to be repeating itself. He said the Army trained thousands of Vietnamese soldiers to take care of their country and yet after the U.S. pulled out, the whole thing collapsed.
"We lost the Vietnam war because the Vietnamese Army ran out of supplies and ammunition to sustain ground," Wong said. "I'm afraid the same thing will happen again."
Hypothetical theories aside, Wong said the American Legion must continue to do their part to make veterans feel welcome. He said troops in Afghanistan only asked for a few things from Veteran service organizations, and it's up to them to honor those commitments.
"All they ask is for us to continue to support them," Wong said. "They asked us to make sure the government will not shortchange them again by cutting DOD funding."
"As veterans, we cannot fail them."
To find out more about Wong and the American Legion, please visit the following website: http://www.legion.org/