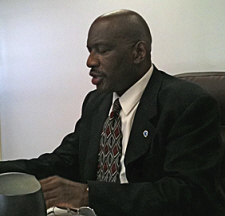 The St. Croix Chamber of Commerce Friday endorsed Acting Police Commissioner Henry White Jr. for confirmation by the 29th Legislature.
The endorsement followed a two-hour meeting between White and the chamber's board of directors. According to a news release from the chamber, the discussion touched on a wide range of public safety issues, including gangs, drugs, weapons, professional training and the VIPD's consent decree with the U.S. Department of Justice.
"It was a frank and sobering discussion and our board members were unanimous in their highest respect for Acting Commissioner's White candid responses, high standards and professionalism," said St. Croix Chamber President Stuart Logan.
White is a veteran of more than 30 years in local and federal law enforcement. He started out as a patrol officer in New Jersey and later served as a detective, state investigator and spent 22 years as an FBI special agent.
He was nominated for the position of police commissioner by Gov. John deJongh Jr. in November and was given a favorable report by the Senate Rules Committee earlier this month. His nomination will be considered by the full Senate at its next full session, probably in February.
White thanked the chamber for its backing.
"I am honored to receive the endorsement of the St. Croix Chamber of Commerce." White said. "I look forward to working as a team with chamber members in addressing the changes that need to be made to restore safety and peace to our territory."