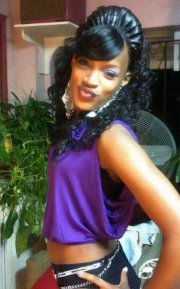 Jolicia L. Aneshia Wilson died on Jan. 22 on St. Thomas. She was 18 years old.
She is survived by son, Ki-Jante Parriall; mother, Kimbra Willett; father, Lorn Henley; adopted father, Joseph Wilson III; grandmothers: Alma Willett and Lucia Henley; grandfathers: Ira Willett and Louis Willett; sisters:
Tasanique Murrell, Lauren Henley, Lornnaka Henley and Lornesha Henley; brothers: Raheem Willett, Selassie Hendricks, Ubencio Arismendy III, Lorn Henley Jr., Loron Henle and J'Lorn Henley; aunts: Melissa Henley, Jenna Henley, Kyira Willett, Lisa Bryan, Keima Willett and Kimberly Willett; uncles: Lew Henley, Ira Willett Jr. and Paul Willett; nieces: T'yala Murrell, Ta'Shema, Te'Kima and A'mya; cousins: Ky'ianna, Ky'Jah, K'Niya, Brewley and K'malia; best friend, Tenisha Stevens; special friend, Kishawn Parriall; close family friends: Llydia Joseph and family, and Celia St. Luce; as well as other relatives and friends too numerous to mention.
There will be a first viewing held from 5-7 p.m. on Friday, Feb. 3, at Ivanna Eudora Kean HIgh School gymnasium. A second viewing will be held at 9 a.m. followed by a funeral service at 10 a.m. on Monday, Feb. 6, at Agape Seventh-day Adventist Church. Interment will be a Eastern Cemetery.

All arrangements are by Davis Funeral Home, 774-1464.