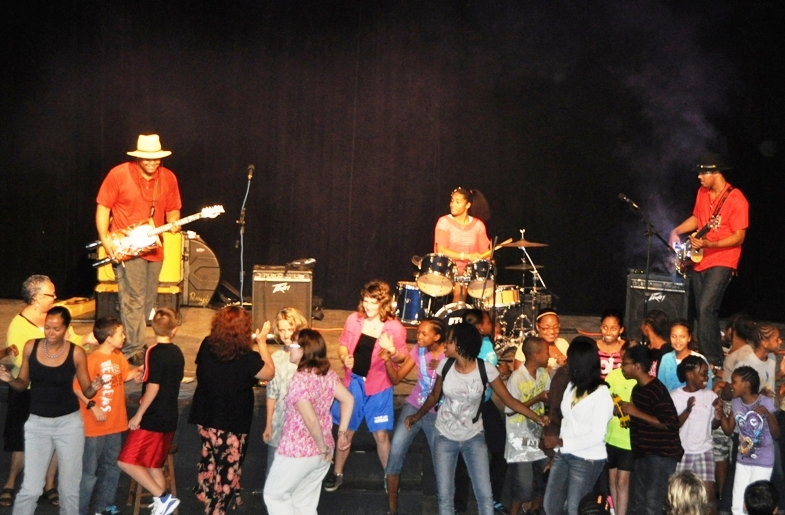 Just as the doctor would prescribe for a dose of the blues, the "Legendary Rhythm and Blues Cruise" arrived in Frederiksted to serenade the people of St. Croix.
Thousands converged Wednesday on Strand Street to enjoy a backdrop of calm blue seas while local bands and visiting blues bands jammed the afternoon away.
Moko jumbies and Heritage Dancers welcomed passengers as they walked down the Ann Abramson Pier, while Department of Tourism greeters guided passengers to local music venues.
Some bands even performed at local schools. The Homemade Jamz Blues Band played to a crowded auditorium of students and teachers at the Good Hope School just after noon. Kids and teachers rocked and cheered to the family band's tunes.
"This is the first time our band has been to St. Croix, and it's absolutely beautiful, said guitarist and vocalist Ryan Perry. "I'm definitely going to retire here."
Raquel Cedano, head of Good Hope, said the Good Hope was chosen by the Department of Tourism because one of their "Pillars of Excellence" is the arts.
"This is really exciting for the school and it's a great opportunity for the students," Cedano said.
The band comprises a father and his three children (two boys and a girl), and when the school kids found out that Taya Perry, the band's drummer, was only 13, they jumped and cheered with excitement.
"They rocked the crowd," one student said.
The band's manager and mom of the family, Tricia Perry, said that while this was their first time on St. Croix, they had done many "Blues in the Schools" programs around the world.
Dan Harrell, a freelance writer for Blues Revue and a passenger on the Blues Cruise, said that the being on the boat is like a living in a club with constant music from morning until the following morning.
"Music is the universal language," Harrell said. "It crosses all socioeconomic backgrounds, ethnicities and genders."
Down on the waterfront, concertgoers partied and danced throughout the night, as blues music rang out from the stage set up in the Verne I. Richards Memorial Park on Strand Street. The concert opened with Stanley & The Ten Sleepless Knights at 3 p.m., and was followed by R&B Connection, Chris Klein & The Boulevards, Coco Montoya, Shemekia Copeland, and the Lowrider Band.
Blues Cruise passengers Martha and Henry Phillips from Virginia said the cruise is like a seven-day party full of music that never stops. There are different nights to dress up, they said, but all day and night there are bands in one club or another throughout the ship.
"Blues is a true American art form, and there's no other music like it," Henry Phillips said.
Crucians and passengers alike crowded into the park and onto the street, dancing and swaying their hips while the bands pumped out harmonic sweetness.
"Oh this is just very good music," St. Croix resident Mary Redo said, tapping her foot to the beat. "It's the first time I've ever come to this and it's great."
One young musician from the ship, 18-year-old Jesse Kennemer from Oregon, was heading into the park with a guitar strapped on his back – he said he carries it everywhere out of habit. He gets to jam throughout the cruise with various bands, and said it's amazing to play with everyone.
"My goal is to be a successful musician," Kennemer said. "Maybe someday I'll get to play in St. Croix," he said smiling.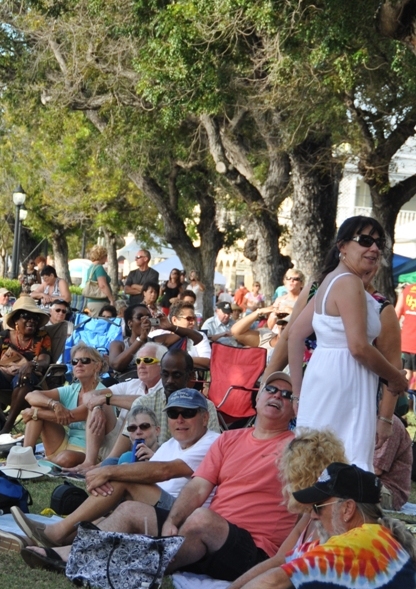 Earl and Dianna Glasnapp from San Diego said they like the band Coco Montoya, who is on board the ship, but added that of course, they have experience. They've been cruising for 12 years with the Blues Cruise and said St. Croix is a great stop.
"The waters are just beautiful," Dianna Glasnapp said."The people are nice and one thing we love is that they don't run up to you and try to get you to go on tours here. It's relaxing."
St. Croix is the only stop on the seven-day cruise itinerary where a full mix of entertainment and a venue for a concert is provided.
Blues Cruise has had numerous chartered visits to the territory. It has visited St. Croix four times in the past, twice to St. Thomas, and once to St. John.
For more information on Legendary Rhythm and Blues Cruise visit www.bluescruise.com.