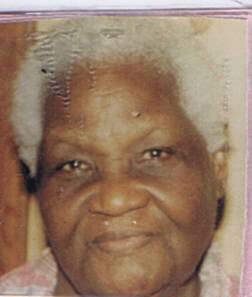 Ella Jane Samuel Hodge died on Jan. 19 at her residence on St. John. She was 100 years old.
She is survived by her daughter, Yvonne Hodge Wells; son-in-law, Warren W. Wells Sr.; sisters:
Catherine Liburd, Gloria Samuel, Marva Applewhite, Harriet Sanders, Gloria Scatliffe; sister-in-law, Golda Samuel; bother-in-law, George Applewhite; grandchildren: Warren Wells Jr., Dionne Wells and Maurice Wells; great-grandchildren: Joshua Wells, Alexa Richards, Kiana Athanase, Ashaun Hedrington, Jacob Wells, Mia Wells and Malik Wells; godchildren: Naomi Varlack, Myron Callwood, Shirley Sewer, Ritza Hodge, Clement Hendricks, Violet deJesus, Donna Roberts, Alberto Samuel, Llewellyn (Tony) Callwood, Julien Harley, Jean Gibs, Mathilda Harvey, Angelo Liburd and Luella Callwood; and nieces: Edwina Dore, Juanita Canton, Felicita Creque, Cloris Samuel, Carmen Samuel Hodge, Brenda Samuel Morris, Karen Samuel, Christine Samuel, Coreen Samuel, Cicerly Samuel, Liat Black, Terry Grosso, Graciela Samuel Alexander, Antonia Fisher, Michele Lett and Charon Ware.
She is also survived by nephews: Almando (Rocky) Liburd, Angelo Liburd, Keith Sewer, Kenneth Sewer, Juanito Liburd, Alberto Samuel, Avelino Samuel, Curtiss Samuel, Ricardo Samuel, Wayne Samuel, Jamie Penn, Warren Samuel and Michael Scatliffe; first cousins:
Marjorie Christian, Inez Hart and James Samuel; special friends: Reginald and Daisy Callwood, Hilda Anthony, Lillian Plaskett, Mariel Matthias, Orville and Brenda Brown, Guy Benjamin, Ann Pemberton, Lorrel Sewer, Ando Childs, Madaline Sewer, Midori Buchanan, Rita Liburd, Margaret Wells, Alecia Wells, Jewel Powell, Janet Burton, Cornelius Matthias and Alice O'Connor ; and many other relatives and friends too numerous to mention.
A viewing will be held at 9 a.m. followed by a funeral service at 10 a.m. on Saturday, Jan. 28, at Nazareth Lutheran Church. Interment will be at Cruz Bay Cemetery.
In lieu of flowers, please make donations to: Nazareth Lutheran Church, Music Ministry, P. O. Box 1359, Cruz Bay, St. John 00831
All arrangements are by Davis Funeral Home, 774-1464.