A Tourism Department summer and fall dive promotion that began May 1, 2011, has paid off, the Tourism Department and dive industry members said Tuesday.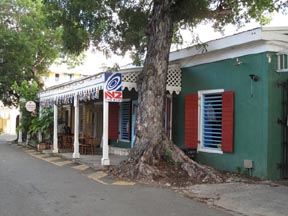 "Our goal with this offer was to showcase our unique appeal to the dive community while driving business to our dive shops across the territory and benefiting our local economy over the summer and fall months," Tourism Commissioner Beverly Nicholson Doty. "We are very pleased with the results of the promotion and intend to reinstate a similar offer in 2012 as the dive market remains a priority segment for the territory."
The Dive USVI promotion sold 3,605 room nights through a total of 401 bookings, generating an estimated $1.1 million in tourism revenue in the territory. The payout to participating dive shops for incentives connected to the offer is estimated at $120,300.
The promotion was designed to drive interest and bookings from a key segment for travel to the territory while supporting the local dive industry. It provided visitors who booked at least six nights with $300 in dive certificates at participating dive shops across St. Thomas, St. Croix and St. Thomas, $50 in retail certificates and $100 in restaurant certificates per room reservation. The offer was originally bookable for travel through Oct. 31, 2011, but then extended through the end of December due to popular demand.
Feedback from both guests, who booked the dive promotion, and from dive shop operators has been positive, Tourism said.
"Guests are continuing to comment that this promotion is what made their decision to travel to the Virgin Islands instead of another destination," Pam Balash, PADI Course Director at St. Thomas Diving Club, said.
Derrick Hill, an owner at N2 The Blue dive shop on St. Croix agreed.
"It was a great huge boost during September, October, and November, which are normally extremely slow times," he said Tuesday.
Tourism indicated in its press release that an unnamed Canadian guest wrote that the "promotion encouraged us to book two weeks in the USVI rather than one in the USVI and one in the BVI. Secondly, because of this promotion, we did much more scuba diving than we otherwise would have and we were able to discover more of your beautiful islands"
The guest said the promotion encouraged him to shop and buy products at different Charlotte Amalie stores that were part of the dive promotion.
"I think it is good to invest in traditional advertisement to attract new visitors, but I also think that the kind of promotion that you have put together with the Dive USVI is more powerful, as it not only encourages people to visit, but it encourages visitors to do things and to shop and buy more. It is an excellent incentive," he said.
Fifteen dive shops on St. Thomas, St. Croix, and St. John and participated in this offer. They were Aqua Marine, Anchor Dive Center, Cane Bay Dive Shop, Caribbean Sea Adventures, Dive Experience, N2 The Blue, St. Croix Ultimate Bluewater Adventures, and Sweet Bottom Dive Center on St. Croix. On St. Thomas, Admiralty Dive Center, Aqua Action Dive Center, Coki Beach Dive Club, Red Hook Dive Center, and St. Thomas Diving Club participated. Cruz Bay Watersports and Maho Bay Watersports represented St. John.