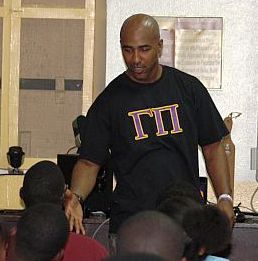 The importance of setting sound academic and professional goals, and planning out how to achieve them, was the message delivered Monday to students at Edith Williams Alternative Academy by a group of visiting fraternity members from the mainland.
Approximately 50 members of the Omega Psi Phi Fraternity arrived in the territory Monday aboard the Venture of the Seas, and were asked by Edith Williams' physical education teacher Jerry Petersen – president of the fraternity's local chapter — to speak. Local members of the Omega's unofficial sister sorority, Delta Sigma Theta, also helped to organize the event.
"Our theme at school this month is 'Respectful Outlook for the Future,'" said Winifred Anthony-Todman, one of the Edith Williams' counselors. "And we hope our students take from this the importance of remaining in school and moving on to college. Getting to where these guys are now, it takes a college education, and we hope our students see that they can achieve it."
Damien Goins, an educator within Maryland's Prince George's County public school system, was one of the Omega's featured speakers. Goins talked to students about giving up some of the negative influences in their lives, whether it's drugs, alcohol or friends that might steer them down the wrong path.
He asked students to write out their goals for the next 30 days, six months and a year, along with the names of five or more people that positively or negatively influence them.
"Don't ask yourselves what's wrong with some of the things you do," Goins said. "Ask yourselves what's right with it. How does it move you forward? Remember, you have just as much right to be smart, educated and to own your own."
Speaking after the presentation, Edith Williams Principal Mario A. Francis said it is important for the students to be encouraged by people other than those on his staff.
"What was said today was right on the mark," Francis said. "Sometimes, when the students hear the teachers or counselors saying the same things all the time, about them doing better and going to college, they tend to think that we have to say those things and may not really care. But when they see a group of guys, that maybe look like them and have gone through the same experiences, it brings our message to a whole new level. It allows them to relate and shows them all the things that they can do."
Fraternity members also handed out basketballs, backpacks and other memorabilia to the students Monday.