The mood was joyous and celebratory, the weather gorgeous, and Frederiksted's King Street was lined end to end with marchers celebrating the memory of slain civil rights icon Dr. Martin Luther King Jr. Monday morning.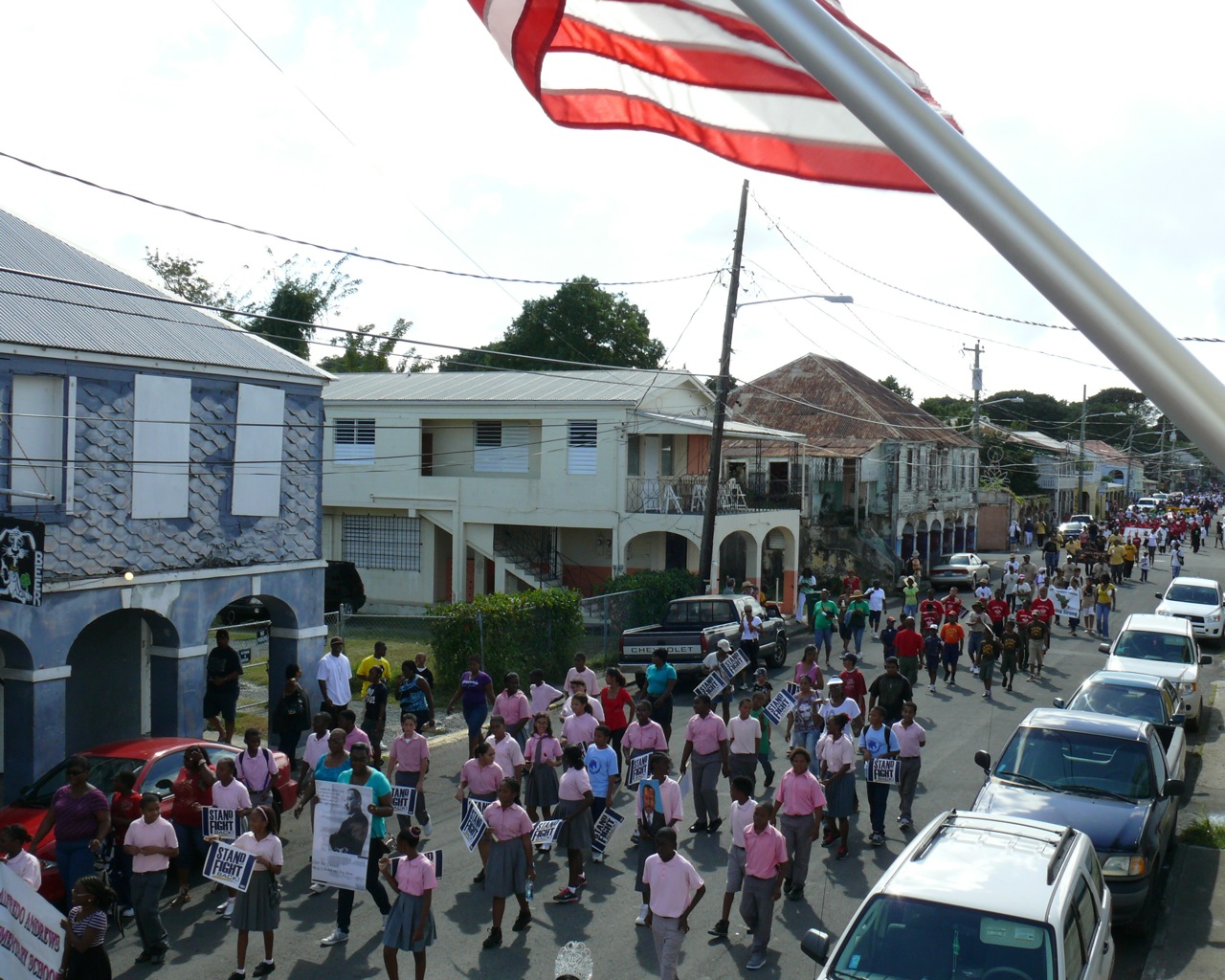 Just after 10 a.m., the bands struck up the tune, and two police officers on motorbikes briefly blew their sirens clearing the route. The St. Croix Central High Complex JROTC Color Guard began the progression, which grew to a throng several hundred yards long. Squad after squad of smartly uniformed Central JROTC cadets marched down the wide boulevard, spanning nearly two blocks. Central has some 241 JROTC cadets, with nearly all of them present for the parade, said Central JROTC Sgt. Major Jesus Rivera Jr.
Police cars with blue flashing lights led the way as contingents from local schools, community organizations, clubs, unions, and private citizens strolled from Claude O. Markoe Elementary School, around and down King Street to Buddhoe Park. Flags waved and the big bass drums of St. Croix Central Marching Band beat the air, playing the Party Rock anthem Everybody Have a Good Time, along with more traditional marching band fare.
The American Federation of Teachers and other unions were well represented among the marchers. Some marched behind a union banner. Some held signs with messages.
Arthur Richards Junior High, Ricardo Richards, Alfredo Andrews, Eulalie Rivera, and Evelyn Williams elementary schools, St. Mary's School, and Good Hope Academy were among the schools marching with students in commemorative tee shirts holding signs and pictures.
"He fought for our rights and is a hero to me," said Elise Charles, a 6th grader at Williams Elementary.
The Arthur A. Richards Junior High School African History Committee had a strong showing for their first time in the march. Every month they try to do something with the students examining an aspect of their common African history," said Darryl Miller, co-chairman of the committee.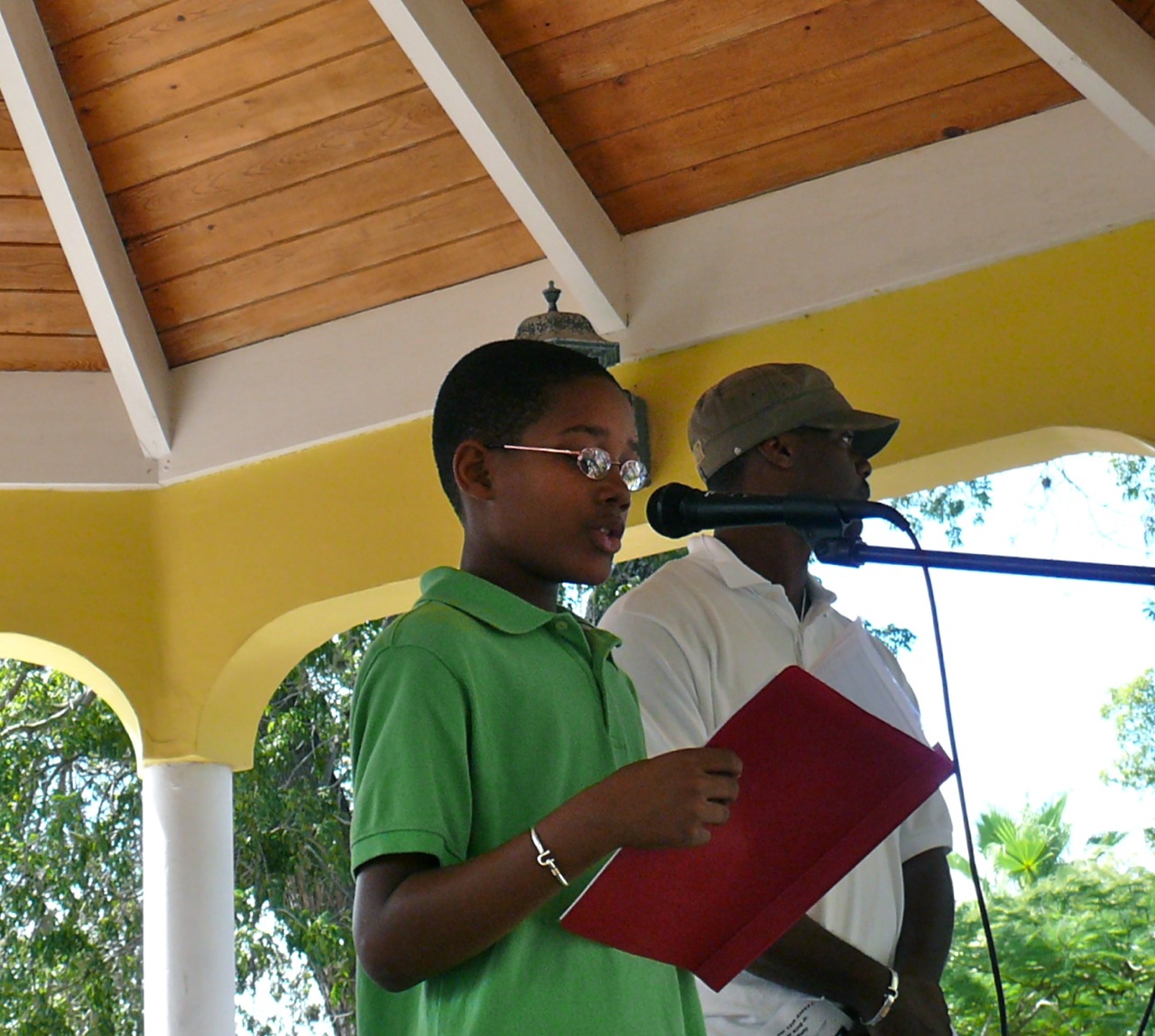 Alpha Phi Alpha, Zeta Phi Beta and other fraternities and sororities were out in force too, marching behind their chapter banners. Along the route, people began to stake out good spots in the shaded walkways of the town's old buildings, some setting up folding chairs or holding parasols to shade from the sun, which peaked out from behind scattered clouds. The Central Labor Council of the Virgin Islands (CLC), which has been organizing the march for 19 years now, had a speaker truck broadcasting some of King's most famous speeches as it rolled slowly down the road.
Every year the CLC chooses a new theme for the commemoration. This year's was "One Way, One Accord with Unity there is Strength in 2012."
After the parade flowed into the park, hundreds gathered around the old bandstand for a rally. The spirited crowd sat in clusters of matching school, club, and group tee shirts making a colorful patchwork on the park benches and rows of folding chairs set up in the dappled shade of Buddhoe Park.
After the National Anthem and the V.I. March, Christine Farrelly sang a rousing rendition of the Black National Anthem: "Lift Every Voice and Sing," as cruise ship passengers and Guardians of Culture mocko jumbies gathered in front of the Frederiksted pier behind the park.
Poignantly representing the message he delivered, 11-year old Ronald Schjang III of Ricardo Richards Elementary School took the bandstand's podium and spoke to the crowd of hundreds, reading aloud the full text of King's "I Have A Dream" speech, from beginning to end.
David Muhammad, a native of St. Croix and student of Reverend Louis Farrakhan, and also the leader of the local Minister of Muhammad Study group on St. Croix, gave the keynote address asking the audience to consider King's legacy and what he would say if he were here today.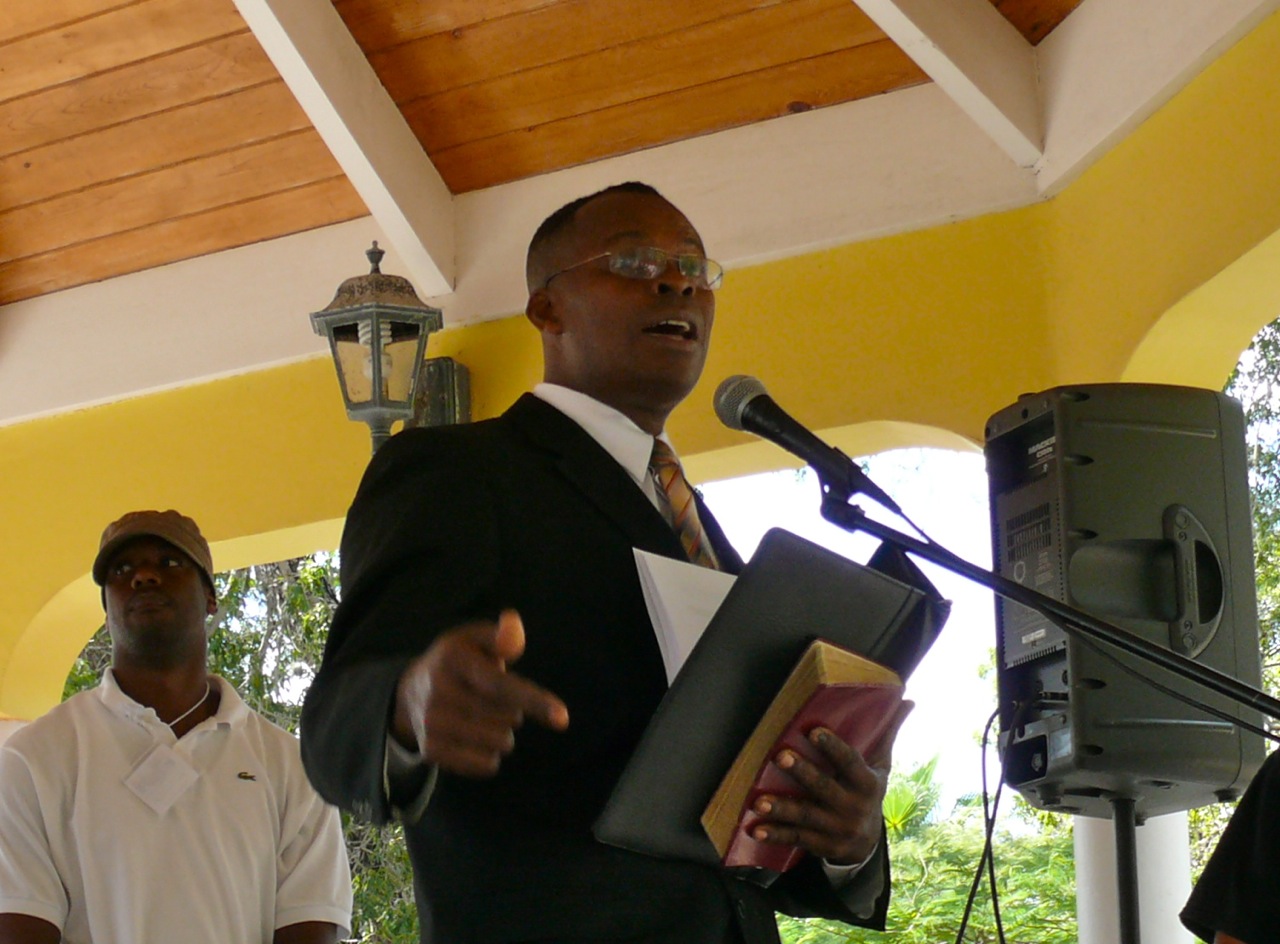 "What did Dr. King mean when he said he dreamed that "one day this nation will rise up and live out the true meaning of its creed: 'We hold these truths to be self-evident: that all men are created equal'," Muhammad asked. Thomas Jefferson, the nation's third president wrote those words, yet owned hundreds of slaves even at the time of his death, he said. In keeping people in slavery, then in segregation and suffering the slings and arrows of discrimination and prejudice, America, like Jefferson himself, was not living up to the creed to which it aspires, he said.
Delegate Donna Christensen and Senate President Ronald Russell each took the microphone, offering a few words for the day too.
After closing prayers, the assembled masses filed out, walking back to where their cars were parked and driving off to enjoy the rest of Martin Luther King Jr. Day.