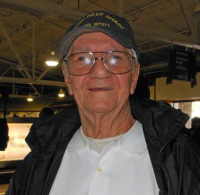 Veteran Virgin Islands broadcaster Lee Carle returned to St. Thomas Sunday afternoon after a medical ordeal that began a year ago.
Walking smartly off the American Airlines flight from New York at Cyril E. King Airport, Carle appeared pleased with himself – back to his old, jaunty demeanor.
Hardly wasting a breath after saying hello, he said, "Wow! I just walked down the stairs from the aircraft. I was worried I wouldn't be able to do that on my own."
Carle has been broadcasting over WSTA radio for 55 years. His voice is an integral part of the island's news community.
He had first faced the possibility of losing a leg owing to a vascular problem. He was admitted to Schneider Regional Medical Center last January, and transferred about 10 days later to Columbia Presbyterian Medical Center in New York City, where after a 5-1/2 hour operation, doctors were able to save his leg.
However, Carle wasn't out of the woods. He had a subsequent operation in which he lost all the toes on his right foot.
Since the second operation, Carle entered a rehabilitation center on Long Island just blocks from where his daughter, Athena Mercado, lives. For the past several months, he has been living with her and his two grandchildren, teenagers Monique and Alexander.
Though Carle says it's been nice spending quality time with family, he clearly was happy to be back with his other family – his listening community here. Walking out of the airport, Carle was stopped every few feet, with friends and seemingly all the taxi drivers greeting him: "Good you're back, man, we miss that voice." "Glad you're back where you belong."
"I'm anxious to see my old friends, see what's going on," Carle said. "I've been keeping up to date on what's happening at home, the crime, the layoffs and all, but I'm so happy to be here."
As to his return to the airwaves, Carle said, "My daughter knows me and she keeps reminding me it's one day at a time."
Lee said he has a full plate right now, readjusting to island life. "I'll have to inspect my equipment at home, and see how it handled the storms."
He said he'll be back to work as soon as he can. "I did the aircraft stairs, you know," Carle reiterated. "It's those stairs at Government House I have to worry about now. I can walk fine with my cane. I'm totally acclimated to the prosthesis."
With a big smile, Carle said, "Well I just finished one challenge, so I'm ready for a new one." He added, "And this one won't be in 18 degree weather, like when I left this morning."