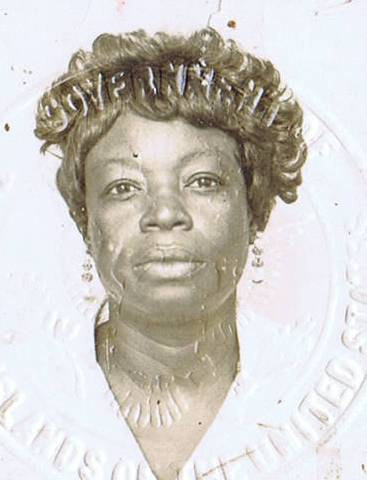 Aureola Medesane Wilson-Bramble, better known as Aure or Aureola,who lived at Estate Thomas 14PH, died on Dec. 21 at Sea View Nursing Home on St. Thomas. She was 89 years old
.
She is survived by her son, Bert K. Newton; daughter-in-law, Deborah A.P. Newton. Granddaughters: Angelitta M. Rubaine and her husband, Jarmel Rubaine, and Albertta R. Newton; daughter, Viusa Wilson Powell, and her husband Liston Powell Sr. and her sons: Liston Jr., Leayle Powell Leborne, Leon Powell, and daughter Leann "Mama" Powell; nieces: Eldra Wilson, Erica Wilson-Maynard, Valencia Wilson-Wright, Vivian Wilson and Venisha Wilson-Rommis, and Vincentra Leader; great nieces: Cheryl Prince, Ingrid Dewindt, Curline George, Leonicia Thomas-Pariall, Leona Thomas, Valarie Smith-Modeste, Chrisnae Rommis, Shakenia Oneal, Shalia Moolenaar, Gina St. Fort, Deja Joseph and Danitra Brathwaite; nephews: Oscar (Chipito) Rawlins, his spouse Penny Rawlins, and Joseph Wilson III, his spouse Geraldine Wilson; great nephews: Duane and Robelto Liburd, O'daunte Rommis, Chris Rommis Jr., Joseph Wilson IV, Allen Richard III, Christopher Sterling III, Angel Philbert, Aaron Wilson, Shalliek Wright, Shaleem Moolenaar, Edward Eddy Jr., Elan Eddy, Ivan Eddy and Daniel Brathwaite Jr.; great-grandchildren: Armani Xaiver Rubaine, Mashame, Ashaki, Latrarae, Adenike, Leborne III Powell and Leilani Williams; as well as many other relatives and friends too numerous to mention.
There will be a viewing held at 8 a.m. followed by a funeral service at 9 a.m. on Friday, Jan. 20, at Davis Funeral Home Chapel. Interment will be at Eastern Cemetery.
All arrangements are by Davis Funeral Home, 774-1464.