To find the Alley Galley in Christiansted take a stroll to Kings Alley down Strand Street fringed with ferns, ficus trees and Christmas palms. Tucked away in a corner under the Hotel Comanche Sky Walk is the colorful downtown deli that serves delectable soups, salads and sandwiches to locals and tourists daily.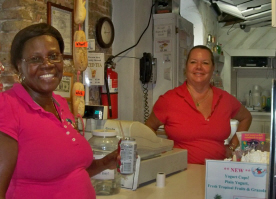 A cool breeze blows through the wide-open doors. The archways, doors, and old yellow Danish brick walls lend a Caribbean flair, along with the dark brown mahogany bar with stools. Customers can sit and read the morning news while waiting for their orders.
There is a walk-up window to get a cold, refreshing drink to walk with like $3 pina coladas or a beer for $1.50. The brick wine cellar is a little more than a walk-in closet but the selection of wines is extensive.
The Alley Galley is small, but it has everything that boaters, hotel guests and workers in town need in the way of toiletries, refreshments and snacks.
Cynthia "Thia" Tyler and her husband, George Tyler, sailed from Annapolis, Md., in 1987 on their way to the Mediterranean, planning on spending a few months on different islands. But the stock market took a tumble that year and along with it their savings for the sailing adventure.
"We were stuck on St. Croix and I'm still here," Thia Tyler said with a warm smile and a twinkle in her eyes. She said they were able to sail around a bit but lost their boat to Hurricane Hugo in 1989 and stayed to help rebuild the island.
The Tylers opened the Alley Galley in 1991, after George made a bet with some of the real estate agents, bankers, and developers who said Christiansted was gone forever as they knew it. Hugo devastated the island but to prove a point that all was not lost, the Tylers opened the deli, selling ice, cold beer, liquor, and food.
At one time or other they owned and operated the Pink Fancy Hotel, East End Deli and Bakery, and Schooner Bay Market. But George Tyler died in 2004, and Thia sold Schooner Bay Market in 2009.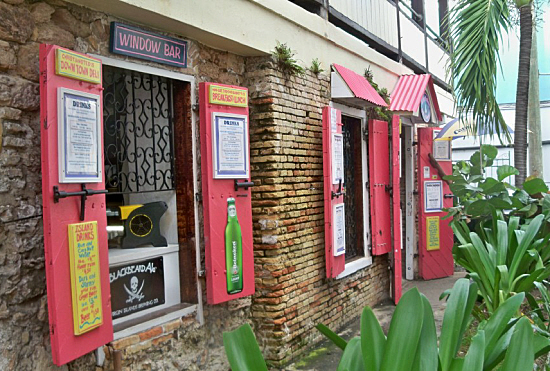 Tyler said she decided to reopen the Alley Galley last year, 13 years after closing it.
She said before Hugo, Kings Alley and the Club Comanche were the place to be for good times. She wanted to try to recreate the fun times of the past at the Alley Galley where she had already made a niche for herself.
"We needed this little place in town. I get to know the people and it is just a fun job," she said, as she serves drinks to people at the walk-up window.
Staying this January at the King Christian Hotel was Markus Thumann from Miami, Fla. He said he had been to the deli a few times during his vacation. "I like this little place. I like the feel of it, the look of it and the people. And the food is good at great prices."
The deli case is stocked with fresh cold cuts, cheese, tasty pasta salads, fresh fruit and desserts to go or eat in. The menu consists of breakfast sandwiches, grilled sandwiches, hot sandwiches, wraps, even a Dagwood sandwich, and a Crucian Cubano made with smoked turkey, Swiss cheese, spicy mustard and dill pickles.
Tyler said she is very happy with the way business has been the past year. "I didn't think I would do this well," she said. "It was like we never closed 13 years ago. A lot of my old customers are back." She added a lot of Danish tourists who are on charters also patronize the deli.
Alley Galley is open Monday through Saturday from 7:30 a.m. to 7 p.m. and Sundays from 9 a.m. to 5 p.m. serving breakfast and lunch. For takeout orders call 773-0030.