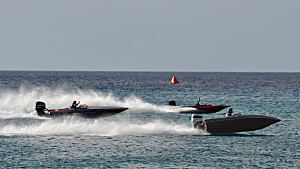 The Crucian Christmas Festival Boat Races limped along as best they could Sunday in Frederiksted after racer Harold "Rocky" Larsen was thrown from his boat and broke his leg.
Larsen did manage to win two races before his injury, and despite the hour-long delay the races continued. The weather was perfect for the entire event, and people of all ages lined the boardwalk to watch the boats battle it out.
"We're pretty busy today, but you know we got a late start because some of the boats don't show up when they're supposed to," emcee Freddie Pimentel said.
Only four races took place this year, partly due to Larsen's accident, and partly because of a lack of participants.
Like previous years, the races were supposed to be broken up by A, B, and C classes – each lettered category representing the horsepower parameters of each boat: A-Class (600 hp and higher),B-Class (400-590 hp) and C-Class (100-300 hp). However, there was only one boat in the B category, so the race was canceled.
The first race of the day was the circuit race: Boats had to weave around two sets of buoys to complete two laps.
Four small boats began racing in the C-Class, but Larsen took the entire race with his boat "Lethal Injection." Two boats dropped out when they rounded the corner, leaving only the "One Helluv A Ride" in the running, which came in second place.
Rocky Larsen's aunt, Christina, was smiling broadly when her nephew came in first place, but she wasn't surprised at all.
"I don't think they can ever find a competitor to ever win against his boat," she said.
Four boats raced in the A-Class circuit race, one which was supposed to be a B-Class, and although the "Wild Card" put up a good fight, it came in last place – out of the running for any prize money. Luis Cintron won first place with "The Velocity," followed by "Cool Attitude" driven by Edward Sutton. N'Kosi James' boat "Progression" came in shortly after, taking third place.
Sutton said he was happy he finished second, and said the drag race is his favorite of the day. "I don't like to stop and rest too much in between," he said.
The races started all the way out by Sandy Point and headed east, ending at the Ann E. Abramson Pier.
Only three boats in the C-Class raced in the drag race, "Lethal Injection," "Power by the Father" and "One Hell of a Ride," and as soon as it began, it was over – lasting less than twenty seconds. Larsen came in first, followed by "Power by Father;" "One Helluv a Ride" came in third.
Larsen's accident came after the second race. After he was safely off the pier and in the ambulance, which took 40 minutes to arrive, the final race of the day took place – with three boats competing in the A-Class for the drag race.
Like the first drag race, it was over within seconds. "Progression" took first-place, followed immediately by "Velocity," and "Cool Attitude" for third.
Normally, there is a final race, where small and large boats all compete, for an Open Off- Shore race – similar to the drag race. However, Pimentel said there was too much danger, and decided to pull the race because of what happened to Rocky Larsen.
"This is the first time that something like this has happened during the races, it's just a freak accident," Pimental said. "But because of the danger factor, we didn't want to keep small boats out there."
According to Christina Larsen, who left with her nephew by ambulance, he was treated at Gov. Juan F. Luis Hospital. She said by phone Sunday night that his right leg – probably the femur – was broken and he probably needed surgery.
"Thank God, he didn't break any other bones – no ribs or anything," Christina Larsen said.