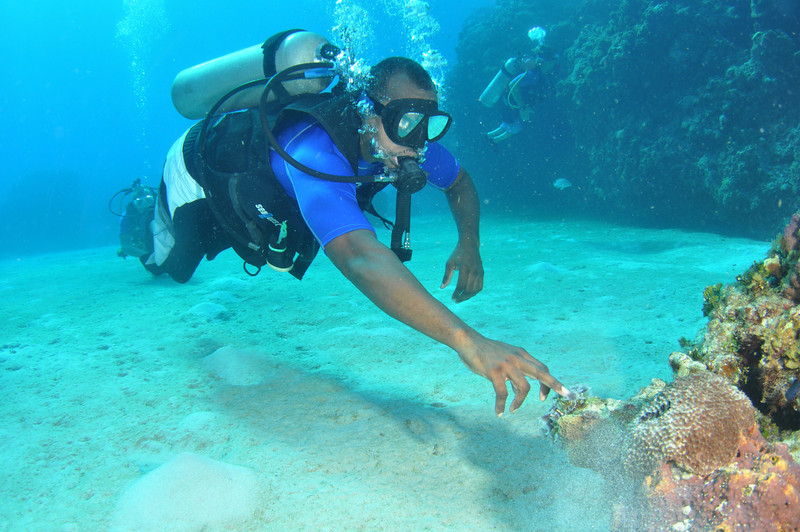 The territory's violent crime rates are more than just alarming statistics to Julien Henley, who was partially paralyzed by a gun crime almost three years ago.
But that has not stopped him from chasing a dream of undersea freedom, where he doesn't need a wheelchair.
Born and raised on St. Thomas, Henley was 46 when he was shot in the back outside a Frenchtown club. "All I heard was 'bam,'" Henley said Wednesday from his office at Passman jewelry gallery in downtown Charlotte Amalie. "I heard someone say, 'He was shot,' and I fell to the floor."
The attack left him paralyzed from his T11 vertebra, which sits near the top of his back, down to his feet.
Throughout his recovery process, Henley maintained his job as Passman's eastern regional manager. At the end of last summer, Passman partnered with Stay-Focused, a New York, N.Y.-based nonprofit, to help Henley earn his scuba-diving certification, which is something Henley had wanted to pursue long before his injury.
Henley traveled to Grand Cayman Island for a week-long program with Stay-Focused, which offers diving experiences to people with disabilities. Henley's longtime employer covered his wages and all the costs for the experience, he said.
Henley's Stay-Focused teachers encouraged him to learn how to dive without using special accommodations unless they were absolutely necessary.
He learned that lesson when he rolled up for one of his first practice dives in the pool.
"My initial question was, 'How do I get into the pool?'" Henley recalled. Another paralyzed man told Henley he'd have to drag a bench over to the pool's edge, transfer himself onto it and then propel himself into the water – all of which Henley managed to do, he said.
Over the following days, Henley took several tank dives into ocean depths of 50 feet, passing lobster legions and schools of friendly tarpon fish.
"I passed every test that was required with flying colors," Henley said.
Now that he is back to work on St. Thomas, Henley said he wants to help other disabled St. Thomians become empowered through physical activity. Anyone who is interested in getting involved should write him at julienhenley@passman.com.
Henley said he hopes to share with other disabled folks the feeling he had in the ocean. He described it as state of being that took him back to where he was before his life-altering injury.
"It's the one place that you can be where you're totally equal, whether you have legs or not," Henley said, pausing to stave off tears that were welling in his eyes.
Under the sea, Henley continued, "You can pretty much do everything anyone else can do. I wish I could stay there all the time."