Mark your calendar for the second annual Broadway Comes to St. John on Jan. 27. The performance, "World of Dreams," showcases the talents of fourth grade students from all St. John schools, and will be held at the Westin Resort and Villas ballroom. They and St. John School of the Arts students will spend three weeks working with five Broadway actors to learn dancing, acting, singing, and puppetry.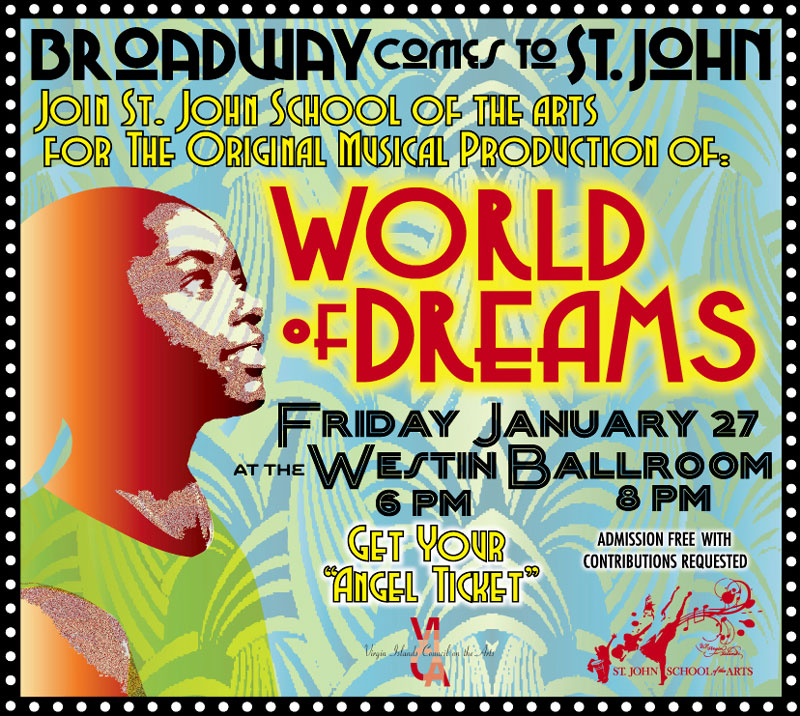 "It's a very different and exciting experience," School of the Arts Director Kim Wild said.
The premiere performance will be at 6 p.m. for those who purchase a $200 Angel ticket. Wild said only 100 of the Angel tickets are available and suggested that people buy them soon.
The Angel ticket includes admission, champagne reception and dinner following the performance at Da Livio, Fatty Crab, Fish Trap, La Tapa, Lime Inn, Morgan's Mango, Ocean Grill, Rhumb Lines, or ZoZo's restaurants. Wild said those who buy Angel tickets will pull the restaurant names out of a hat to determine where they'll dine. Tickets are available at Connections and St. John School of the Arts.
The second performance at 8 p.m. is free, but contributions are appreciated.
As part of this fundraising event, the School of the Arts will have a St. John Goes to Broadway raffle. This package, valued at $5,000, includes round trip airfare for two to New York City and tickets to "Priscilla: Queen of the Desert" and "Chicago" with a back stage tour plus a third show that will be announced.
It also includes dinner at Sardi's and Etcetera Etcetera and hotel accommodations for three nights. Raffle tickets are $100 and available at Connections and St. John School of the Arts. The drawing for the winner of the raffle will be after the premiere performance. You do not need to be present to win. This raffle package must be used before Sept. 30.
The actors who will be working with the kids include John Tartaglia, a Tony award nominee for his role in Avenue Q and one of the youngest cast members in the TV series Sesame Street; Michael Shawn Lewis, who performed in "Phantom of the Opera" and "Nine," and regularly teaches youth through a New York based non-profit; Donna Drake, an original cast member of "A Chorus Line;" Rhonda Miller, who is a choreographer on the faculty of the Broadway Dance Center; and Laura Barnao. Drake and Miller will be doing choreography and teaching dance, and Barnao will be teaching singing.
In conjunction with the event, St. John School of the Arts launched its new logo. Cheryl Gellar designed the school's new image as well as the promotional posters, tickets, and banner for Broadway Comes to St. John event.
For more information call 779-4322.